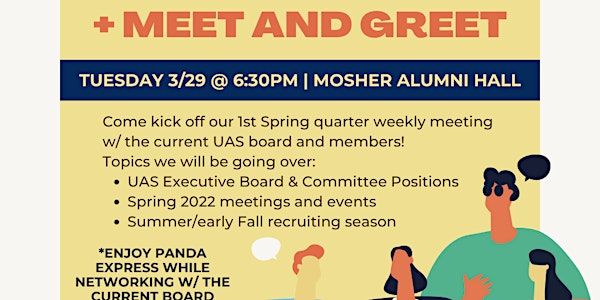 Informational Meeting + Meet and Greet
UAS will be holding an informational meeting + meet and greet on Tuesday, 3/29 from 6:30pm-7:30pm.
When and where
Location
Mosher Alumni House, Alumni Hall 583-593 Mesa Rd. Goleta, CA 93117
About this event
Come join us as we kick off our Spring quarter with an informational meeting + meet and greet with the UAS board and members!
These are some topics we will be going over:
UAS board and committee positions! [Applications for 2022-23 board positions will open during Spring Quarter]
Providing an overview of our Spring quarter meetings and events.
Speaking about summer/early fall recruiting that will be starting at the end of the school year!
The presentation will be followed by a Meet + Greet with our current UAS Executive board, where you will be able to network and ask us any questions you may have about our positions. Everyone interested is welcome - bring your fellow accounting friends if they are interested in the above topics!
*P.S. There will be Panda Express for those who sign up. It will be served at the deck, right outside the Alumni Hall!*