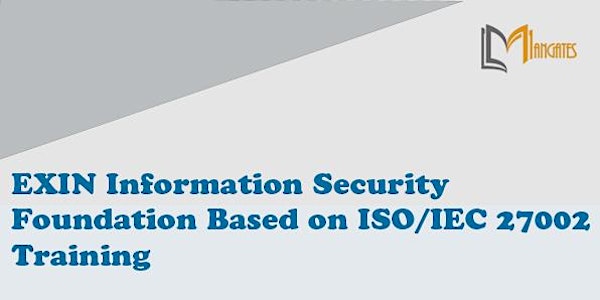 Information Security Foundation ISO/IEC 27002 Virtual Training in Edmonton
Catering to the demands of busy professionals, our virtual training programs are as effective as face-to-face learning.
Refund Policy
Refunds up to 7 days before event
About this event
Course Overview:
Information Security is gaining importance in Information Technology (IT). Globalization of the economy leads to a growing exchange of information between organizations (their employees, customers and suppliers). It also leads to a growing use of networks, such as the internal company network, connection with the networks of other companies and the Internet. Furthermore, activities of many companies now rely on IT, and information has become a valuable asset. Protection of information is crucial for the continuity and proper functioning of the organization: information must be reliable. In the Information Security Foundation module, based on ISO/IEC 27002 (ISFS), the basic concepts of information security and their coherence are tested.
EXIN Information Security Foundation is part of the Certified Integrator Program and is one of the prerequisites to attain the title: EXIN Certified Integrator Secure Cloud Services.You will receive the certificate EXIN Certified Integrator Secure Cloud Services when you possess the certificates: EXIN Information Security Foundation, EXIN Cloud Computing Foundation and EXIN IT Service Management Foundation.
Target Audience:
The target group of ISFS is everyone in the organization. The basic knowledge that is tested in this module contributes to the understanding that information is vulnerable and that measures are necessary to protect this information. The module is also suitable for small independent businesses for whom some basic knowledge of information security is necessary. This module can be a good start for new information security professionals.
Learning Objectives:
Individuals certified at this level will have demonstrated their understanding of:
The concept, importance and the reliability of information.
The types of risks, threats and damages, and the available risk strategies and the security measures you can take.
The security policy and organization, inclusive code of conduct, ownership, and roles and responsibilities. Moreover you learn how to manage security incidents.
The various security measures.
Physical measures such as identity passes and finger scans.
Technical measures such as cryptography, and you will learn how to deal with attacks such as phishing, spam and malware.
Organizational measures you can take such as access management and Business Continuity Management.
The most important legislation and regulations.
Prerequisites:
None
Course Materials:
Students will receive a course manual with presentation slides and reference materials.
Examination:
Examination type: Computer-based multiple-choice questions
Indication study load: 60 hours
In-course assessment: Not applicable
Time allotted for examination: 60 minutes
Examination details
Number of questions: 40
Pass mark: 65% (26 of 40)
Open book/notes: No
Electronic equipment permitted: No
Technical Requirements:
For eBooks:
Internet for downloading the eBook
Laptop, tablet, Smartphone, eReader (No Kindle)
Adobe DRM supported software (e.g. Digital Editions, Bluefire Reader)
eBook download and activation instructions
Agenda:
Planning the Audit Program
Managing Audits
Communicate & Address Audit Results
Improving the Audits Program