Description
As startups and entrepreneurs develop marketing for their products and services, it's important to be aware of common missteps and marketing pitfalls from a legal perspective.
Attorney Art DeBaugh, who focuses his practice on intellectual property, will be facilitating this upcoming Inform Workshop with an overview of marketing, advertising, and promotions laws and issues, with particular emphasis on:
Federal Trade Commission guidance in several areas (e.g. endorsements, the "Green Guides," and "false and deceptive advertising")
Trademark infringement issues for slogans, tag lines, and the like
Copyright concerns (e.g. using music, lyrics, photos, or graphics)
Domain names and trade names – are they trademarks or merely addresses?
State sweepstakes, promotions laws, and illegal lotteries and raffles
Definite no-no's that will get you in trouble (e.g., the Olympics, the Super Bowl, major league sports, and more!)
Attendees will come away being better prepared to spot potential issues and know when to get advice on their advertising and marketing programs, including their website and social media presence.
Join us for our monthly INFORM Workshop Series on June 18th with guest speaker, Art DeBaugh of Bell, Davis & Pitt.
---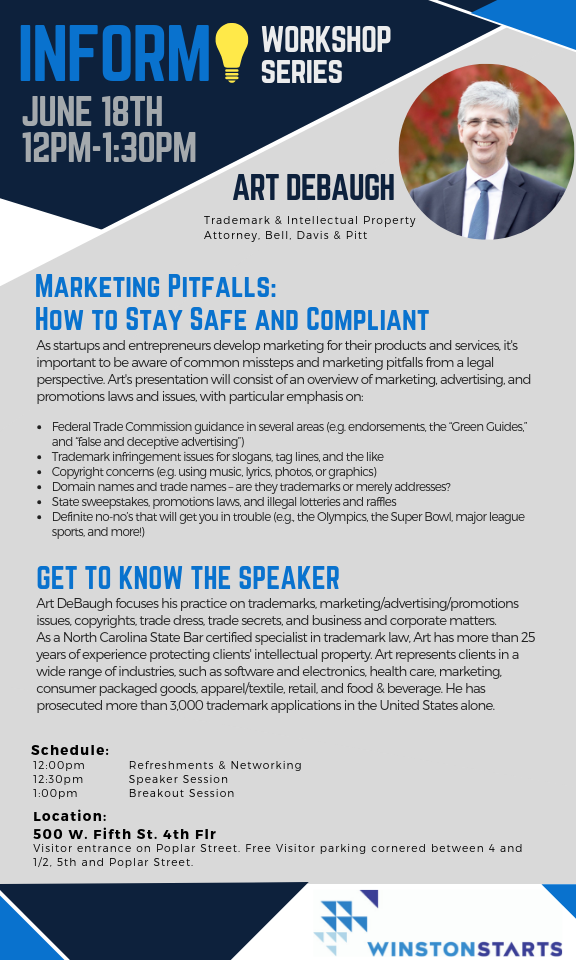 ---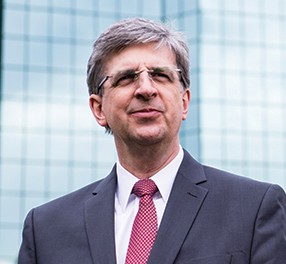 Learn More About Art DeBaugh
Art DeBaugh is an attorney at the law firm of Bell, Davis & Pitt, P.A. As a North Carolina State Bar certified specialist in trademark law (there are less than 30 specialists in the state), Art has more than 30 years of experience protecting clients' intellectual property. He focuses his practice on trademarks, marketing, advertising, & promotions issues, copyrights, and business and corporate matters. Art represents clients in a wide range of industries, such as food & beverage, software and electronics, marketing, consumer packaged goods, apparel/textile, automotive and education. He has prosecuted more than 3,000 trademark applications in the United States alone.
Art co-authors the TMC (Trademark, Marketing & Copyright) Blog with Justin Hardy and Kyle Heuser.
You can find the link to his web address here: https://www.belldavispitt.com/attorneys/arthur-j-debaugh