InfoPoint Lunchtime conference: Inclusion Works! Making vocational training...
Description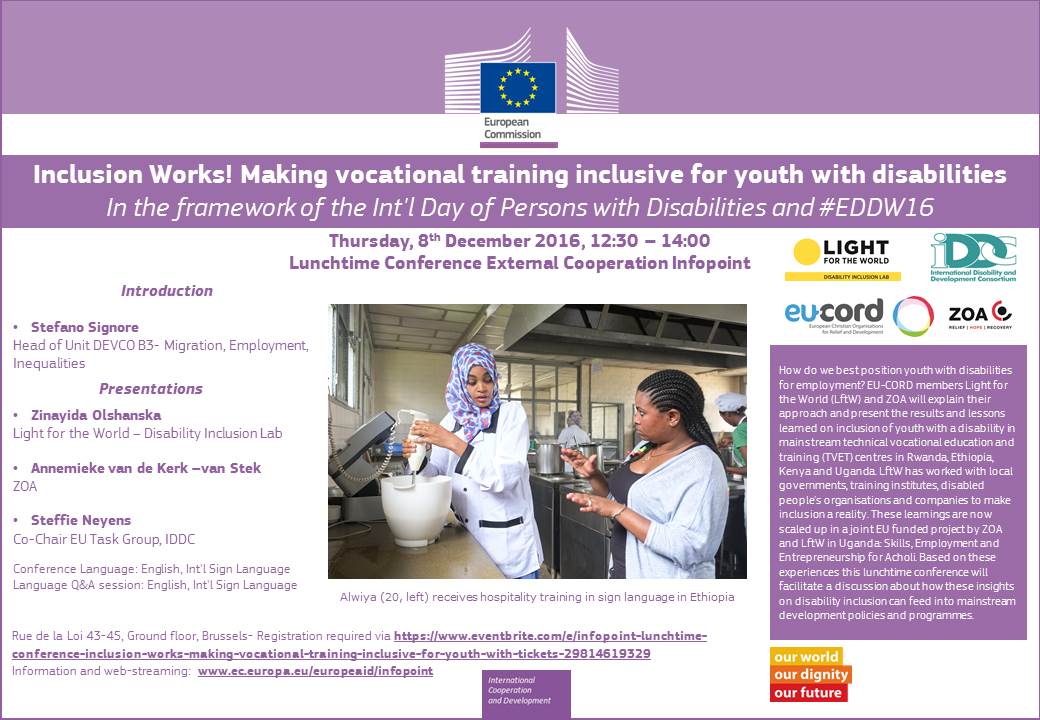 In the framework of the Int'l Day of Persons with Disabilities and #EDDW16
How do we best position youth with disabilities for employment? EU-CORD members Light for the World (LftW) and ZOA will explain their approach and present the results and lessons learned on inclusion of youth with a disability in mainstream technical vocational education and training (TVET) centres in Rwanda, Ethiopia, Kenya and Uganda. LftW has worked with local governments, training institutes, disabled people's organisations and companies to make inclusion a reality. These learnings are now scaled up in a joint EU funded project by ZOA and LftW in Uganda: Skills, Employment and Entrepreneurship for Acholi. Based on these experiences this lunchtime conference will facilitate a discussion about how these insights on disability inclusion can feed into mainstream development policies and programmes.
Introduction:
Stefano Signore
Head of Unit DEVCO B3- Migration, Employment, Inequalities
Presentations:
Zinayida Olshanska
Light for the World – Disability Inclusion Lab
Annemieke van de Kerk –van Stek
ZOA
Steffie Neyens
Co-Chair EU Task Group, IDDC
Conference Language: English, Int'l Sign Language
Language Q&A session: English, Int'l Sign Language
Information and web-streaming: www.ec.europa.eu/europeaid/infopoint