InfoPoint Lunchtime conference: EU Aid Volunteers for organisations: get in...
Description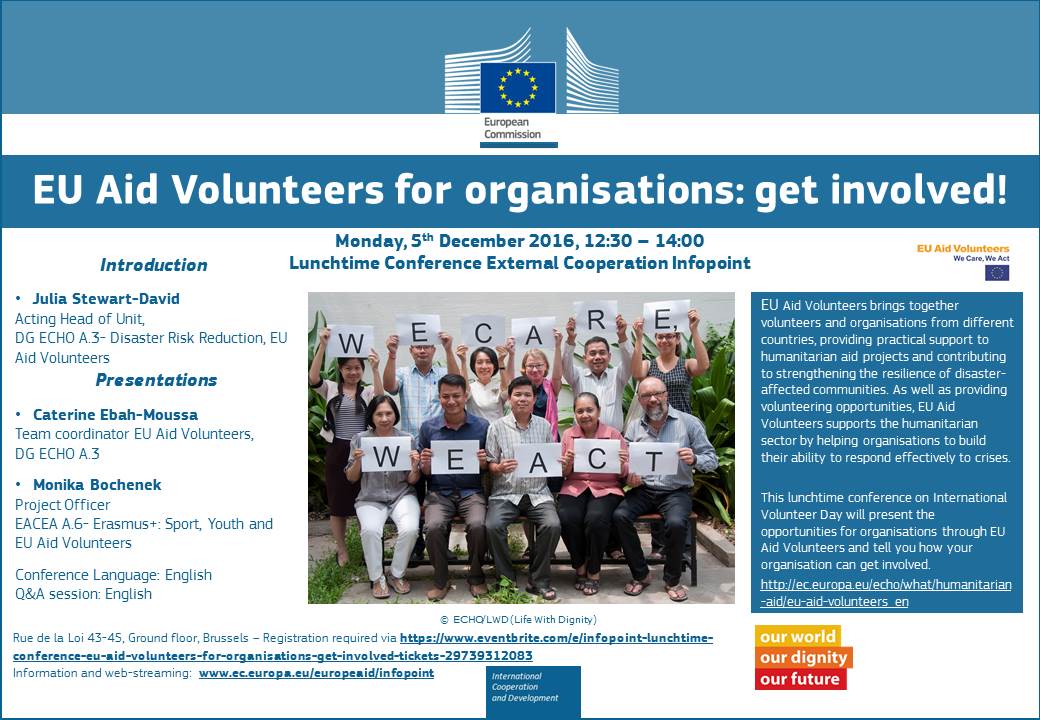 EU Aid Volunteers brings together volunteers and organisations from different countries, providing practical support to humanitarian aid projects and contributing to strengthening the resilience of disaster-affected communities. As well as providing volunteering opportunities, EU Aid Volunteers supports the humanitarian sector by helping organisations to build their ability to respond effectively to crises.
This lunchtime conference on International Volunteer Day will present the opportunities for organisations through EU Aid Volunteers and tell you how your organisation can get involved.
http://ec.europa.eu/echo/what/humanitarian-aid/eu-aid-volunteers_en
Introduction:
Julia Stewart-David
Acting Head of Unit,
DG ECHO A.3- Disaster Risk Reduction, EU Aid Volunteers
Presentations:
Caterine Ebah-Moussa
Team coordinator EU Aid Volunteers,
DG ECHO A.3
Monika Bochenek
Project Officer
EACEA A.6- Erasmus+: Sport, Youth and EU Aid Volunteers
Conference Language: English
Q&A session: English