Description
JEFFREY R. GUND
&
INFOLIST.com

invite you to attend the annual
PRE COMIC-CON BASH
in Los Angeles!


AN AMAZING CELEBRATION OF
ALL THINGS COMIC BOOK, SCI-FI, FANTASY & COSPLAY!

A RED CARPET EVENT!

with
SUPER-SPECIAL GUESTS:
S.D. COMIC-CON CO-FOUNDER
MIKE TOWRY
STAN LEE'S
POW! ENTERTAINMENT
Attending:
Top Execs to be announced soon!
LOS ANGELES COMIC CON
Attending:
Chris DeMoulin – CEO of Comikaze Entertainment
Karen Keifaber – President of Sales for Comikaze Entertainment
Amanda Yollin – Manager of Operations for Comikaze Entertainment
Sheldon Price - Production Coordinator
TOKYOPOP
Global manga media company, publisher and producer of Manga, Anime, Graphic Novels and films
Including numerous manga titles for Disney, Tim Burton, Nintendo, Sony, Fox and films/TV including Priest, Riding Shotgun, and more!
Attending:
Stu Levy - Founder & CEO
Kevin Richardson, Producer & Head of Scripted
Kae Winters - Marketing
Janae Young - Publishing
Lena Atanassova - Editing
SCREENWRITER
DAVID HAYTER
X-MEN 1&2, THE WATCHMEN, THE SCORPION KING
and the voice of Metal Gear Solid games!
POWER RANGERS
CAMERON JEBO: Orion the Silver Ranger, Power Rangers Super Megaforce (2014)
WALTER JONES: Zack the Black Ranger - Mighty Morphin Power Rangers (1993-1994). He's an original!
and more to be announced soon!
DIGITAL DOMAIN
VFX Company for Marvel's Avengers: Endgame, Captain Marvel, Aquaman,
Shazam! (2019), Ant-Man & the Wasp, Spider-Man: Homecoming
Ready Player One, The Jungle Book, Tron: Legacy
and the upcoming: Terminator: Dark Fate, Sonic the Hedgehog (2020)
Attending:
John Canning – Executive Producer
John is also Chair of New Media Council for the Producers Guild of America (PGA)
EXECUTIVE PRODUCER
WALTER O'BRIEN
HEAD OF SCORPION STUDIOS
SPIDER-MAN: HOMECOMING
VENOM
and true life inspiration for the hit show on CBS
SCORPION
GEOFF MARK
Lead VFX Artist on Spider-Man 3 and Serenity,
2nd Unit Director - Sharknado, Post Production Producer - The Simpsons
PRODUCER/WRITER/AUTHOR
STEVEN L. SEARS
(Swamp Thing; Sheena; Xena: Warrior Princess; The A-Team; Superboy; etc.)
EMMY AWARD-WINNING
ART DIRECTOR
ELLEN JIN
DREAMWORKS ANIMATION
(Formerly at Walt Disney Animation Studios)
Spirit Riding Free for Netflix/Dreamworks
Dr. Strange & Iron Man for Marvel
Tinkerbell movies for Disney
He-Man & the Masters of the Universe for Mattel
EMMY AWARD-WINNING
PRODUCER / PRODUCTION DESIGNER / WRITER / DIRECTOR
JOHN OVER
Pink Panther & Pals, Tiny Toon Adventures, Animaniacs,
Jakers! The Adventures of Piggley Winks, Clifford the Big Red Dog, etc.
KERRY O'QUINN
Publisher and Creator of Fangoria, Starlog, and Cinemagic Magazines
Producer of Fan Conventions including Star Trek 20th Anniversary and Star Wars 10th Anniversary
PANELIST AT SDCC for the film From the Bridge
SHARKNADO 1, 2, 3 & 4
Attending:
Screenwriter - Thunder Levin
2nd Unit Director - Geoff Mark
WITH CELEBRITY GUESTS
MAYLING NG
Starring in THE SCORPION KING: BOOK OF SOULS as Khensa
Appearing in WONDER WOMAN as Orana
and in Lady Bloodfight as Svietta
TJ STORM
Starring as:
"Godzilla" in GOZILLA: KING OF THE MONSTERS
"The Predator" in THE PREDATOR
"Darth Vader" in VADER IMMORTAL (video game)
"Maginty" in PUNISHER: WAR ZONE
"Bayu" in CONAN (TV Series)
also MOTION CAPTURE
as Colossus in Deadpool
and as Iron Man in Captain America: Civil War
as Parallax in Green Lantern
as well as in Avatar and TRON: Legacy
TOHORU MASAMUNE
"Shredder" in TEENAGE MUTANT NINJA TURTLES (2014 movie)
Also appearing in Inception, American Dad!, Agents of S.H.I.E.L.D., Kung Fu
Panda: Legends of Awesomeness, The Cape, and Heroes
JACKIE DALLAS
"Jen" in the hit Netflix series
STRANGER THINGS
AND MORE SPECIAL GUESTS:
GEEKFEST FILM FESTIVALS
The World's First and Largest Traveling Comic Con Film Festival
Attending:
Bill Ostroff – Creator & Producer
PRODUCER / ARTISTIC CONSULTANT
NEIL D'MONTE
Spectrevision (Elijah Wood's company)
Lionsgate Horror, Awesomeness TV
PLUS
Joe Ochman – Voice Actor on Red Dead Redemption, Fallout 4, Call of Duty: Advanced Warfare, World of Warcarft, Life Is Strange, Command and Conquer 4, Digimon, Space Jam, and actor on Buffy the Vampire Slayer, Lois and Clark, and more
Marilyn Brett - appearing as "Old Lady Skrull" in Captain Marvel, appearing in Priest, Buffy the Vampire Slayer, American Pie 2)
Shaene Siders - Writer, Marvel's Avengers Assemble, DC Super Hero Girls & Saint Seiya: Knights of the Zodiac
Craig Miller – writer, The Hunger, Curious George, Stargate: Infinity, Godzilla the Series, Beast Wars: Transformers, Smurfs, The Real Ghostbusters; publicist, Star Wars, The Empire Strikes Back, Splash, The Dark Crystal, Superman 2
Joelle Sellner – writer, Avengers: Mightiest Heroes, Sonic Boom, LEGO DC Super Hero Girls, Ben 10: Ominiverse, Saved by the Bell (graphic novels), creator of Super Slackers web series
Neo Edmund – Appearing as the Putty Patrol in numerous episodes of Mighty Morphin Power Rangers, Author of author of Power Rangers novels Tournament of Terror, Mayhem at the Moon Palace, and All Fear the Pharaoh, Creator of the Red Riding Alpha Huntress series
David An - VFX Editor: Transformers: Dark of the Moon, Ender's Game; appearing in Agents of S.H.I.E.L.D., Vampire Diaries, WB's Rampage, Green Book, etc.
Chris Jai Alex - appearing in Thundercats Roar, Supergirl, Captain America: Civil War, Star Wars: Battlefront 2 (VG), Call of Duty: Black Ops 4
Linsay Rousseau – Motion Capture Artist/ Voice Over Actor (Sailor Moon, Rage 2, SuperS, Fallout 76, Elder Scrolls: Fall of the Dark Brotherhood)
Kelly Washington - "Lucy" (blue girl) on Z-Nation, appearing in Jurassic World
Bryan Michael Stoller - author, Harry Potter: Imagining Hogwarts
Alex Lugo - comic artist - Upper Deck Trading Cards for Marvel
Pat & Don Jankiewicz – journalists for Starlog and Fangoria
Chris Gore - editor of FilmThreat.com
PLUS – NUMEROUS TOP COSPLAYERS!
MORE SPECIAL GUESTS TO BE ANNOUNCED SOON!

But in the meantime…
DON'T MISS OUT ON SPECIAL
EARLY BIRD DISCOUNT TICKETS
THEY WILL SELL OUT FAST!
(Details below)

PLUS
AMAZING FUN-TECH GIVEAWAYS
from
WOWWEE!
Innovative Hi-Tech Robotic and Entertainment Products

We'll be giving away
VELOCIRAPTOR FINGERLINGS
*UNTAMED!*
Friend or Foe? You Decide!

*Only VIP Ticket Holders will be eligible for the Giveaway!
(Limited number to VIP ticket holders drawn at random)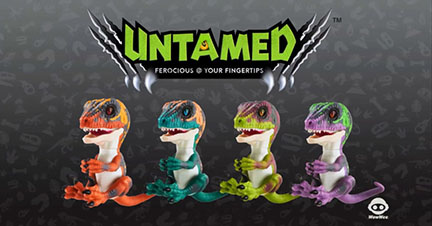 WOWWEE Untamed! Velociraptors


COSPLAY HIGHLY ENCOURAGED!
Please Note: All weapons that are part of your cosplay outfit must be *obviously* fake, and in the spirit of cosplay. Fake cosplay weapons will be allowed at the discretion of event security.

THIS WILL BE A MAJOR NETWORKING EVENT!

You should attend if:
* You're a fan of Comics, Sci-Fi, Fantasy, or Cosplay! *
* You work in the entertainment industry *
* You want to experience the amazing Immersive 360 Dome Show! *
* You want to mingle with great people *
* You just want to do some high-end networking! *

ONE NIGHT ONLY!
THURSDAY, July 11th, 2019
7:30pm – 2am
(This is an 18 and over event)
at
WISDOME DOME PARK
Downtown Los Angeles
1147 Palmetto Street
Los Angeles, CA 90013
featuring 5 domes of immersive entertainment, art, and
high-level networking with A-List industry professionals!

You MUST RSVP
THIS IS A GUEST LIST ONLY EVENT

SPECIAL DISCOUNT FOR INFOLIST.com!!
PREMIUM and PRO InfoList Members get 60% OFF! That's only $10 (normally $25!) for General Admission tickets, and just $24 (normally $60!) for VIP Tickets with priority access to the immersive dome shows and Celebrities and Special Guests, and Red Carpet priority access!
LOG IN (or create) your Premium/Pro Account
so you can take advantage of this special offer!
https://infolist.com/membership/
(check the InfoList.com website for Early Bird discounts available to the general public as well!)

(Or, skip the upgrade and pay regular price)

VIP TICKETS WILL RECEIVE:
– Priority Entrance (General Admission may have a longer wait in line)
– Access to the VIP Area (where the Celebrities & Special Guests will be!)
– Priority Admission and VIP Seating for the Samskara Immersive 360 Dome Show!
– Access to the Red Carpet and Photo Wall
– Eligibility to win the Giveaways
– Access to VIP Food and Drink Lounge
– and MORE!

GENERAL ADMISSION TICKETS WILL RECEIVE:
– Access to the General Admission area for fun and networking!
– General Admission to the Samskara Immersive 360 Dome Show!

There's only a LIMITED NUMBER of Discount Tickets available –
So DON'T WAIT – get your tickets NOW!
(You'll definitely want a VIP Ticket so you can mingle with all the Celebrities, Special Guests, and more!)

For Media, Talent, and Sponsorship inquiries:
Let me know if you're an ESTABLISHED PROFESSIONAL with RECOGNIZABLE CREDITS, and would like to be featured as a Special Guest!

For pics of our previous events:
Pre Comic-Con Bash 2018
Pre Comic-Con Bash 2017
Pre Comic-Con Bash 2017 Video
Pre Comic-Con Bash 2016
Pre Comic-Con Bash 2016 Video
Pre-Oscars Soiree 2018

I look forward to seeing you there!

FAQs
Are there ID or minimum age requirements to enter the event?
Age 18+

What are my transportation/parking options for getting to and from the event?
Parking Structures and street parking in the area (but Uber or Lyft encouraged!).

What can I bring into the event?
All weapons that are part of your cosplay outfit must be *obviously* fake, and in the spirit of cosplay. All fake cosplay weapons will be allowed at the discretion of event security.

How can I contact the organizer with any questions?
jeffsviplist@mindspring.com
What's the refund policy?
Up to 1 day prior to the event