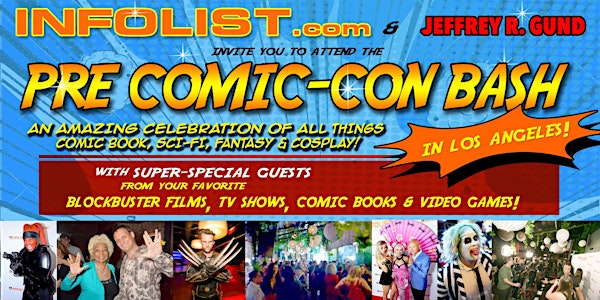 INFOLIST PRE COMIC-CON BASH in Los Angeles 2018!
When and where
Location
OHM Nightclub 6801 Hollywood Boulevard #433 Los Angeles, CA 90028
Refund Policy
Refunds up to 1 day before event
Description
JEFFREY R. GUND & INFOLIST.com
invite you to attend the annual
PRE COMIC-CON BASH!!
in LOS ANGELES

AN AMAZING CELEBRATION OF
ALL THINGS COMIC BOOK, SCI-FI, FANTASY & COSPLAY!

Hosted by:

INFOLIST.com

with
SUPER-SPECIAL GUESTS:
(NEW Special Guests added every day!)
COMIC-CON CO-FOUNDER
MIKE TOWRY
STAN LEE'S




POW! ENTERTAINMENT
Attending: Bob Sabouni, Chief Marketing Officer
Grace Yeh, Development Manager

PRODUCER/EXECUTIVE PRODUCER
TOM DESANTO
(X-Men 1&2, Transformers movie franchise)

DIRECTOR/WRITER
SHANE BLACK
Iron Man 3, The Predator (2018),
Lethal Weapon (1-4), Kiss Kiss Bang Bang, The Nice Guys
ICONIC DIRECTOR
RANDAL KLEISER
director / producer of the new VR Experience futuristic series
DEFROST
and director of the iconic classic films
Grease, The Blue Lagoon, Flight of the Navigator,
Big-Top Pee-Wee, Honey I Blew Up the Kid, White Fang
L.A. COMIC-CON
Attending:
Chris DeMoulin – CEO of Comikaze Entertainment
Karen Keifaber – President of Sales for Comikaze Entertainment
THE ORVILLE
Attending:
Chad L. Coleman - starring as "Klyden"
Tami Lane - Makeup Department Head
Maxine Morris - Hair Department Head
PETE BLUMEL
Writer/Producer and CEO and Creative Director of ROGUE INITIATIVE
(New series The 716th and interactive reality experiences Crowe - The Drowned Armory and Steel Cobras,
Collaborating with Michael Bay on a new entertainment franchise
Producer - CALL OF DUTY: MODERN WARARE series
Producer - CALL OF DUTY: GHOSTS
DIGITAL DOMAIN
VFX Company for Marvel's Avengers: Infinity War, Thor Ragnarok,
Ready Player One, The Jungle Book, Tron: Legacy
Attending:
John Canning - Executive Producer
John is also Chair of New Media Council for the Producers Guild of America (PGA)
DIRECTOR
BRETT LEONARD
Lawnmower Man
Virtuosity
Man-Thing
SHARKNADO 1, 2, 3 & 4
Attending:
Screenwriter - Thunder Levin
2nd Unit Director - Geoff Mark


POWER RANGERS
JASON FAUNT: Wes the Red Ranger - Power Rangers Time Force (2001)
WALTER JONES: Zack the Black Ranger - Mighty Morphin Power Rangers (1993-1994). He's an original! and more to be announced soon!
TOKYOPOP
Global manga media company, publisher and producer of Manga, Anime, Graphic Novels and films Including numerous manga titles for Disney, Tim Burton, Nintendo, Sony, Fox and films/TV including Priest, Riding Shotgun, and more!
Attending:
Stu Levy - Founder & CEO
Kae Winters - Marketing
Janae Young - Publishing
Lena Atanassova - Editing
NOSFERATU
(starring Doug Jones)
Attending:
David Fisher – Writer/Director
Brianne Dunn – Assistant Editor
EXECUTIVE PRODUCER
WALTER O'BRIEN
HEAD OF SCORPION STUDIOS
and true life inspiration for the hit show on CBS
SCORPION
MIKE DUGGAN
Executive Producer - Millenium
Writer/Producer on NBC's Grimm
Executive Producer - Earth 2
THREE TIME EMMY-WINNING WRITER
GORDON BRESSACK
For Pinky & the Brain and Animaniacs
Creator and Executive producer of Captain Simian and the Space Monkeys
Writer on numerous shows including Darkwing Duck, Sonic the Hedgehog, Mighty Max, Tiny Toon Adventures, Smurfs, and more!
UNIKITTY
Attending:
Lynn Wang – Producer/Showrunner (also Co-Creator of
Space Mission: Danger!

)

Ed Skudder – Producer (also Co-creator of Space Mission: Danger!)

Adriel Garcia – Director

Brock Gallagher – Director

Careen Ingle – Director

Neil Graf – Director (also Director on Pinky Malinky)

Anna Hollingsworth – Animation Director

Chad Quandt – Writer

Nick Keller – Composer





SONY PICTURES ANIMATION
Attending:
Mark Sperber – Head of Story
Previously Story Artist at Nickelodeon, DreamWorks Feature & TV Animation
BEACON PICTURES
Dawn of the Dead, End of Days, Children of Men, Agent X
As well as
Bring It On
,
Spy Game
,
Air Force One
,
The Guardian
,
Castle
, etc.
Attending:
Mark Pennell, Head of New Business & Special Projects
THE LEGO NINJAGO MOVIE
Attending:
Ellen Tremiti Waltke – Story Supervisor
BOJACK HORSEMAN
Attending:
Anna Hollingsworth – Animation Director


TROLLHUNTERS / WIZARDS: TALES OF ARCADIA
Attending:
Chad Quandt – Co-Executive Producer/Showrunner/Writer
Aaron Waltke – Co-Executive Producer/Showrunner/Writer
SONIC BOOM
Attending:
Bill Freiberger - Showrunner/Executive Producer
PRODUCER/WRITER/AUTHOR
STEVEN L. SEARS
(Swamp Thing; Sheena; Xena: Warrior Princess; Raven; Superboy; etc.)
EMMY AWARD-WINNING
ART DIRECTOR
ELLEN JIN
DREAMWORKS ANIMATION
(Formerly at Walt Disney Animation Studios)
Spirit Riding Free for Netflix/Dreamworks
Dr. Strange & Iron Man for Marvel
Tinkerbell movies for Disney
He-Man & the Masters of the Universe for Mattel
EMMY AWARD-WINNING
PRODUCER / PRODUCTION DESIGNER / WRITER / DIRECTOR
JOHN OVER
Pink Panther & Pals, Tiny Toon Adventures, Animaniacs,
Jakers! The Adventures of Piggley Winks, Clifford the Big Red Dog, etc.
PRODUCER
NEAL FISCHER
U.S. Representative of
Davis Films
(
Resident Evil
,
Silent Hill
, etc.) Producer,
Sushi Girl
ELIJAH WOOD'S COMPANY
SPECTREVISION
Attending:
Neil D'Monte
(Artistic Consultant/Producer; Lionsgate Horror, Awesomeness TV)
KERRY O'QUINN
Publisher and Creator of Fangoria, Starlog, and Cinemagic Magazines
Producer of Fan Conventions including
Star Trek 20th Anniversary
and
Star Wars 10th Anniversary
JASON PAIGE
Singer of the original Pokemon Theme Song
Voiceover in games -
Deadpool
,
Elite Beat Agents
On screen in -
Son of Zorn
,
Phineas & Ferb
,
The Muppets
, HBO's
Animals
HEAVY METAL MAGAZINE
Attending:
Jeff Krelitz
– CEO and Owner
Rantz Hosely - Managing Editor
FROM THE BRIDGE
Attending:
Spencer F. Lee – Director
George Noe – Executive Producer
Nick Theurer – Associate Producer
PANEL AT SD COMIC-CON!
GEOFF MARK
Lead VFX Artist on Spider-Man 3 and Serenity
2nd Unit Director – Sharknado, Post Production Producer – The Simpsons


PRODUCER / WRITER
DARIN HENRY
Disney's K.C. Undercover - Executive Producer

writer on Futurama, Seinfeld, and Muppets Tonight Publisher - Sitcomics



NICHELLE NICHOLS
"Uhura" from

STAR TREK!
MAYLING NG
Starring in
THE SCORPION KING: BOOK OF SOULS
as Khensa
Appearing in WONDER WOMAN as Orana
and in Lady Bloodfight as Svietta
CHAD L. COLEMAN
"Klyden" on THE ORVILLE
"Col. Frederick Lucius Johnson" on THE EXPANSE
Tyreese Williams on THE WALKING DEAD
Also starring in The Wire, Electric City, and appearing in Terminator: The Sarah Connor Chronicles, Family Guy, Arrow, and The Green Hornet
TJ STORM
"Maginty" in PUNISHER: WAR ZONE
"Bayu" in

CONAN

(TV Series)
also motion capture as Colossus in Deadpool
as Iron Man in Captain America: Civil War
as Parallax in Green Lantern
as well as in Avatar, TRON: Legacy
NAOMI GROSSMAN
"Pepper" in the EMMY-WINNING hit series on FX
AMERICAN HORROR STORY
TOHORU MASAMUNE
"Shredder" in

TEENAGE MUTANT NINJA TURTLES

(2014 movie)
Also appearing in
Inception
,
American Dad!
,
Agents of S.H.I.E.L.D.
,
Kung Fu Panda: Legends of Awesomeness
,
The Cape
, and
Heroes
GABRIEL JARRET
Starring in REAL GENIUS


CAROLINE WILLIAMS
Starring in TEXAS CHAINSAW MASSACRE 2
Starring in Killer Rose, Co-Star Sharknado 4, Halloween II, Leprechan 3



Special Bonus for VIP Ticket Holders ONLY:
AMAZING FUN TECH GIVEAWAYS
from
WOWWEE!
Innovative Hi-Tech Robotic and Entertainment Products
We'll be giving away
VELOCIRAPTOR FINGERLINGS
*UNTAMED!*
Friend or Foe? You Decide!
*Only VIP Ticket Holders will be eligible for the Giveaway!
(Limited number to VIP ticket holders drawn at random)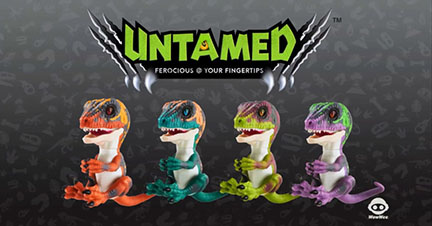 AND A BIG THANKS TO OUR SPONSOR:
HINT
Drink Water, not Sugar
Learn about our subscription program at DrinkHint.com!

and TOP COSPLAYERS
MICHELE HEADLEY
IVY DOOMKITTY
MEOW MISTI DAWN
LONSTERMASH
SANTANA
Judge at SDCC Masquerade Ball!
and more to be announced!
AND MORE GUESTS, INCLUDING:
FULLSCREEN
Original Entertainment for a New Generation
A global network of content creators and brands on YouTube
Attending: Damon Berger, VP Business Development
SCOTT PAGE
Co-Founder - 7th Level Games
(Monty Python game series, Ace Ventura, Disney's Tarzan, Disney's Hunchback of Notre Dame, G-Nome)
Also Acclaimed Musician and Saxophonist for Pink Floyd, Toto, and Supertramp!
HYPERKINETIC STUDIOS
Video Games & VR/AR Experiences for major franchises including
Epic Tavern, Spider-Man 2, and more!
Attending: Richie Bisso - Co-founder and President (Producer and Game Designer of Spider-Man series, The Incredible Hulk, etc.)
Yoshitomo Moriwaki (Creative Director of Epic Tavern and Spider-Man 2)

NERDS LIKE US Productions
Attending: Bernie Bregman - Producer, MC/Host



JON SCHNEPP
Director of The Death of Superman Lives: What Happened?, Metalocalypse
Host of Collider Heroes, Collider Comic Book Shopping, Writer of "Slayer: Repentless" ComicBook!
LEA SEIDMAN
Teen Titans Go – artist (DC)
My Little Pony – cover artist
Fiona & Cake Adventure Time (Boom! Comics) – cover artist
GEEKFEST FILM FESTIVALS
The World's First and Largest Traveling Comic Con Film Festival
Attending:
Bill Ostroff
- Creator & Producer
SAN DIEGO COMIC FEST
Attending:
Matt Dunford
- Chariman; President of
Little Fish Comic Book Studio
NEOPETS
A World Full of Virtual Pets and Exciting Games!
Oh the Nostalgia! Keep your Neopet happy and make sure your pets are healthy and fed!
Attending:
Ja Konkankit - Sr. Marketing Director
Andrew Yook - Marketing Assistant
And additional colleagues TBA
AND MORE SPECIAL GUESTS:
Carrie Liao
– Storyboard artist at
Walt Disney Animation Studio
Cheyenne Curtis – Storyboard Artist on Amphibia at Disney Television Animation
Kelly Gollogly – Visual Development Artist at Dreamworks TV Animation, previously BG painter at Nickelodeon
Shaene Siders - writer for Marvel Television Studios (Marvel's Avengers Assemble), Netflix (Saint Seiya: Knights of the Zodiac), Amazon Studios, Warner Bros. Studios (DC Comics), and Universal Studios.
Linsay Rousseau - Motion Capture Artist (Sailor Moon, SuperS, Horseless Cowboy, etc.), Voice Over (Elder Scrolls: Fall of the Dark Brotherhood)
Adrienne Wilkinson - appearing in Star Wars: The Clone Wars, Xena: Warrior Princess, Star Wars: Rebels, etc.
Bryan Michael Stoller - author, Harry Potter: Imagining Hogwarts
Chris Jai Alex - appearing in Assassin's Creed: Dissent and Thundercats Roar, stunts in Captain America: Civil War and Batman v Superman, motion capture for Thor: The Dark World and Jack the Giant Slayer
Ron Austar – "Pierre" on Tim and Eric Awesome Show, Great Job! (Adult Swim)

Joelle Sellner
– writer,
Avengers: Mightiest Heroes
,
Saved by the Bell
(graphic novels),
Sonic Boom
,
LEGO DC Super Hero Girls
,
Ben 10: Ominiverse
, creator of
Super Slackers
web series
Andrew Robinson – Blizzard Entertainment - Writer of cinematics for Blizzard's Overwatch and World of Warcraft, and many TV series including Marvel's animated Guardians of the Galaxy, Ultimate Spider-Man, four Transformers series, TMNT, and Kaijudo: Rise of the Duel Masters
Brandon Easton - writer, Vampire Hunter D: The Series, Marvel's Agent Carter, Transformers: Rescue Bots, Thundercats (2011), and graphic novels M.A.S.K., Lion Forge's CATALYST PRIME: INCIDENTALS, and the Eisner Award-nominated Watson & Holmes
Dave Shelton

– former Senior Writer and Head of Cartoons for

National Lampoon

, creator of

Professor Creepy's Scream Party

on the Monster Channel
Robert Burnett
– producer,
Agent Cody Banks
,
The Hills Run Red
; director –
Free Enterprise
,
Femme Fatales
, regular on
Collider Heroes
Joe Ochman
– voice actor on Fallout 4

,

Call of Duty: Advanced Warfare

,

World of Warcarft

,

Life Is Strange

,

Command and Conquer 4

,

Digimon

,

Space Jam

, and actor on

Buffy the Vampire Slayer

,

Lois and Clark

, and many others
Matthew DiPanni – member of The Mowglis (writer of the theme song for Disney's Big City Greens)
Casey Dacanay – guest starring on Scorpion on CBS, ambassador for Her Universe clothing line
Stephie Theodora

- writer

Danger Mouse

,

Hanazuki: Full of Treasures
Craig Miller

– writer,

The Hunger

,

Curious George

,

Stargate: Infinity

,

Godzilla the Series

,

Beast Wars: Transformers

,

Smurfs

,

The Real Ghostbusters

; publicist,

Star Wars

,

The Empire Strikes Back

,

Splash

,

The Dark Crystal

,

Superman 2
Neo Edmund – Author of Power Rangers: Tournament of Terror and Mighty Morphin Power Rangers: Putty Patrol, Creator of the Red Riding Alpha Huntress series, co-creator of Clan of the Vein
Paul Runyan
– SFX Artist n
Sharknado 5: Global Swarming
and
Heroes Reborn
, Animator on
Agents of SHIELD
, VFX on
Gotham
William O'Neill – Illustrator for Lucasfilm, writer of John Carpenter's Snake Plissken Chronicles (comic book series), co-creator Violent Messiahs graphic novel
Jan S. Utstein – Production Staff at Marvel Studios, publisher, John Carpenter's Snake Plissken Chronicles and Violent Messiahs; producer, Agent 88, Payday: The Heist
David An - VFX Editor: Transformers: Dark of the Moon, Ender's Game; appearing in Agents of S.H.I.E.L.D., Vampire Diaries, WB's Rampage, etc.
Laila Berzins
– voice actor on
God of War 4
,
State of Decay 2
,
Final Fantasy Explorers
,
Hunter x Hunter
,
The Wild Life
,
Son of Bigfoot
Chris Sanders – Producer, Gurney Productions (Duck Dynasty, Ghosts in the Hood, Shark Week)
Bernadette Bentley – Co-Founder Le Geek So Chic, Host, Comikaze All Year Long, Cosplayer
Amy Tsang – appearing in Lucifer on Fox and Shameless on Showtime
Heidi Cox - Founder of Dweeb Darlings, creator of Stalking Levar
Dan Davidson – appearing in Sicario: Day of the Soldado
Tom Malloy – producer/writer/starring in #Screamers
Josh Goldman – creator/hosts of That Hashtag Show
Joe Deckelmeier – creator/hosts of That Hashtag Show, journalist for Screen Rant
Michael Tabb – writer, Werewolf: the Beast Among Us and the upcoming The Car: Revenge Road
Hugo Abel Castro - Founder and President of Gamacon, a non-profit organization for video-game development in Mexico
Anne Toole - Writers Guild Award-winning writer on projects such as Horizon: Zero Dawn and the Emmy-winning series The Lizzie Bennet Diaries
Scott Mitchell Rosenberg - Chairman of Platinum Studios, former Senior Executive Vice President for Marvel Comics, Founder and former President of Malibu Comics
Bill Blair - appearing as aliens in Star Trek, Babylon 5, Guinness World Record Holder for "Most Special Effects Makeup Characters Portrayed in a Career"
Richie Solomon – Writer/Producer/Game Designer on videogames including Daily Rage!, BINGO Blitz, Zynga Elite Slots, Scratchers Casino, and The Godfather: Gangland. Three Emmy nominations for his work on the interactive series Stranger Adventures.
Alicia Hollinger – featured artist, Heavy Metal Magazine
Pat & Don Jankiewicz – journalists for Starlog and Fangoria
Nicholas Ainsworth – Sound Designer at JibJab Bros. Studios "Ask the StoryBots"
Tyler Boehm - VP Sobini Films (Mary Shelly)
Dennis Mallonee - founder Heroic Publishing
Mark Beachum - artist, Flare comic (Heroic Publishing)
Kelly Washington "Lucy" (blue girl) on Z-Nation, appearing in Jurassic World
John Patrick Lechago - Development Executive, Platinum Studios; Production Executive onAtlantis Rising and Unique


AND MANY, MANY MORE SPECIAL GUESTS
TO BE ANNOUNCED SOON!


COSPLAY HIGHLY ENCOURAGED!
Please Note: All weapons that are part of your cosplay outfit must be *obviously* fake, and in the spirit of cosplay. All fake cosplay weapons will be allowed at the discretion of event security.


IN ADDITION TO LOTS OF FUN - THIS WILL BE A MAJOR NETWORKING EVENT!

You should attend if:
* You're a fan of Comics, Sci-Fi, Fantasy, or Cosplay! *
* You work in the entertainment industry *
* You want to mingle with great people or just have fun! *
* You want to do some major high-end networking with top creators in the industry! *

ONE NIGHT ONLY!

THURSDAY, July 12th, 2018
7:30pm - 2am
(This is a 21 and over event)
at
OHM
at HOLLYWOOD/HIGHLAND
6801 Hollywood Blvd.
4th Level #433
Los Angeles, CA 90028
featuring the largest outdoor patio of it's kind
overlooking Hollywood!

You MUST RSVP
THIS IS A GUEST LIST ONLY EVENT

---


VIP LIST TICKETS WILL RECEIVE:
- Guaranteed entry (General Admission will be on a first come, first served basis - and if you've been to previous events, you know we will definitely hit capacity!)
- Access to the VIP Area (where the Celbrities & Special Guests will be!)
- Acces to the Red Carpet and Photo Wall
- Eligibility to win the Giveaways
- and MORE!
This event will sell out, so don't wait - get your tickets NOW!
For Media, Talent, and Sponsorship inquiries:
Let me know if you're an ESTABLISHED PROFESSIONAL with RECOGNIZEABLE CREDITS, and you'd like to be featured as a Special Guest!

GENERAL ADMISSION ONLY:
RSVP via email to:
jeffsviplist@mindspring.com
You must RSVP to the email above, or you will NOT be on the list!
You MUST include your FIRST and LAST name, how many GUESTS will be in your party,
and you MUST indicate the EVENT you are RSVPing for
If you do not include your FULL NAME in the BODY of the email, you will NOT be on the list
You MUST RSVP BEFORE 5pm on Wednesday, July 11th, 2018
*Really, are you SURE you don't want the VIP ticket? :)

BOTTLE SERVICE RESERVATIONS GET PREFERENTIAL ENTRY
THIS WILL BE A SOLD OUT EVENT
Please contact OHM to make your Bottle Service Reservations ONLY at
info@ohmnightclubla.com
OR call them at (213) 219-1300
(Use this email/phone for BOTTLE SERVICE ONLY!) and tell them you were sent by Jeff Gund!


For pics of our previous events:

I look forward to seeing you there!
FAQs
Are there ID or minimum age requirements to enter the event?
21+ ONLY!
What are my transportation/parking options for getting to and from the event?
Parking Structure at Hollywood/Highland, or local lots in the area.
What can I bring into the event?
All weapons that are part of your cosplay outfit must be *obviously* fake, and in the spirit of cosplay. All fake cosplay weapons will be allowed at the discretion of event security.
How can I contact the organizer with any questions?