Sales Have Ended
Registrations are closed
Sales have ended for this event, please check our other upcoming events.
Sales Have Ended
Registrations are closed
Sales have ended for this event, please check our other upcoming events.
5 Things Business Owners need to do in 2022 to maximize their business value.
About this event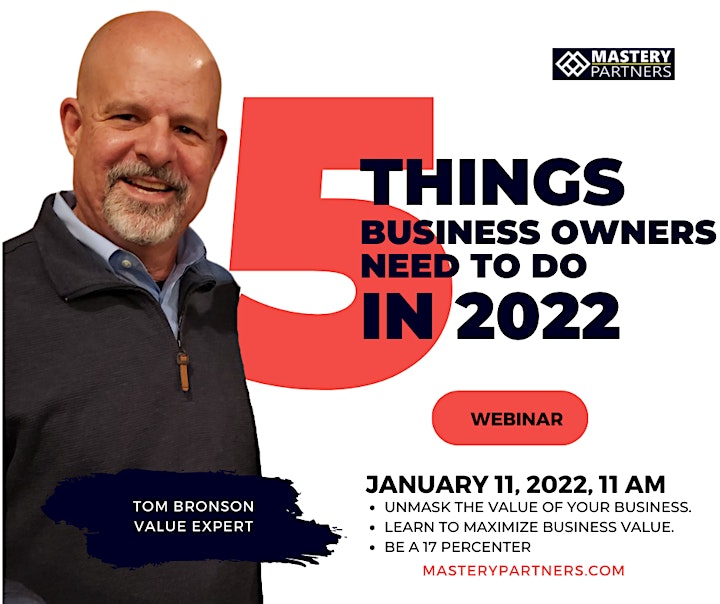 This is a special webinar for business owners to kick off 2022 with a bang. Tom Bronson gives us the 5 things business owners need to do in 2022 to maximize their business value. We not only tell you those 5 things but some ways to take action on them. We are all about massive action at Mastery Partners. Because what you do today has long-term implications on your future business value. So invest 60 minutes in you, your business and your future. See you there!
ABOUT TOM BRONSON: Tom Bronson is the founder and President of Mastery Partners, a company that helps business owners maximize business value, design exit strategy, and transition their business on their terms. Mastery utilizes proven techniques and strategies that dramatically improve business value that was developed during Tom's career 100 business transactions as either a business buyer or seller. As a business owner himself, he has been in your situation a hundred times, and he knows what it takes to craft the right strategy. Bronson is passionate about helping business owners and has the experience to do it. Want to chat more or think Tom can help you? Reach out at tom@masterypartners.com or check out his book, Maximize Business Value, Begin with The Exit in Mind (2020).
Mastery Partners, where our mission is to equip business owners to Maximize Business Value so they can transition their business on their terms. Our mission was born from the lessons we've learned from over 100 business transactions, which fuels our desire to share our experiences and wisdom so you can succeed.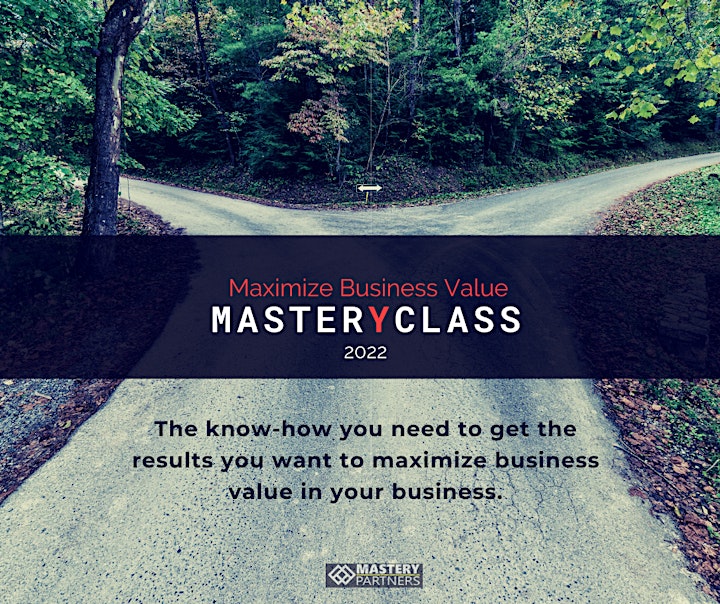 Our Maximize Business Value MasterYclass is a 12-month class where we teach you all we know about maximizing business value. We have the know-how you need to get the results you want to maximize business value.
We all come to a "Y" in the road, and we have to decide which way to go. As a business owner, this happens all the time - daily really. You have to decide which way is best for you, your business, your employees, and your customers. I've been there too. I have been down that road over 100 times. Like it or not, eventually, you'll come to a point when it's time for your business to transition.
Will you be ready?
Will you be able to get the maximum value for your business?
What you do now matters when it comes to the future value of your business.
I've completed 100 business transactions, as either the buyer or the seller, so I know what it takes to get your business to the point where it is an asset you can cash in. Up until now, our process has only been available to those that could afford to pay for it - but now we have created a new experience that combines our proprietary process with a leadership toolbox that helps you grow personally and manage your business more effectively so you can ultimately transition on your terms. Join us for this combined experience MasterYclass to maximize the value of your business.
How does it work?
Attend live virtual sessions monthly with me and other Mastery Partners
Get great business insights from me and our partners
Expand your network as a part of a small group of fellow business owners, work and learn together with a group of people who are in the same boat
Learn where your business is falling short and how to fix it
Expand their business toolbox
Monthly one-on-one coaching with me
And much more...
All The Tools You Need To Maximize Business Value
In our 12-month program, a group of business owners meets for 3 hours once a month working through our Transaction Readiness Assessment (TRA), expanding their business toolbox through leadership presentations and training and live interaction with other business owners. Every MasterYclass participant also gets one hour of coaching monthly with me 1x1 to talk about business and how to use the tools we provide to maximize business value for their specific business. This program determines vulnerabilities in your business that will affect your business value and ability to transition. Look, it doesn't matter if that transition is going to be in 2 years or 15 years, improving your value today creates long-term value when you are ready to sell that asset.
Visit mbvmasteryclass.com for more information and to join.
Organizer of [INFO]5 Things Business Owners Need to Do in 2022