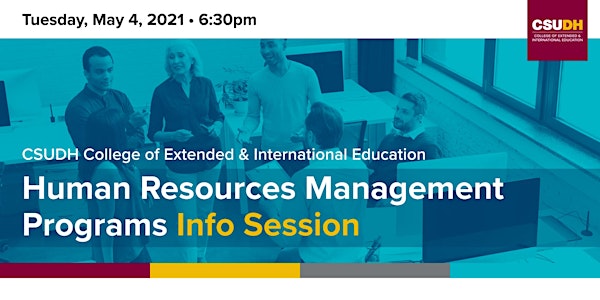 Info Sessions: CSUDH Human Resources Management Programs | Webinar (5/4/21)
Staffing professionals gain practical knowledge and expertise through the Certificate programs in Human Resource Management & SHRM Prep.
About this event
WANT TO BOOST YOUR HR SKILLS? Learn the latest insight on personnel and business management systems...
FIND OUT HOW - JOIN US FOR OUR FREE INFO SESSION!
This is an exciting and pivotal time in the HR profession. Now, more than ever, HR teams are required to assume a greater leadership role, contributing to the strategic direction of their organization. The profession is no longer just about what you know - but how you do your job.
The Human Resource Management Certificate Programs provides the knowledge and practical skills for career enhancement and job advancement in Human Resource management. The focus is on current business and personnel management systems, and participants learn how to successfully meet the challenges encountered in today's competitive business environments. The program also meets and exceeds the requirements for PHR (Professional in Human Resources) and SPHR (Senior Professional in Human Resources) re-certification.
Topics covered include:
Human Resources Management Certificate of Completion
Human Resources Business Partner Certificate of Completion
Society for Human Resource Management (SHRM) Certification Prep
Management and Supervision Certificate
For complete program info, visit: http://www.csudh.edu/ceie/hr
#hr #humanresources #humanresourcemanagement #staffing #employeemanagement #hiringbestpractices #hrlaw #shrm #shrmprep #certificate #certification #hrbusinesspartner #management #supervision
FAQs
How can I contact the organizer with any questions?
Feel free to connect with us on our LiveChat... we're here to help!