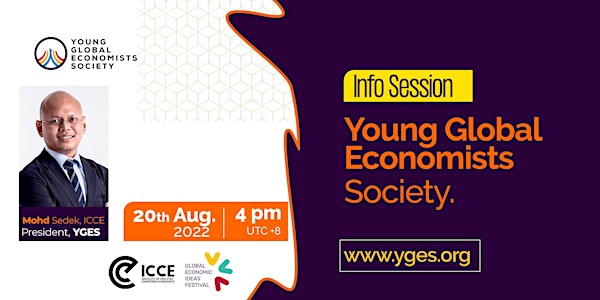 INFO SESSION: Young Global Economists Society - YGES
This is an information session to explore opportunities presented by the Young Global Economists Society
About this event
Young Global Economists Society - YGES
Young Global Economists Society (YGES) is a non-profit, non-partisan and independent organization established to organize, coordinate and train young economics professionals across the world and help them to build a new economic thinking patterns which are relevant in the 21st century and beyond.
YGES is established to be the vehicle of change, by raising global professional economists who would seek to question the foundation of our current economic practices and establish relevant thoughts patterns.
INFORMATION SESSION
We are excited to be hosting this interactive information session for all potential members from across the world who are interested in knowing more about the YGES.
Our Mission
To become a positive tool globally to champion the efforts of raising new economic thinkers and professionals.
YGES seeks to approach the young professional economists from all walks of life and educate them through series of dialogues and exchange of economic ideas on various platforms.
ENQUIRIES
Email: society@yges.org