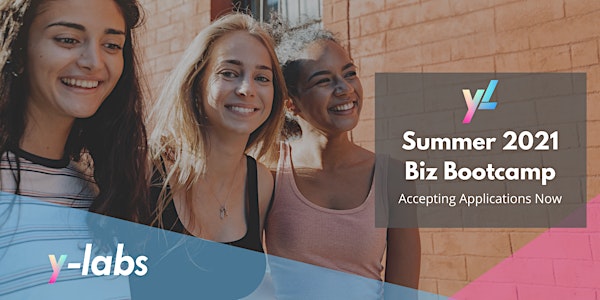 Info Session | Y-Labs Summer Fellowship
Summer 2021 - Biz Bootcamp for talented teenagers with high potential in the STEAMS
About this event
About Y-Labs Ventures
Y-Labs' mission is to accelerate social change through humane design, emerging technologies, and youth entrepreneurship.
Our educational programs target 14 to 21 year-olds in high schools + colleges with interests in STEAMS and passion for social innovation.
Would you like to create startups or nonprofits alongside industry experts based on emerging technologies?
Info Session
Last opportunity for a productive summer by applying to the Y-Labs Fellowship Program, a 5-week virtual business bootcamp to engage your passion in STEAMS (Science, Technology, Engineering, Art, Math, Sports) for social innovation.
2021 Y-Labs Summer Business Fellowship Program (Virtual Accelerator+Bootcamp)
Program Dates: July 6th to August 8th
Live classes:10am-12pm and 2-4pm PT
Location: Virtual
Age Range: 14 to 21 year-olds in high schools + colleges
Eligibility: Interest in STEAMS and passion for social innovation
Application: www.y-labs.us/summer-2021/
Blog: https://medium.com/@YLabsVentures
Fellows who stand out will have a chance to win awards at the demo day and might even meet interested investors.
This is not an ordinary entrepreneurship startup bootcamp, we help make your passion come to life by creating an impact in the community around you. We've crowdsourced real projects from non-profits. Passion projects you can be proud of for years to come.
Y-Labs is designed to be virtual-first with live classes and a low 4:1 faculty to student ratio, and experienced mentors, advisors, and facilitators are here to support your needs.
Sign up to attend the info session on June 20th @4pm PST to find out more.
Program Highlights:
Real-world projects proposed by nonprofits or vetted student projects
Industry experts as mentors.
Introduction to emerging technologies, such as AI and Machine Learning, Blockchain, Biotechnology, Gaming Design, AR/VR.
Demo Day to pitch your business ideas to investors and win awards.
Other Components:
Industry Networking, Fundraising, Pitch Practice.
Human-centered design: design solutions from the human perspective.
Personal Wellness, Emotional Intelligence, and Self Leadership.
Entrepreneurship and Product Management.
Curricullum designed by graduates of elite schools.
Past projects from top nonprofits in the area including Stanford Hospital among others:
Develop telemedicine platform to eliminate barriers to neurology care and testing.
Optimize food and healthcare delivery to the local homeless population.
Remove barriers to mental health and awareness for teens in high schools and colleges.
Design and execute fundraising campaigns for local nonprofits.
Develop credit programs for community businesses impacted by COVID-19.
Check out the 2020 Winning Team at the 2020 Demo Day.
Videos: Y-Labs Fellow Experience; Congressman Ro Khanna at Demo Day.
Program Outcomes
We aim to increase the pool of talent and capital dedicated to solving the most challenging problems facing humanity today.
Develop future-ready, socially-minded entrepreneurial leaders and equip them to succeed in a dynamic, ever-changing globalized world.
Design, launch, and scale successful high-impact technology startups and non-profit programs.
Program Value Proposition
Idea Hub: carefully curated, real-world challenges.
Mentors: training and mentoring by industry experts.
Virtual-first: enriching well-rounded experiences.
Connect: with fellows from around the world.
Apply for Summer 2021.
Our Partners