Info session: Weekly Data Science Classes
Description
Every Monday at 1pm: Information session about the programming at Byteflow Studios and Byteflow Dynamics.
Interested in Data Science? Visit Byteflow Dynamics for an information session to lean more about our upcoming classes, starting March 6th, and how you can empwer you career and set yourself up for succes in the everchanging analytics landscape. More info: http://www.byteflows.com/classes.html
---
About the information session:
The sessions are a chance for us to get to know you and learn more about your career goals. Our data scientists will walk through the methodology of Byteflow Studios teaching style and what makes us unique in this space. You can use this time to ask about our consulting practices as well.
Join us to learn more!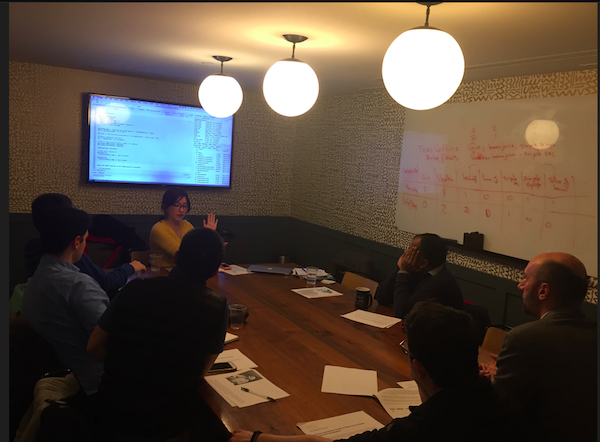 ---
Who are the classes for?
Whether you are looking keep up with new developments if the field of data science or just starting out, these classes are for you.
Analysts who want to learn more about tools and methogologies to add to their workflow.

Data Scientists interested in keeping up with new developments.
Academics and researchers interested in the commercial aspect of machine learning and data science.
Business mamagers who want to see if they can apply any of these methodologies into their field.
---
Who we are?
We are a data science consultancy based in NYC. We recently launched Byteflow Studios, an educational studio with hands on workshops in data wrangling, data visualization, supervised & unsupervised machine learning and more. Relevant blog post: http://bit.ly/2E1mTyY
Our approach to teaching is different: Instead of bootcamps we offer and environment for continuous learning. Our membership programs are structured similar to your gym or yoga or salsa classes. When you become a member you are part of a community of other professional, so you can learn and grow your professional network. AI and automation is changing the way we work faster than ever before, which means you should never stop learning, that's what an Edicational Studio does.
For weekly data classes see: http://www.byteflows.com/classes.html
Connect with us on facebook for updated future events: https://www.facebook.com/byteflows/
---
FAQs
What can I bring into the event?
Pen and paper for notes. You can bring your co-worker if you contact us before heading over to see if we can accommodate
How can I contact the organizer with any questions?
email: info@byteflows.com
text: 347-278-2892 (we are limiting to text only due to high volume of sales/robo calls)
What is the best way to keep in touch with updates and your future events?
Connect with us on Facebook, we update the information there a lot more often: https://www.facebook.com/byteflows/.
LinkedIn is also a good way to keep in touch.