Description
Check out Betamore's Upcoming Short-Form Course on React.JS: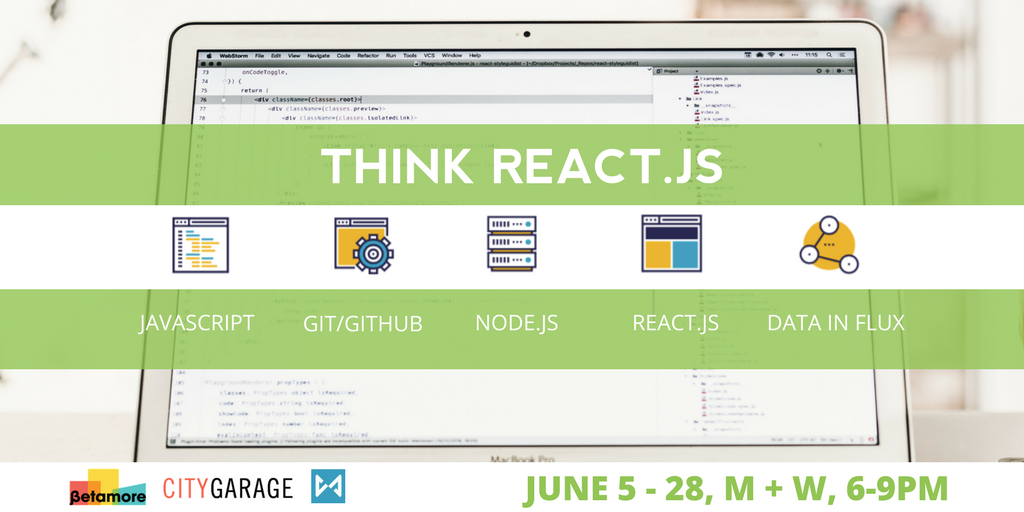 Wednesday May 24th @ 5:30PM You bring the questions, we'll bring the answers! ... and the beer!
Agenda
5:30-5:45pm: Say Hi + Grab a Drink
5:45-6:30pm: Course Discussion + Q&A
This course will teach you the essentials for building an app from the ground up in a way that is repeatable and extensible. You will work with React.js, a JavaScript library for building reusable high performance user interface components.
Is this for me?
Think React.js is designed for anyone interested in full stack JavaScript development with at least some prior programming experience in JavaScript, Python or an Object-oriented language and a basic understanding of HTML/CSS.
What will I learn?
This course focuses on building an app from the ground up in a way that is totally repeatable and extensible. The course is focused toward a zero to one of building in React, with emphasis on hands on work. The course will not try to cover a wide swath of minutia but instead the actionable 20% that will enable you to dive into 80% of day-to-day needs.
Course Information
When: Mondays + Wednesdays from 6-9PM running from June 5 - June 28
Where: City Garage, 101 W. Dickman Street, Baltimore, MD 21230
Cost: $1,200, Betamore Members receive a 30% discount
About The Instructor, Wes Etheredge
Wes is the Director of Data Science at Meta Studios, Inc. He is an Analyst at heart, developer for fun, and manager occasionally. He enjoys playing in the data, developing novel solutions, and leading technical teams in a range of challenges from spatial analysis to big data problems, Question-Focused Dataset strategies, and developing mobile apps.
Questions?
Email education@betamore.com