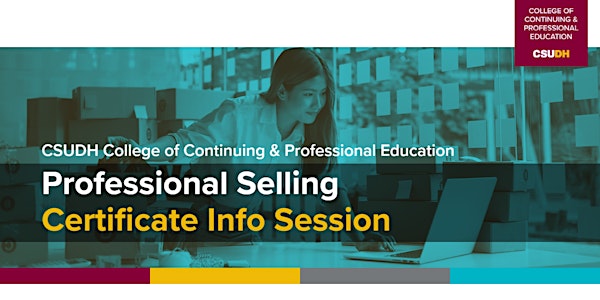 Info Session: Professional Selling Certificate | CSUDH Webinar (1/24/22)
Join Us on Monday, September 12 for the Professional Selling Certificate Program Info Session Webinar — Register Now!
About this event
Free Information Session:
CSUDH Professional Selling Certificate Program
Join us for the Info Session Webinar to learn about the NEW online Professional Selling Certificate Program at CSUDH. During the session you will meet the program instructor, learn about the program and the multiple career opportunities in professional sales, and get your questions answered.
The Professional Selling Certificate program at California State University, Dominguez Hills is an interactive online instructor-led program that combines sales skill, strategy and tactics with real world examples and scenarios including application through individual and team exercises.
The goal of this 9-session certificate program is to provide the student with the competence and confidence necessary to control and advance the sales cycle and understand the role of the sales professional in today's business environment. Each student will leave the program with a personalized "Account Strategy Worksheet," applying the skills learned to a real-world sales opportunity. Emphasis will be placed on effective communication including personal communication style, selling methodology, listening skills and relationship building through the inclusion and use of the DiSC Sales Profile.
Who Should Attend
The Professional Selling program provides a broad awareness of multiple career opportunities, as well as the knowledge required to excel while interviewing for a sales position. This program is targeted at the student who is not already a sales professional, or has yet to gain a basic working knowledge of sales principles and practices. Therefore, the program is great for:
those new to various sales roles
those exploring the possibility of a career in professional selling
those seeking a career as a Sales Professional
those who might like to refresh and update their selling skills
For complete program information, visit:
https://csudh.edu/ceie/professional-selling/
#professionalsales #sellingprofessionals #DiSC #salescycle #salesprofessionals