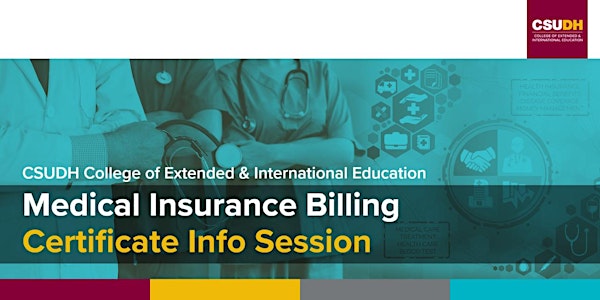 Info Session: Medical Insurance Billing Program | CSUDH Webinar (8/8/22)
The CSUDH MIB Certificate Program is designed to provide students with comprehensive training in medical insurance billing.
About this event
Free Information Session:
CSUDH Medical Insurance Billing Certificate Program
The Medical Insurance Billing Certificate Program is designed to give students an in-depth understanding of complex issues involved in the medical insurance billing industry. Our subject matter expert instructors bring a wealth of information to the classroom, covering everything from coding and office practices to regulatory issues and current trends in the industry. Students will gain practical knowledge to enhance their understanding of medical insurance billing practices as well as learn skills required to operate efficiently in today's medical offices, hospitals, and clinics.
Who Should Attend: Individuals who desire an entry-level position or improved job skills with a health care provider organization or service-providing business. Each course will provide building blocks for those seeking a career in a physician's office, hospital, or clinic as well as for those who are seeking to augment and improve their skills.
Topics include:
Insurance and Third-Party Payers 
Office & Insurance Problem Solving 
Regulatory Requirements – HIPAA Compliance & Ethics 
Inpatient / Outpatient Facility Billing 
Medical Terminology 
ICD-10 Coding  
CPT Procedure Coding 
Medical Insurance Computer Billing & Applied Billing Techniques 
For program information, visit:
https://www.csudh.edu/ceie/medical-insurance-billing
#medicalinsurancebilling #billingcoding #medicalbilling #medicalbillingandcoding #medicalbillingtraining #medicalcoder #medicalcoding #medicalcodingandbilling #codingandbilling