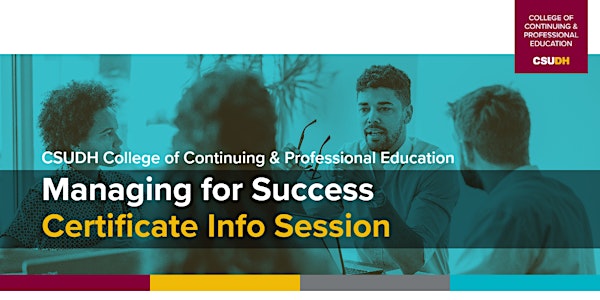 Info Session: Managing for Success Certificate | CSUDH Webinar (1/10/23)
The Managing for Success Certificate is for those in management positions who need hard & soft skills necessary to manage effectively.
About this event
Free Information Session:
CSUDH Managing for Success Certificate Program
Join us for the Info Session Webinar to learn about the NEW online Managing for Success Certificate Program at CSUDH. During the session you will meet the program instructor, learn about the program and the career-boosting opportunities in management, and get your questions answered.
Through this four-course, sixteen-week program, students will cover major topics of importance for the success of managers and supervisors in today's workplace. These include core areas of functional management responsibilities. Participants will learn how to build and develop a strong and effective team of employees to accomplish departmental and company goals, and how to manage the members of the departmental team, as well as how to achieve positive outcomes working with inter-departmental team members and leaders.
Who Should Attend
Current leaders, supervisors, line and middle managers, as well as individuals seeking to position themselves as viable candidates for promotion into management.
For more information, visit:
https://www.csudh.edu/ccpe/managing/
#managementskills #managers #supervisors #effectiveteambuilding #leaders