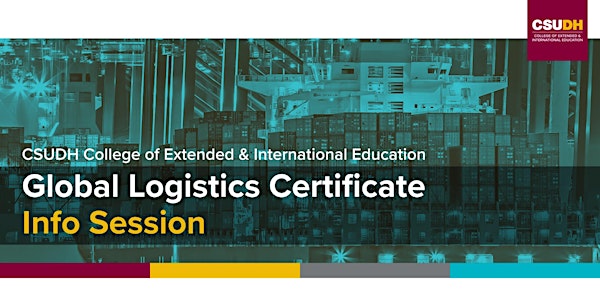 Info Session: Global Logistics Program | CSUDH Webinar (8/27/22)
The Global Logistics Certificate Program provides training for operational staff in freight forwarding companies, shipping supervisors, i/e.
About this event
Free Information Session:
CSUDH Global Logistics Certificate Program
The Global Logistics Certificate Program is designed to provide training for operational staff in freight forwarding companies, small to medium size shipping department supervisors, and export/import office staff. Additional exposure to warehouse operations, trucking operations, and the handling of hazardous material procedures as well as international finance provide for a pragmatic program, with immediate, applicable job skills.
The curriculum is based upon a sequence of courses that cover the body of knowledge to enter the field of logistics or improve current job skills for individuals already employed in the field. An overview of logistics, designed to introduce and define terms leads to specific courses that will enrich knowledge of how transportation plays such a major role in the world economy. The program will explore all modes of transportation both domestic and international and provide the groundwork to identify and handle commodities that require special attention, including security, dangerous goods, and government compliance. The curriculum is focused on the operational level of logistics.
Who Should Attend: Individuals who desire an entry-level position or improved job skills with a freight forwarder, small package company, trucking company, or warehouse. Additionally, many small to medium-size manufacturing and distribution firms depend upon a shipping supervisor to be familiar with the many facets of logistics; the various topics of the courses in this program would satisfy that need.
For program information, visit:
https://www.csudh.edu/ceie/global-logistics
#globallogistics #supplychainmanagement #importexport #transportation