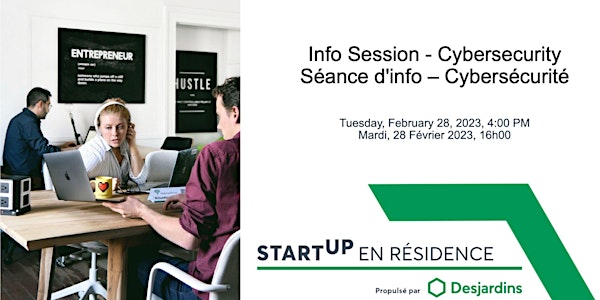 Info Session - Cybersecurity | Séance d'info - Cybersécurité
The cybersecurity call for application info session by Startup in Residence | Séance d'info - Cybersécurité par Startup en Résidence
Date and time
Tue, Feb 28, 2023 1:00 PM - 2:00 PM PST
About this event
How can Canadian cybersecurity startups help SMEs and individuals deal with cyberattacks, particularly those involving ransomware?
Cybercriminals are putting increasing pressure on businesses and citizens. In response, Startup in Residence and its partners want to support cybersecurity entrepreneurs who are coming up with innovative and sustainable technology solutions.
We are recruiting up to 3 startups to join our accelerator powered by Desjardins where you will receive a 15k grant, be part of an 8 month personalized program and potentially receive up to $250k in investment.
At this info session we will discuss the timeline, selection criteria and process for this Call for Application which closes March 9th.
---------------------------------------------------------------------------------------------------
Comment les jeunes entreprises technologiques canadiennes en cybersécurité peuvent-elles aider les petites et moyennes entreprises et les individus à faire face aux cyberattaques et en particulier aux rançongiciels?
Conscients de la pression croissante exercée sur les entreprises et les citoyens par les cybercriminels, le programme Startup en résidence et ses partenaires souhaitent accompagner des entrepreneurs en cybersécurité qui bâtissent des solutions technologiques innovantes et durables afin de les amener plus loin dans leur développement et de les préparer à recevoir du capital de risque pour accélérer de façon importante leur croissance.
Jusqu'à trois startups recevront une subvention non dilutive de 15 000 $, seront acceptées dans le programme Startup en résidence, l'accélérateur d'investissement de Desjardins, et pourraient aussi être admissibles à un investissement potentiel pouvant atteindre 250 000$.
À cette occasion, nous échangerons avec vous à propos de nos critères de sélection, notre programme d'accompagnement et nos offres de financement et nous prendrons le temps de répondre à vos éventuelles questions pour cet appel de candidatures qui ferme le 9 mars 2023.