Description
Check out ZeroFOX University's New Short-Form Course on Cyber Security: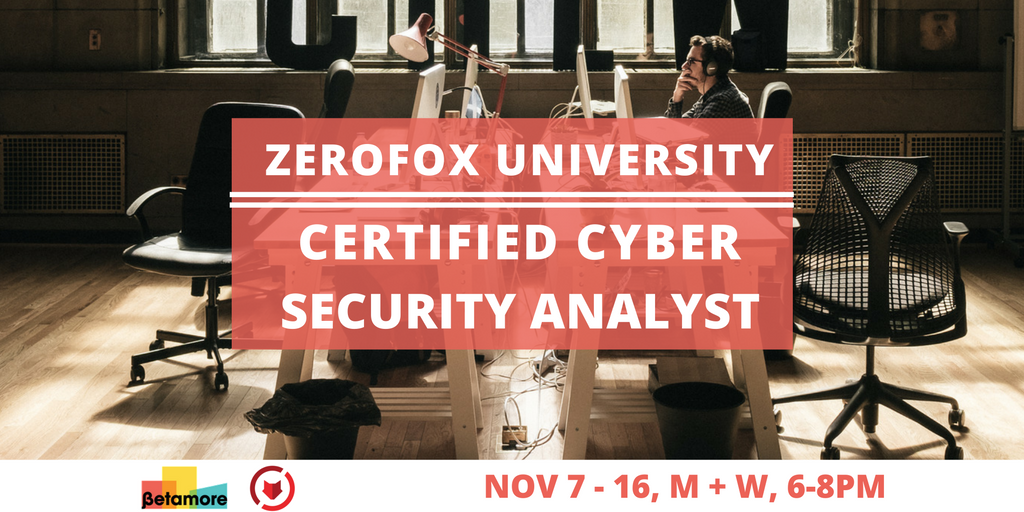 Thursday October 27th @ 5:30PM You bring the questions, we'll bring the answers! ... and the beer!
Agenda
5:30-5:45pm: Say Hi + Grab a Drink
5:45-6:30pm: Course Discussion + Q&A
Course Overview - Read more here.
Over the course of two weeks via four classes, ZeroFOX University teaches you the skills to thoroughly understand the cyber security landscape, the tools and tactics that adversaries leverage, and how to proactively defend and monitor your organization's key entities. The program begins with an overview of the cyber security industry, major players in the context of the market and their offerings, types of modern threats, and the value proposition of the different kinds of defenses that are currently available. Next, we teach you the tools, techniques, and procedures that adversaries leverage to target organizations and people, as well as test the security controls of social media. Lastly, we wrap up with a deep dive into tools used to protect your organization, including OSINT tools/strategies and the ZeroFOX Discovery Platform.
Course Information
When: Mondays + Wednesdays from 6-8PM running from Nov 7 - Nov 16
Where: Betamore, Fourth Floor at 1111 Light Street, Baltimore, MD 21230
Cost: $300, Betamore Members receive a 30% discount
Instructors: ZeroFOX University Manager and ZeroFOX Research Scientist
Questions?
Email academy@betamore.com