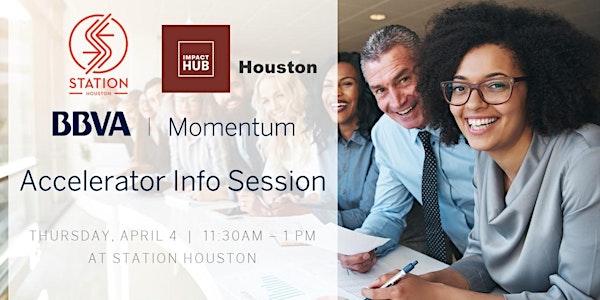 Info Session: BBVA Momentum Social Enterprise Accelerator | Impact Hub Houston & Station Houston
When and where
Location
Station Houston 1301 Fannin Street ##2440 Houston, TX 77002
Description
Social enterprises have been on the rise in the U.S. but, for many, finding the balance between commercial viability and social purpose is an all too real challenge. Join the Social Enterprise Alliance for an info session on BBVA Momentum's accelerator program followed by a panel discussion led by Grace Rodriguez, CEO of Impact Hub Houston.
About BBVA Momentum:
BBVA Momentum is a global accelerator for social entrepreneurs to scale-up their businesses and multiply their economic and social impact. Launched in 2011, BBVA Momentum is a five-month program for social enterprises that provides online and in-person training, expert mentorship, peer networking, global visibility and cash prizes totaling $175,000. For more information, please visit
www.momentum.bbva.com
or email
momentum.us@momentum.bbva.com
.
About Grace Rodriguez:
Grace Rodriguez is passionate about helping do-gooders do greater. She has shaped experiences, spread ideas, and spurred action as a leader, advisor, and advocate for diverse organizations, directly reaching over 247,000 people in the last decade. In 2016, Grace co-founded Station Houston to rally Houston's innovation ecosystem and connect entrepreneurs with the resources they need to solve some of society's most challenging problems. Currently, she serves as CEO of Impact Hub Houston.
About Shiroy Aspandiar:
Shiroy Aspandiar is the Co-Founder of One Jump, an online platform that connects underserved secondary students to enrichment opportunities and Impact Hub Houston a non-profit supporting changemakers, social entrepreneurs, and their supporters in Houston and around the world. Shiroy graduated from the University of Oregon before receiving a Master's Degree from Harvard Graduate School of Education. Previously, he worked as a Peer Learning Community Lead, Department Chair, and Instructional Coach for Houston ISD. He also worked as the Dean of Instruction for KIPP Houston before starting One Jump and Impact Hub Houston.
About Denise Hamilton:
DENISE HAMILTON is Founder and CEO of WatchHerWork.com, a digital learning platform for professional women. Denise is a highly requested speaker and trainer as well as media personality whose platform has reached and served thousands of women all over the world. At WatchHerWork, Denise has archived the professional experiences of hundreds of women to build a a library of over 6,000 videos with one goal in mind: closing the gap for today's professional women by giving them the advice they need when they need it.
About Sarma Velamuri

Dr.Sarma Velamuri, M.D. is board-certified Internal Medicine physician and co-founder of Luminare. Luminare a medical business intelligence company that provides hospitals with software tools to decrease morbidity and mortality related to sepsis. Sepsis is the body's abnormal response to infections and is the #1 cause of death in American hospitals.