Description
Check out Betamore's Upcoming Short-Form Course on Data Science: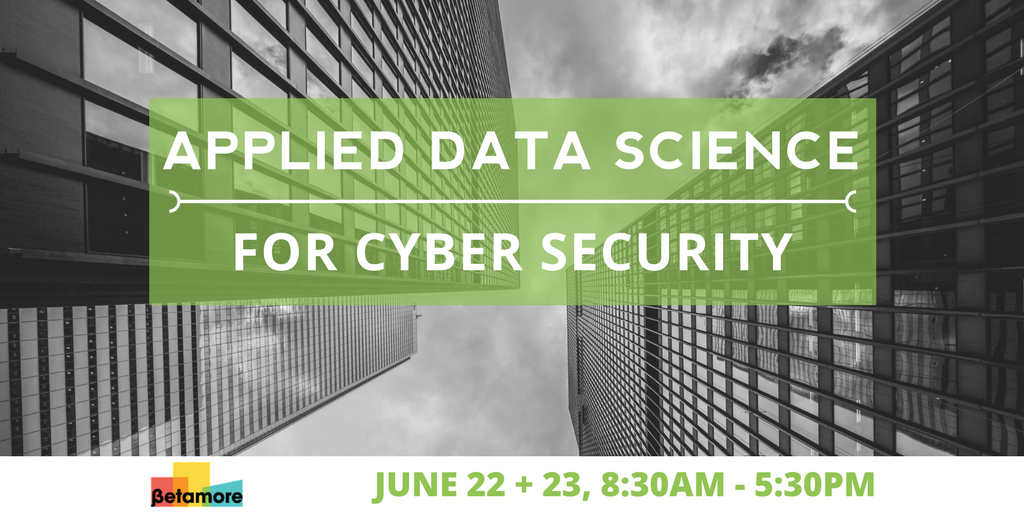 Wednesday June 7th @ 5:30PM You bring the questions, we'll bring the answers! ... and the beer!
Agenda
5:30-5:45pm: Say Hi + Grab a Drink
5:45-6:30pm: Course Discussion + Q&A
In today's world we are assailed by ever-increasing amounts of data and increasingly sophisticated attacks. In this 2-day training course participants will use their existing scripting skills and apply data science techniques to analyze data more efficiently and machine learning techniques to keep data and systems more secure.
Through a combination of lecture and exercises, participants will gain a practical understanding of the entire data science process from data preparation, exploratory data analysis, data visualization, machine learning, model evaluation, and implementing at scale — all with a focus on security related problems.
Is this for me?
This course is for you if:
You are a security professional with some scripting skills and you want to apply data science techniques to your work to analyze data more efficiently
You are a network analyst with some scripting skills and you want to use machine learning techniques to better secure your network
You want to incorporate automated data analysis into your work
What will I learn?
By the end of this course, students will be confident in their ability to apply this knowledge to extract more value from data while shoring up defenses.
Course Information
When: Thursday + Friday, June 22 + 23 from 8:30AM-5:30PM
Where: 1111 Light Street, Fourth Floor, Baltimore, MD 21230
Cost: $1,750, Betamore Members receive a 30% discount, Groups of 4 save 15%
About The Instructors
Charles Givre, Senior Lead Data Scientist - Strategic Innovation Group at Booz Allen Hamilton
Mr. Charles Givre CISSP has worked as a Senior Lead Data Scientist for Booz Allen Hamilton for the last six years where he works in the intersection of cyber security and data science. For the last few years, Mr. Givre worked on one of Booz Allen's largest analytic programs where he led data science efforts and worked to expand the role of data science in the program.
Mr. Givre is passionate about teaching others data science and analytic skills and has taught data science classes all over the world at conferences, universities and for clients. Most recently, Mr. Givre taught a data science class at the BlackHat conference in Las Vegas and the Center for Research in Applied Cryptography and Cyber Security at Bar Ilan University. He is a sought-after speaker and has delivered presentations at major industry conferences such as Strata-Hadoop World, BlackHat, Open Data Science Conference and others.
One of Mr. Givre's research interests is increasing the productivity of data science and analytic teams, and towards that end, he has been working extensively to promote the use of Apache Drill in security applications and has contributed to the code base. Mr. Givre teaches online classes for O'Reilly about Drill and Security Data Science and is a coauthor for the forthcoming O'Reilly book about Apache Drill.
Prior to joining Booz Allen, Mr. Givre, worked as a counterterrorism analyst at the Central Intelligence Agency for five years. Mr. Givre holds a Masters Degree in Middle Eastern Studies from Brandeis University, as well as a Bachelors of Science in Computer Science and a Bachelor's of Music both from the University of Arizona. Mr. Givre holds various Certifications including CISSP, Security+, Network+, Certified Penetration Tester, and CDIA+. He speaks French reasonably well, plays trombone, lives in Baltimore with his family and in his non-existant spare time, is restoring a classic British sports car. Mr. Givre blogs at thedataist.com and tweets @cgivre.
Dr. Melissa Kilby, Data Scientist + Cyber Defense Researcher at Booz Allen Hamilton
Melissa is passionate about high-performance computing and mathematical modeling. She specializes in advancing automated machine learning and deep learning within the domain of cyber security as well as scaling solutions up to Big Data and performing streaming versus batch analytics. Melissa cofounded GTK Cyber and is an experienced Machine Learning Trainer for cyber security professionals. She has taught courses at BlackHat USA, Booz Allen Hamilton and served as computer science instructor at the University of Georgia for biomechanics doctoral-level courses. Melissa holds a PhD from the University of Georgia.
At Booz Allen Hamilton she contributes to a variety of cutting edge cyber security research projects. Areas of focus range from Network Intrusion Detection in Industrial Control Systems (SCADA) to memory forensics, network defensibility, EEG Brain Authentication or Cyber Unified Big Data Platforms. Melissa explored a variety of suitable data transformations/projections and signal processing techniques. Her primary focus was on applying hybrid unsupervised - supervised Machine Learning and Deep Learning algorithms to generate data-driven insights, automate processes and develop complete data pipelines. Technologies used include AWS EMR, Hadoop, ElasticSearch, Apache Spark, Python, R, C++, CUDA, TensorFlow, Volatility, VirusTotal, PLCs, TShark, Android, IDAPro, GNURadio, Kali Linux.
Prior to joining Booz Allen she conducted primary research and coordinated experiments in the 3D motion labs at the University of Georgia and the Pennsylvania State University. Her research in sensorimotor neuroscience applied methods from nonlinear dynamical systems, chaos theory, multivariate statistics, machine learning, robotics and signal processing. She has 6 peer-reviewed publications in high impact journals and presented her research at top conferences such as Neuroscience. Melissa extensively used motion capture technologies and performed real-time biofeedback experiments within Virtual Reality.
During her summer internship at NASA Johnson Space Center she contributed to ongoing spacesuit engineering efforts such as the development and testing of a next generation of embedded sensor gloves. Melissa contributions was critical to help transition evaluation past laboratory testing into Neutral Buoyancy Facility (NBF) testing. These NBF tests are more complex tests as they are conducted during Astronaut training 40 feet underwater. Technologies used during her PhD include Matlab, R, C++, C#, CUDA, Virtual Reality, wearable technologies, inertial measurement units, force sensitive resistors, force platforms, pressure maps.
Austin Taylor, Senior Security Researcher at IronNet Cybersecurity
Austin Taylor is a Cybersecurity enthusiast with a passion for Continuous Monitoring and Hunt Capability. He currently serves as a Cyber Warfare Operator for the United States Air Force and works at IronNet Cybersecurity as a Senior Security Researcher.
Questions?
Email education@betamore.com