Influx- Creativity Conference

Tuesday, October 15, 2013 from 9:00 AM to 5:00 PM (EDT)
Event Details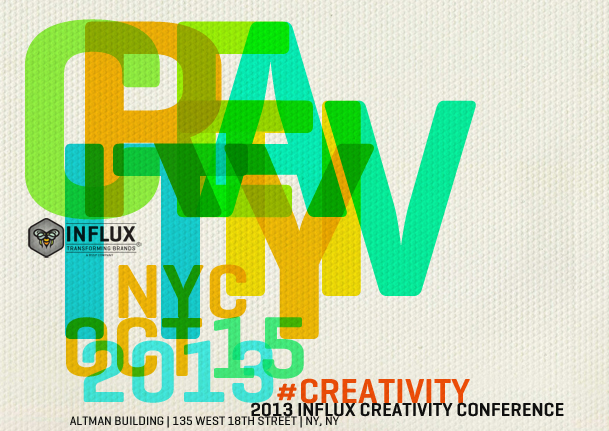 On October 15th in New York, Influx is bringing together an eclectic collection of speakers to spend the better part of the day talking about the topic of creativity.


Creativity has never been more important because it's not just about ideas anymore. Ideas are everywhere—what's critical is how ideas are realized and how magic is breathed into them.


Today even governments are being called upon to be mindful of creativity. It's on the C-Suite agenda; it's what makes some apps stand out over billions of others. Creative breakthrough has become an expectation within the marketing community at a time when it has become that much harder to capture people's attention.

Our day's speakers includes the following brilliant minds.
Broadway composer David Yazbek is a three-time Tony Award nominee and has written the music for The Full Monty, Dirty Rotten Scoundrels and has just finished writing his latest Women on the Edge of a Nervous Breakdown, set to open in London next year. David will share insights into his creative process with is us.
Georg Petschnigg lives in the spaces between engineering, design and business and is the co-founder of FiftyThree, creators of Apple's app of the year in 2012, Paper. Paper realizes the vision of turning a tablet into a virtual piece of paper and enhances an individual's artistic prowess in the process. George will be talking about where the concept for Paper came from and how he's the future of creative applications.
Eliza Esquivel, VP Global Brand Strategy at Mondelez International, is responsible for nurturing the $36 billion portfolio of high growth global brands (eg Oreo and Cadbury among others).  Eliza is a leader of an international team of strategists at Mondelez and she will be sharing how she helps inspire creative thinking inside her organization and with the companies external partners.
Paull Young is the Digital Director of Charity Water , an organization who has used creativity to draw attention to the plight of 800 million people across the world who don't have access to clean drinking water and helped to fund over 9,000 projects in 20 countries. Charity Water thinks more like a brand and less like a non-profit and has a highly creative approach to getting its message out, including its Birthday Campaign, which was spearheaded by Paull. Over 40,000 people have organized personal Birthday Campaigns where they forgo regular gifts and use social media to encourage their friends to donate to Charity Water. Paull will be talking about how Charity Water uses creativity in all aspects of its operation.
Arwa Mahdawi is the Strategy Director of Contagious in North America. Contagious has its fingers on the pulse of creativity in marketing communication, which it covers in its magazine. Contagious also works directly with its own clients like Spike TV, Mondelez, Google and Diageo to inspire their creativity. Arwa will be talking about the current state of creativity in marketing communications.
Kenny Miller is the founder and Executive Creative Director of digital agency, KMco, where he drives the development of products and platforms for clients including: Comcast, The New York Knicks, New York Rangers, Conde Nast and Nickelodeon.
KMco's latest work is for the Walking Dead, creating the viral hit Dead Yourself to engage fans directly in the world of the walking dead. Kenny will be explaining how the app was developed and the secret of its viral success.
Darren Marshall is the Vice President of Venturing and Emerging Brands at The Coca-Cola Company. Darren's role is to help nurture an expanding portfolio of emerging brands that includes Zico, Honest Tea  and Core Power. Darren is charged with finding highly innovative and creative ways of growing the brand portfolio and persuading passionate entreprenuers and their beverages to join VEB. Darren will be explaining how creativity is a vital ingredient in VEB's success.
When & Where

Altman Building
135 West 18th Street
New York, NY 10011


Tuesday, October 15, 2013 from 9:00 AM to 5:00 PM (EDT)
Add to my calendar