Description
Encouraging a more sustainable way to shop, influencers Libby Vilner (@lifewithlibby) and Lara Eurdolian (@prettyconnected) are coming together with sustainable wardrobe stylist, Claudine DeSola to host an influencer pop-up to sustainably sell all their unwanted new and gently used clothing and accessory items. New beauty products will also be available.
Bring your old denim to be recycled through Cotton's Blue Jeans Go Green™ denim recycling program and receive a $5 credit to shop the sale. The program is a call-to-action to recycle old denim and give it "new life" by converting it into natural cotton fiber insulation. All denim collected through Cotton's Blue Jeans Go Green™ program is recycled into insulation, in turn a portion is distributed to organizations to help building efforts across the country.
10% of all sales will be donated to Family to Family. And additionally, all products at the end of the night will be sustainably donated to various organizations.
Raffles and fun prizes to be won from Clean Beauty Collective Inc.™ and Nothing New throughout the event! For updates and to join the conversation follow us @insteadofmovement #MediaPopUpNYC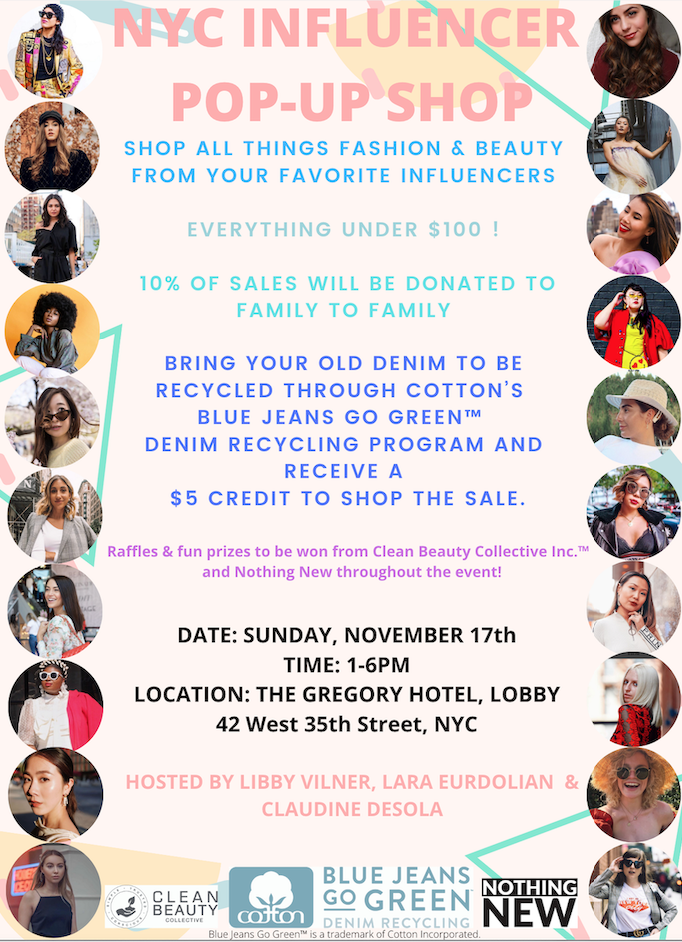 20 NYC based Influencer will be participating in the pop-up shop, see list below:
@lifewithlibby
@prettyconnected
@azaxdeh
@thestylewright
@thehautebrunette
@myfashionbreak
@happilyeverstyle
@fashionstylefoodie
@Laselmastyle
@scarletthalo_
@littlefashionstylist
@layersofchic_
@danielle_kle
@iamvivientatham
@stylevoila
@stylophyle
@theIncogneatist
@joelle_regh
@glamazondiaries
About Cotton's Blue Jeans Go Green™ denim recycling program:
In honor of America Recycles Day on November 15th, the only nationally recognized day dedicated to promoting and celebrating recycling in the U.S., Cotton's Blue Jeans Go Green™ denim recycling program is hosting its first ever Denim Stack Challenge. The #DenimStackChallenge invites consumers across the country to take a look inside their own closets, stack their denim, snap a pic, share it on Instagram, and then recycle what they don't often wear. Learn more about the #DenimStackChallenge by visiting bluejeansgogreen.org.
Blue Jeans Go Green™ is a trademark of Cotton Incorporated.
About Clean Beauty Collective Inc.™ :
Clean Beauty Collective Inc.™ is a company whose mission is to deliver prestige beauty collections that are simple, trusted and conscious. They made the choice to collaborate with partners that use green manufacturing practices, supply eco-conscious packaging, and use responsibly-sourced ingredients that give back to farmers and their communities.
The Clean Reserve collection features sustainable farm-to-fragrance ingredients, ethically sourced and blended into unforgettable scents.
About Nothing New:
High quality sneakers with a higher purpose