Actions and Detail Panel
INFLUENCER AWARDS GALA & FASHION SHOW BENEFIT
Sat, Sep 2, 2017, 7:00 PM – Sun, Sep 3, 2017, 1:00 AM EDT
Description
RED CARPET AWARDS + BLACK TIE FASHION SHOW
LOCATION1 HOTEL
NGO Sustainability is a non-profit organization in Consultative Status with the United Nations that is dedicated to promoting conservation and sustainability of the planet.
Influencer Awards Benefit mission is to preserve our beaches for future generations by empowering citizens and business wth sustainable technologies, education, and awareness for beach habitat restoration and ocean research. Where necessary, we also raise funds to directly pay for the entire process– from planning to studies, to the installation of eco-friendly solutions & technologies. (watch Miami Beach recovery initiative)
600 GUEST
LIVE MUSICAL PERFORMANCES

2 DESIGNER FASHION SHOWS
WATCH --AWARDS EVENT VIDEO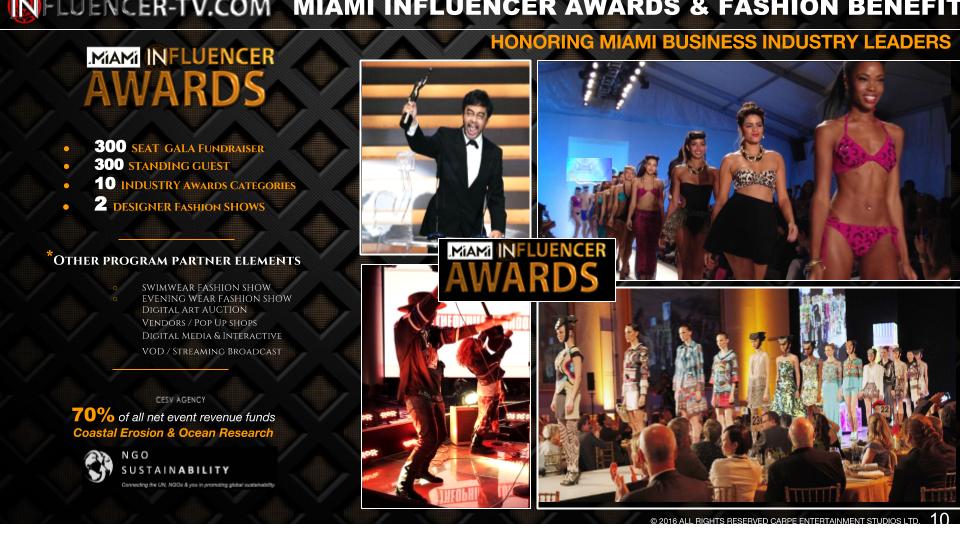 Influencer Awards Gala is an annual fundraiser established for NGO Sustainability to engage Miami's community & business leaders in an entertaining fashion for everyone to participate and truly make a difference in preservation of the environment all living organisms share as one
The nominees for the 2017 Influencer Awards, hosted by the Influencer-tv.com were announced to be held in Spring 2017. Selected by 11 industry figures, the 50+ award nominees reflect a broad scope of Miami business & creative community talent with categories like Technology, Music, Hospitality, to Designers, Entrepreneurs, and Celebrity/Public Figures. The result is a more diverse group of nominees with an international reach.
Miami Beach Erosion Site #1 Collins Park Arts & Cultural District Beach Recovery Program
18th - 33 Street South Beach -Awareness & Research Funding Site & Case study #1 below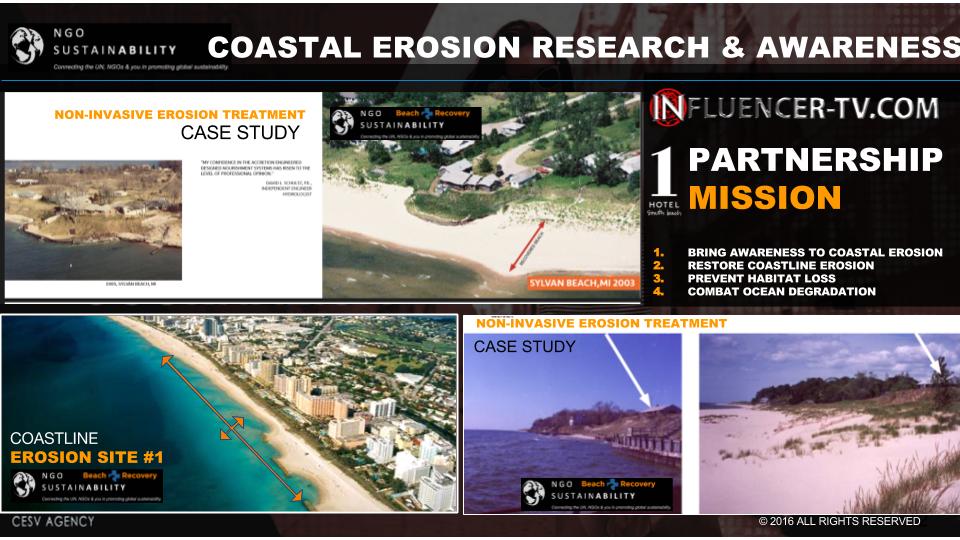 ABOUT NGO SUSTAINABILITY SOUTH FLORIDA BEACH RECOVERY -VIDEO
NGO Sustainability is a 501c3 organization, so all your donations for the event and sponsorships are tax-deductible.The 70% of event revenue raised will benefit NGO Sustainability (not for profit organization) and campaign efforts:

Partnerships & Event Infomation
Contact:
CESV AGENCY
Email: info@cesv-agency.com
Phone/Text: +1 786 371 6552

Special Thanks to all our partners

www.cesv-agency.com
Event Details Subject to Updates