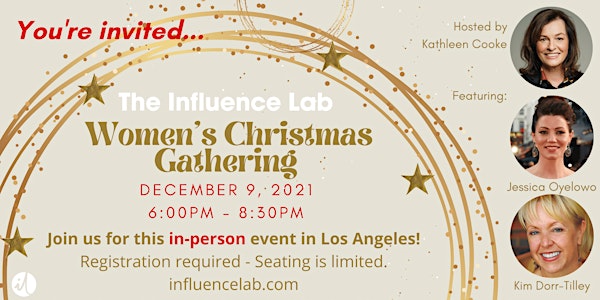 Influence Lab Women's Christmas Gathering
Join Kathleen Cooke, Pastor Kim Dorr-Tilley, actor-producer Jessica Oyelowo as we explore sharing faith and the hope of Jesus in Hollywood.
When and where
Location
Bel Air Church 16221 Mulholland Drive Los Angeles, CA 90049
About this event
Are you able to talk about your faith and the hope you have within? Are you able to respond to the questions those in Hollywood are asking in their search for happiness?
This Christmas ring in redemptive love, grace and freedom at The Influence Lab Women's Christmas Gathering in Los Angeles, Thursday, December 9th, 2021, from 6pm – 8:30 pm. (Doors open at 5pm. Arrive early to connect with others!)
Join Influence Lab co-founder and media executive Kathleen Cooke with guests Bel Air Executive Pastor Kim Dorr-Tilley (former Hollywood talent agent!) and actress-producer Jessica Oyelowo as we explore ways you can share your faith in Hollywood and celebrate the eternal joy we have in Christ Jesus!
"Give reverent honor in your hearts to the Anointed One and treat Him as the holy Master of your lives. And if anyone asks about the hope living within you, always be ready to explain your faith with gentleness and respect." (1 Peter 3:15)
Appetizers will be served. A donation will be welcomed at the door and greatly appreciated to support the event and the mission of The Influence Lab.
*We will be ending the evening precisely at 8:30pm, so we invite you to arrive early to enjoy some much-needed girl time! Doors open at 5pm.
PARKING: Parking is available in the Bel Air Church parking lot on Mulholland (immediately to the right of the main church driveway) and additionally in the lot across the street. Once parked, take the stairs up the hill and follow signs to the room marked for Influence Women (DC 103). Limited handicapped spaces are available in the upper lot for those with handicap placards.
Influence Lab Women gatherings bring together women to think, mentor and become women of influence by expressing a Biblical worldview while living and working at the highest levels of the media and entertainment industry. Find out more at InfluenceLab.com
We want to see you thrive in your faith and work. As a reminder the event is FREE and we are asking attendees to consider a generous donation at the door to help cover the costs of the event and support the mission of The Influence Lab. You can also give online here.
Meet your host, Kathleen Cooke!
Media executive, actor-producer, writer and speaker, Kathleen Cooke understands the struggles of professionals and leaders in the entertainment industry and is passionate about mentoring others to use media to positively affect culture. Co-Founder/ EVP of Cooke Media Group and The Influence Lab, she edits the Influence Lab Women's Journal and hosts Influence Women's Gatherings to challenge world thought and inspire professionals.
Kathleen serves on the advisory boards for the National Salvation Army, Hollywood Prayer Network, Courage For Life, and 4WordWomen and is the author of "Hope 4 Today: Stay Connected to God in a Distracted Culture." Find out more at KathleenCooke.com
Guest Speakers:
Kim Dorr-Tilley is the Executive Pastor of Bel Air Church in Los Angeles, CA. The unique hyphenate, "Pastor – Talent Agent," which she had for many years, opened doors for Kim to teach, preach, and share her testimony. She was a highlighted interview in the nine-part internet documentary series, "Christ Revealed," which featured top Christian apologists and historians and filmed on-location in Israel and across America. The series debuted in November 2017 and can now be found at www.ChristRevealed.com. Kim continues to reach young women and many in the entertainment industry through a Tedx Talk entitled, "It's About Time for Women… to Remember the Source of Their Identity." Quite a different audience was reached through an episode of the Sarah Silverman show, I Love You America, which brought leaders of various faith traditions into dialogue over a game of Horse.
Kim became a member of Bel Air Church in 1993 and has served on the pastoral staff since 2005. She currently has oversight of all BAC ministries including Missional Engagement, Community, Life Groups, Kids & Students, and more. Kim earned her M.Div at Fuller Seminary in 2002 and completed a Masters of Theology in Theology at Fuller Seminary with a focus on Faith and Culture in 2021. Kim worked as a Casting Director for nine years before becoming a Talent Agent in 1993. She was the founder and co-owner of Defining Artists Talent Agency from 2003 to 2015 where she helped launched the careers of such people as Rami Malek, Jessica Alba and America Ferrera. She is married to her sweetheart, Bob. Born and raised in Denver, she is a die-hard Broncos fan. Follow Pastor Kim on Instagram.
Jessica Oyelowo is a multi-faceted talent whose projects often highlight her singing, writing, acting, or producing. She started her professional acting career in 1997 following the National Youth Music Theater's West End and Broadway produced, Brecht's The Threepenny Opera, playing the leading role of Polly Peachum. She continued to return to her theatrical roots playing Rosalind in Shakespeare's As You Like It, Roxanne in the Royal Exchange production of Cyrano de Bergerac as she pursued her film and TV career.
Jessica appeared in the Tim Burton smashes, Sleepy Hollow and Alice in Wonderland and has enjoyed starring in and supporting several BBC productions including Murphy's Law, Mayo, People Like Us and Madame Bovary. Oyelowo premiered her song, What Love Does, alongside the release of The Water Man (in which she also starred in) as well as wrote three additional tracks for the film's original soundtrack.
Most recently Jessica has been building the production company she runs with her husband, Yoruba Saxon, in LA, while raising their four children and enjoys playing the piano while singing as well as practicing ballet and pilates. She continues to produce and direct narrative and documentary pieces for the big screen with media giants Disney, Paramount, and Netflix among others. Jessica has 4 children, 3 dogs, 6 chickens and a parrot. Follow Jessica Oyelowo on Instagram.