Description



THIS CONFERENCE IS A MUST FOR ALL ENTREPRENEURS, BUSINESS OWNERS AND CORPORATE LEADERS.
The objective is to arm you and your team with a simple and proven methodology for unlocking innovation and entrepreneurial thinking while becoming more visible, valuable and connected in your industry.


IS YOUR BUSINESS VALUABLE WITHOUT YOU?
Accelerate your growth, Raise funds/Exit and Scale into multiple countries by developing these categories of assets:
IP Assets
There are two main types of assets in business: physical assets – such as financial assets, infrastructure, buildings – and intangible assets – which includes ideas, brands, methodology, content and creative innovation. Traditionally, physical assets were of more value, but today this value has shifted. Now, innovation, methods, creativity and uniqueness are what's key to being in influential in your industry.
Brand Assets
What do Apple, Nike and Virgin have in common? Their brand is an asset. They're not just a name, they encompass a vision and mission, they have values, there is a certain feel and look. When customers think about these brands, emotions are evoked and memories are prompted. Today, marketers know that they can create a unique perception of a brand in customers' minds.
Market Assets
Knowing the position of your business means that you are placing yourself where customers are already going and looking, and addressing a particular need customers already have. Position your business to effectively connect to a market, it needs a clearly identified channel to that market, and a data that gives you an edge which include your clients' preferences, their frustrations and their buying habits.
Product Assets
When we speak of products, we're not only referring to a product as simply a set of physical items or packaging. A product is a replaceable and consistent way of achieving a desired outcome that your customer wants. Great businesses have a product ecosystem with four types of product, including a range of free, low-cost and core products that all serve a unique purpose.
System Assets
System assets are what allow the running of the business to be streamlined and efficient. How do you operate your business, and is the way you do it effective, productive, and progressive? It's not just about the tools you use to run your business, but the way in which you utilise them to achieve success. This includes Marketing and Sales, Management and Admin, and Operations.
Culture Assets
Businesses with great culture assets attract the right people to build and grow the business with. They also recruit and retain team members who are eager to contribute their skills to add value to the company, and who want to continue training and developing their skills to improve their performance. Having this kind of team encourages others to want to join, stay and develop a sense of loyalty.
CLICK BELOW TO WATCH THE TRAILER: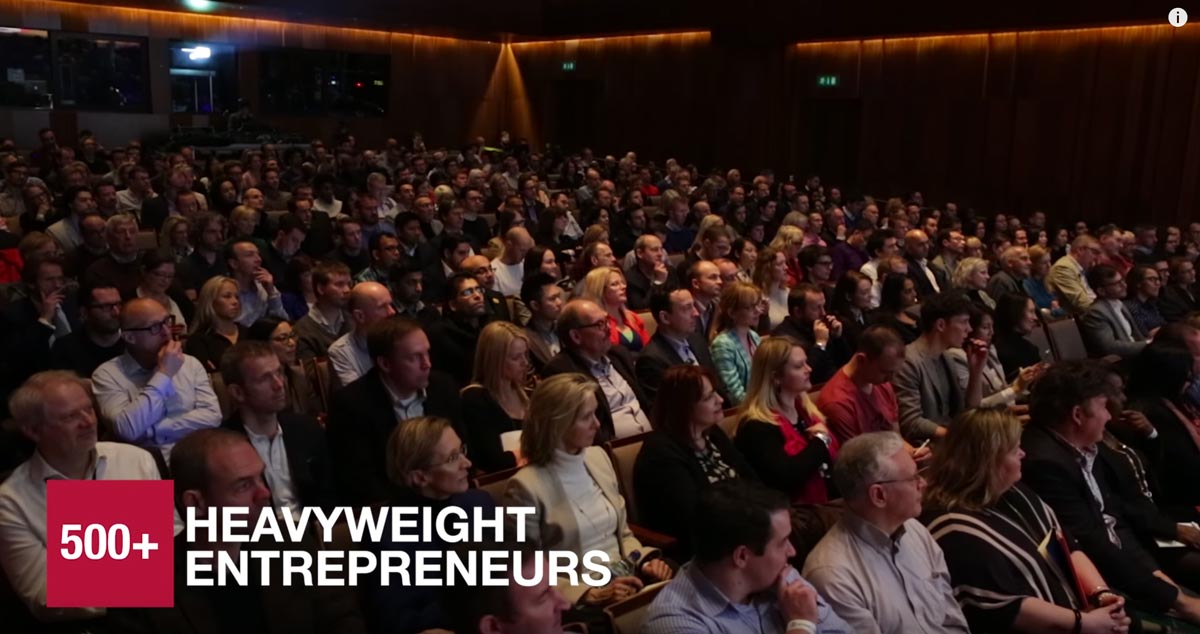 LEARN THE FIVE STEPS TO EXPANDING YOUR BUSINESS, CAREER OR TEAM.



PITCH
Develop a powerful answer to the question "what do you do?" and communicate your value with clarity.
PUBLISH
Establish credibility by getting your message in the hands of those who matter to the growth of your business.
PRODUCT
Exchanging time for money is self-sabotage. Turn your skills, talents and expertise into hot products that people want.
PROFILE
Learn how to get you and your business recognised in media - online and offline.
PARTNERSHIP
Nothing great was achieved in isolation. Learn how to create opportunities by partnering with high performers.


YOUR HOST FOR THE DAY
Daniel Priestley is a successful entrepreneur, speaker and co-founder of Dent Global, a global training company operating in the UK, Australia, USA and Singapore.
Daniel's mission is to create a world full of entrepreneurial people who solve meaningful problems. He's the author of the four best-selling books "Key Person of Influence", "Entrepreneur Revolution", "Oversubscribed" and the newly released "24Assets".
Daniel started out as an entrepreneur at age 21 and built a multi-million dollar event marketing and management business before age 25. He has since built several successful businesses in the UK, Australia, USA and Singapore.
Daniel has bought, sold and turned around businesses in his career as an entrepreneur. He has raised money and built businesses in multiple countries. He's fortunate to be mentored by Mike Harris who has built three iconic, multi-billion pound businesses. Daniel has also raised hundreds of thousands of pounds for charity and served on the board for several organisations such as KPMG.



YOUR BEST THINKING 5 YEARS AGO, IS YOUR BAGGAGE TODAY



This unique conference features word-class speakers who offer clarity, inspiration and strategy for expanding one's ability to influence in a business and leadership context.
This conference is not about 'learning' stuff. It's about packaging and productising your existing skills, talents and experience into intellectual property assets, which will help you and your team to become influencers in your industry.
Click here to read more about the event


OUR VISION
Our vision is to see a world full of entrepreneurial teams who stand out, scale up and solve meaningful problems.
We believe that many businesses are standing on a mountain of untapped value and they have lost perspective on how to make the biggest dent in the universe. We know that less time struggling creates the capacity for people to deliver more value to the world. In addition to accelerating business success, we aim to inspire more companies to support the UN Global Goals through giving and innovation. Our clients are business leaders and entrepreneurs who measure success based on their ability to positively impact the world.