Sales Have Ended
Ticket sales have ended
You're coming! Fantastic! Let friends know to come along and enjoy a day paddling on the Yarra. There's great info on our website - www.inflatableregatta.com Big thanks to our partners who do great water related things Melbourne Water - they've supported us since the start Yarra Riverkeeper Association - looking out for the Yarra WaterAid - looking out for clean water all over the place
Sales Have Ended
Ticket sales have ended
You're coming! Fantastic! Let friends know to come along and enjoy a day paddling on the Yarra. There's great info on our website - www.inflatableregatta.com Big thanks to our partners who do great water related things Melbourne Water - they've supported us since the start Yarra Riverkeeper Association - looking out for the Yarra WaterAid - looking out for clean water all over the place
We're coming to Footscray for the first time! Float and paddle 2kms of the Maribyrnong then party at the end.
About this event
Get your tickets for the Maribyrnong!
First time and we're pumped!
Float > Paddle > Party ;)
Boats fit two people so buy with a buddy or a group!
1 ticket per person - boats fit up to 2 people
Check below for Handy Things to Know and FAQs
Tickets include
Boat & Oars for the day
Life jackets just in case
Water-proof bag for valuables
Sunscreen & water (bring a bottle)
Party at the end! Live music, bar, food trucks
Party at the end with bar, music and great food trucks so bring a lobster or two ;)
We're also contributing to WaterAid this time around. They do great stuff for clean water.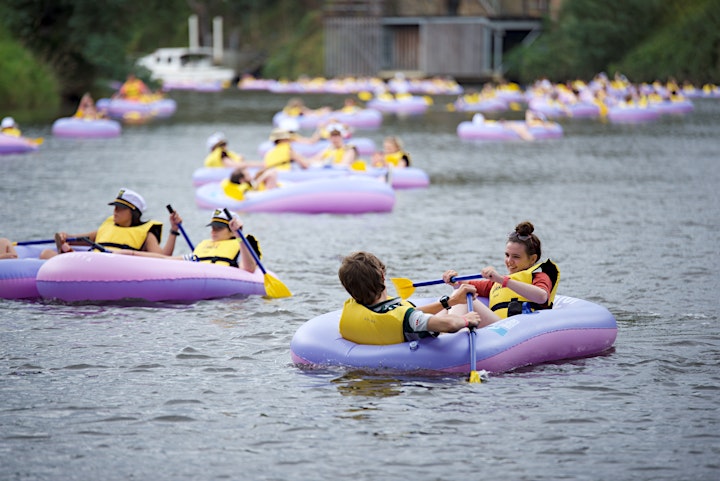 Handy Things to Know
1. Total boat capacity is 180kgs. Single boats available on the day, just let someone know if you'd like to do it solo
2. Public transport is by far the best. Trams and trains (Footscray or Flemington station) will serve you well.
3. No booze on the river. That's for celebrating when you finish!
4. Travel light. It's Feb in Melbourne so it's warm and the boats are snug with two.
5. Look out for new friends on the river. We try to be as hands off as possible once you cast off. It's your river to explore with others on the journey.
FAQs
Environmental considerations of IR2020? Yes. We can now recycle the boats if we can't use them for another IR event. No plastic bottles either.
Kids? Only if they're 13 or older. If under 18 you'll need to be with someone 18 or older. That's our insurers talking.
Parking? Yes, at Footscray Park, but it's limited and you'll have to walk back and pick up your car.
Finishing spot? Near Footscray Community Arts Centre.
Keeping boats? Not this time. We need to reuse them, and that's more environmentally beneficial.
What's IR for? Fun! And we actively support many organisations that work on river health, clean water and bettering urban environments - WaterAid, Yarra Riverkeepers Association and Melbourne Water.
Volunteer? Yes. Check our website.