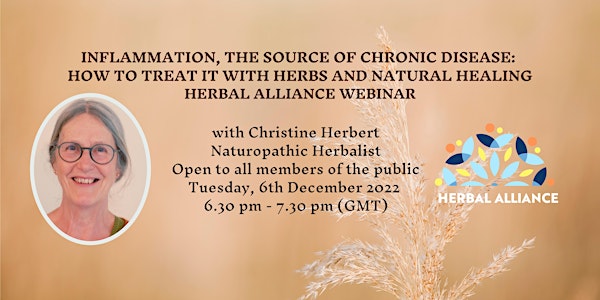 Inflammation, the source of chronic disease - Webinar by Christine Herbert
Join Herbal Alliance for a new and exciting series of public webinars about health, herbal medicine and wellbeing.
Refund Policy
Contact the organiser to request a refund.
Eventbrite's fee is nonrefundable.
About this event
Join Herbal Alliance for the public webinar ' Inflammation, the source of chronic disease: how to treat it with herbs and natural healing.'
Inflammation is a major scourge of modern life, and most people are affected by it to one extent or another. It is the underlying reason for all the major chronic diseases we see today and is the result of many different pathological processes, resulting in various conditions from allergies, arthritis, dementia, diabetes, and inflammatory gut problems to cancer. It also has a big impact on mood and mental health.
This talk takes a holistic approach and goes beyond anti-inflammatory medication, which only treats the result of and not the cause of disease and can also become part of the problem if used long term. We explain the inflammatory processes, the causes and risk factors and detail a wide range of chronic inflammatory diseases and explore how to treat the underlying causes of Inflammation to get a proper resolution and a return to health through the use of diet, herbs and natural medicine.
About the speaker
Christine Herbert HNHI, FAMH, Dip AET, BA (Hons), qualified as a herbalist in 1997, became a member of the Association of Master Herbalists and had been practising and learning herbal medicine ever since. She retired from practice in August 2019 to be able to write, teach and mentor.
During the years of her practice, she added iridology, flower essence therapy, kinesiology and allergy therapy. She used all those elements in her practice alongside a large proportion of nutritional advice. She specialised in digestive disorders and allergy/intolerance health issues, but all health issues were addressed in her practice. She served on the Association of Master Herbalists council for several years and is now an honorary fellow of that professional association. She was also one of the organisers of Herbfest UK for seven years. Christine co-edited and wrote many articles for The Herbalist, the journal of the AMH and URHP. Previously, she was a senior biomedical scientist for 20 years, working for the NHS in haematology and blood transfusion.
With her partner, Mark, she runs a self-sufficient small holding in Norfolk, UK, growing many of the herbs she used in her practice, and describes herself as being madly in love with all plants, whether for medicine, eating or both. http://www.christineherbert.co.uk/
About Herbal Alliance
The Herbal Alliance is a community of herbal organisations and herbalists with the shared aim of promoting and supporting herbal medicine and herbalists. For further information about Herbal Alliance and to sign up to the mailing list and receive a free copy of the Herbal Eye Magazine, visit: https://www.herbalalliance.uk/
Accessing this event
This online event will take place over Zoom. Please note that all the ticket holders will receive a link to access this Zoom webinar via the registered email on the 6th of December 2022.