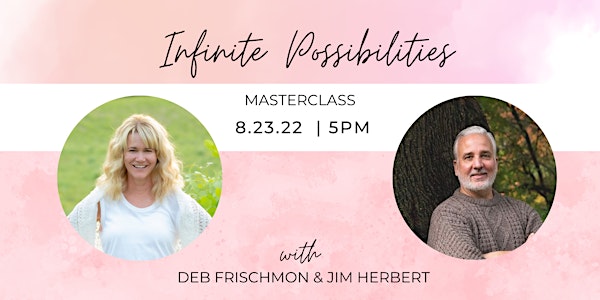 Infinite Possibilities Master Class
In this free 75 minute Masterclass we will discuss tools you can use to discover more fulfillment and contentment in your everyday life
About this event
Through the years many great spiritual teachers have taught on the foundation that we are ALL spiritual beings having a human experience. When we first begin to grapple with this concept we can be mixed with feelings of curiosity and feelings of overwhelm. Both these feelings are very normal and totally valid.
The question that then begs to be asked is, "What do we do when we become spiritually curious?" What are the best steps to take when that awakening starts to bud within us?
The possibilities of what we can do with our own spiritual curiosity are infinite and the options are many, but one of the best things that you can possibly do is to establish a foundation that will support your individual journey as you begin to explore that curiosity.
Maybe you are brand new to exploring the power of the human mind and the capacity of the human heart? Maybe you've been on the journey for decades. Either way, we invite you to join us for an evening where we will outline how to change every aspect of your life by examining:
~ The infinite power of your thoughts, words and actions
~ How to break down limiting beliefs that have been holding you back for years
~ Ways that you can channel your emotions to serve the as antennae that can guide you on every step of the path of life
~ Why it's important to take action without being paralzed by the fear of HOW the life of your dreams will unfold
~ Where to lean into your instincts and trust the signs that are always pointing to in the direction of joy and bliss
~ The importance of awakening your inner child who never stopped believing in magic
~ The value having faith in the truth that the Universe has always been conspiring in your favor
When it's said and done, we promise you that you will understand the simple fact that the meaning of life is to simply live it! We can't wait to share more with you!