Infinite possibilities: Learning symposium on mental health for youth under the age of 6

Thursday, February 1, 2018 from 8:00 AM to 4:00 PM (EST)
Event Details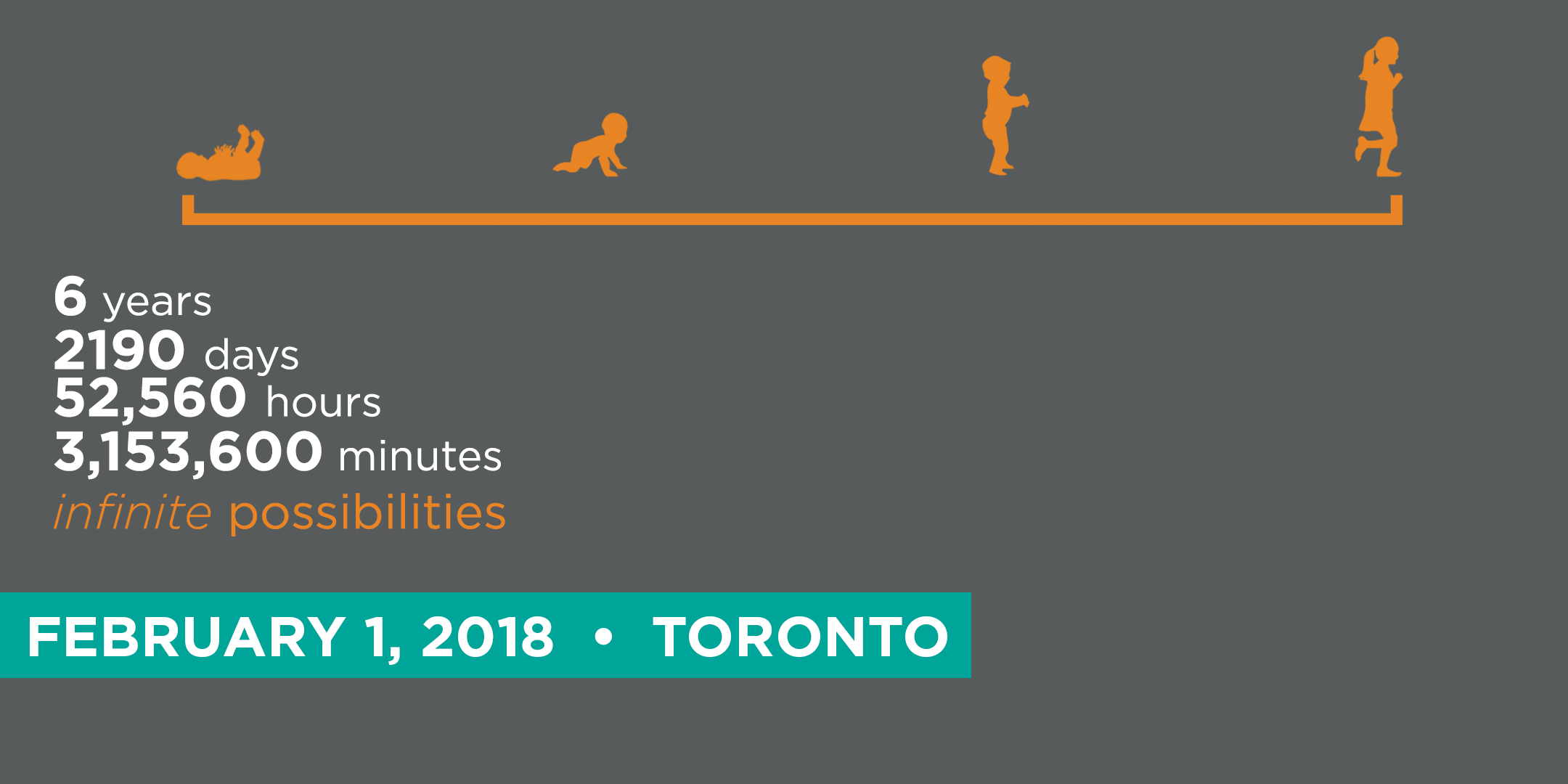 (Version française suit)
You're invited!
The Ontario Centre of Excellence for Child and Youth Mental Health is hosting our next learning symposium focused on mental health for youth under the age of 6.
Infinite possibilities: Exploring the continually evolving evidence on supporting lifelong mental health in our smallest people.
Participants will:
learn about the latest evidence in infant and early childhood mental health

hear from people who are using the evidence to make a real-world difference

connect with each other to inform the next steps in growing and using the evidence about what works (and what doesn't) for our youngest Ontarians.
This event is aimed at leaders, managers and front-line staff in child and youth mental health lead AND core service providing agencies. Please share this invitation with relevant individuals in your service area. Registration for this event is on a first-come, first-serve basis.
Coverage of costs
The Centre will cover hotel and travel expenses for lead AND core service agency representatives. This includes:
Transportation costs (i.e. flight, train, car mileage, taxi, parking fees) - Flights and train MUST be booked through the Centre's travel agent. Please contact CentreLearning@cheo.on.ca for information.

Meals purchased outside of these provided during the event - within the allowable amount, and with the provision of original detailed receipts.

Hotel accommodations for the night of January 31, 2018.
Register now!
Deadline for registration is January 3, 2018.
For more information regarding the event and accommodations please contact Tracey MacLaurin at CentreLearning@cheo.on.ca or at 613-737-2297 ext. 3344.
---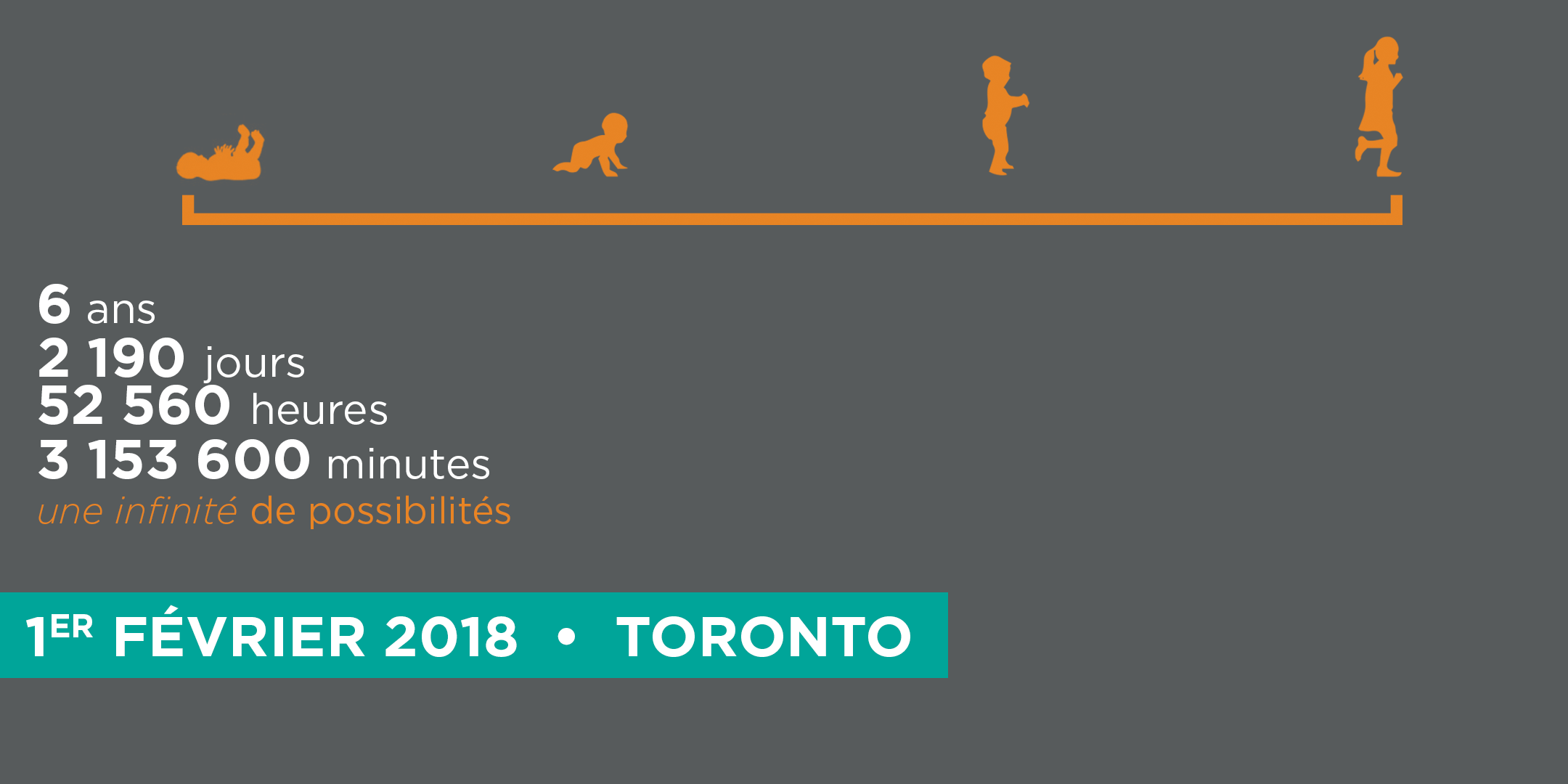 *Veuillez noter que cet événement sera en anglais seulement*
Vous êtes invité !
Le Centre d'excellence de l'Ontario en santé mentale des enfants et des adolescents accueille notre prochain symposium d'apprentissage axé sur la santé mentale pour les jeunes de moins de 6 ans.
Possibilités infinies : nous explorons les plus récentes données probantes sur la santé mentale de nos tout-petits, pour les appuyer tout au long de leur vie.
Les participants :
seront informés des plus récentes données probantes en santé mentale chez les jeunes enfants

apprendront de ceux qui utilisent ces données probantes pour changer la face du monde

échangeront avec leurs pairs pour éclairer les prochaines étapes de génération et d'utilisation de données probantes quant à ce qui fonctionne (ou non) pour nos tout-petits.
Cet événement s'adresse aux chefs de file, aux gestionnaires et aux intervenants de première ligne qui travaillent pour des organismes offrant des services de santé mentale aux entants et aux adolescents, qu'il s'agisse d'organismes responsables ou d'organismes prodiguant des services essentiels. Veuillez transmettre cet invitation aux intervenants de votre zone de services. Les premiers inscrits seront les premiers servis.
| | |
| --- | --- |
| Date et heure : | jeudi le 1 février 2018, de 8 h à 16 h |
| Lieu : | Courtyard Marriott Toronto Downtown |
|   | 475, rue yonge |
|   | Toronto, ON M4Y 1X7 |
|   | http://www.marriott.com/hotels/travel/yyzcy-courtyard-toronto-downtown/ |
Couverture des coûts
Le Centre couvira les frais d'hébergement et de déplacement des représentants des organismes responsables et des organismes prodiguant des services de base. Seront compris :
Les frais de transport (avion, train, kilométrage en voiture, taxi, stationnement). Il faut réserver son vol ou son train auprès de l'agent de voyages du Centre. Veuillez écrire à CentreLearning@cheo.on.ca pour en savoir plus.

Les repas autres que les repas prévus dans le cadre de la réunion - dans les limites prescrites et sur présentation de reçus originaux détaillés.

La nuitée à l'hôtel le 31 janvier 2018.
Inscrivez-vous dès maintenant !
Date limite d'inscription : le 3 janvier 2018
Pour en savoir plus long sur cette activité et les possibilités d'hébergement, veuillez communiquer avec Tracey MacLaurin à CentreLearning@cheo.on.ca ou au 613 737-2297, poste 3344.
When & Where

Courtyard Marriott
475 Yonge Street
Toronto, ON M4Y 1X7
Canada

Thursday, February 1, 2018 from 8:00 AM to 4:00 PM (EST)
Add to my calendar
Organizer
The Ontario Centre of Excellence for Child and Youth Mental Health (the Centre) works with child and youth mental health agencies to strengthen services and build an effective and accessible system of care. We offer a diverse collection of tools, services, products and resources to help professionals find, use and share evidence that improves outcomes.