Saturday, December 17th, 2021 | Sidecar Social presents Infinite Journey
About this event
Infinite Journey is an international Journey tribute band based in Dallas, Texas,
playing high energy shows across the country since 2012. This five piece delivers a
musically immersive Journey experience, focusing on the overall sound, solos, and
most especially the soaring vocals that make Journey so iconic.
- Sidecar Social is a 21+ venue after 8pm
- Doors open at 7pm
--------------------------------------------------------------------
RESERVATION DETAILS
- General Admision tickets include standing room only.
- Tickets are purchased for the entire table. For example, when you purchase Front 4 Top Table for $100, you are reserving all seats at the table – one table ticket includes a ticket for you, plus 3 of your guests. Seating arrangements for reserved tables may not be adapted.
- Table reservations will be from 8pm until end of show. You must arrive at 8pm to claim your reserved table.
- Don't forget to have your reserved ticket on hand, either in the Eventbrite app or printed, and ready to present to the host upon entry.
- All reservations are final.
- Want a VIP experience for you and your crew? Contact sidecar@sidecarsocial.com to reserve!
--------------------------------------------------------------------
ABOUT SIDECAR SOCIAL
Don't just go out. GO. ALL. OUT. Sidecar Social is designed to bring you together with friends new and old, so you can hang all day, really connect and emerge refreshed. Step inside your new home away from home, where old-school charm mixes with industrial edges. We made this 20,000 square foot experience for you. Down to chill? Kick back and relax with your four-legged friend on our all-seasons patio. Big game? Skip your usual Dallas bar and never miss a second of the action on our 18-foot TVs. Feeling brave? Line up for pop-a-shot or another game or karaoke it out with the live band.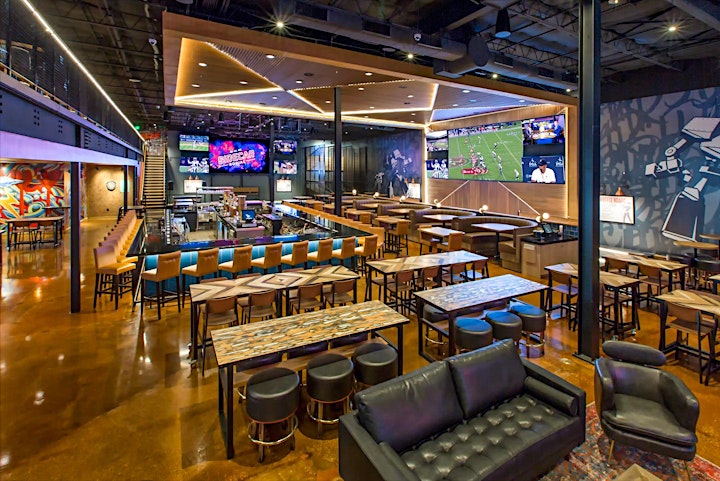 Sidecar Social
5100 Belt Line Rd. Dallas, TX 75254
(214)-272-3950
Monday & Tuesday: 11am to 12am
Wednesday & Thursday: 11am to 1am
Friday: 11am to 2am
Saturday: 10am to 2am
Sunday: 10am to 12am