InfeKTD: The Mixed Reality Event at SXSW

Friday, March 11, 2011 at 12:00 PM

-

Tuesday, March 15, 2011 at 12:00 PM (CST)
Event Details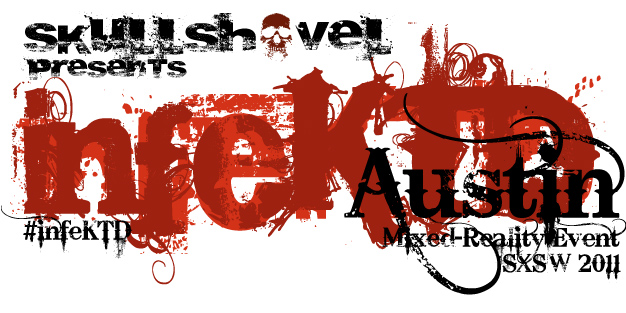 Strictly Limited to the first 2000 people! Sign Up Now!
InfeKTD Austin is a mixed-reality event being held during the 5 days of SXSWi 2011 (March 11-15, 2011) that fuses popular Zombie apocalypse mythology with Aztec mass ritual sacrifice and pits human vs. undead forces in a race to save the world from extinction in 2012.
This event combines a story driven scavenger hunt with engaging player interactions (player v player) to earn points and win prizes.
The highest point earner on each day wins a 3M Pocket Projector MP180
Learn more: bit.ly/3M-MP180

Players may only win one (1) 3M Pocket Projector during the entire InfeKTD Austin event March 11-15, 2011.
The Daily 3M Pocket Projector will be awarded to the highest point earner for that day that has NOT previously won the daily prize.

The highest total point earner for the entire event will win the Grand Prize
Learn more: bit.ly/g5SACt


a Custom Etched 11" MacBook Air

You DO NOT need a sxsw badge to participate.
What is Mixed Reality?
Unlike augmented reality which presents digital images and/or information superimposed over a real scene, mixed reality blends live actors, pre-scripted events and real locations with virtual game play to produce a rich, engaging player experiences.
General Details
You must be at least 18 years old to participate
You must have a twitter account to participate
You must have a QR Code reader like Red Laser
Registered players may pick up their badge beginning March 11, 2011 starting at: 10:00 am at: BestFit Mobile 200 Academy Dr. Suite 200, Austin, TX 78704

 The sooner you pick up your badge the better your chance will be to win the Grand Prize.

InfeKTD Austin Game play begins promptly at 12:00 pm on March 11, 2011. 
InfeKTD Austin game play ends promptly at 12:00 pm on March 15, 2011.
Follow the @infektd and @skullshovel twitter accounts for more information as we release it.
Game Play
Register for the event at: http://infektd.eventbrite.com
Bring your Eventbrite ticket to BestFit Mobile (200 Academy Dr. Suite 200, Austin, TX 78704) and claim your InfeKTD Austin player badge starting at 10:00 am on Friday, March 11, 2011.
You MUST be registered at Eventbrite and have a player badge to participate
Follow @infektd on twitter

ALL Winners will be notified by DM to come claim their prizes

Storylines

Each storyline places you  in the middle of the infeKTD Austin story as one of four distinct characters. Live the events through their eyes or follow the story of all four to experience the full view of the event.

Necropath – Dark priests in service of an Aztec deity bent on saving the world from destruction in 2012.
InfeKTD – As a newly bitten human you can experience the descent into anguish and madness as one of the undead.
Human – As a member of the Zombie Liberation Front (ZLF) fight to save humanity and preserve the dignity of the undead by putting a bullet in their brain.
Scientist – As a member of the elite Center for Virulent Disease Control (CVDC) Black Ops unit work to contain, understand and harness this new plague in the name of science.

Follow one or more of these storyline hash tags to get the quest title and links to all the quests and map locations of the QR Code posters:
Click the links embedded in the tweets for the storyline you want to follow.

You may follow one or all storylines.
Remember Daily and Grand Prize Winners are determined by the total number of points received during a day or over the entire event so following as many storylines as you can will give you the best chance of winning.

Read the first part of the story located on the google map marker
Go to the physical location depicted on the map and scan the infeKTD Austin QR Code Poster located at that physical location to receive points and read the rest of the story.

Player vs Player

Makes a great icebreaker and is a fun way to meet other SXSW attendees
Scan the QR Code located on any other infeKTD Austin collectible player badges to see if you win and how many points you receive.
Players do not have to agree to the scan to initiate an encounter
NO Points are deducted for losing - period.
Prize Award Ceremonies: Location and Times
You must follow @infektd on Twitter so we can notify you via DM that you've won a prize and remind you to come pick it up at the "extremely short" ceremony

We will not contact you via DM for any other reason unless you contact us first
We will not send you any automated DM responses

Prizes will be awarded at the following times and location

All prizes will be distributed at:

BestFit Mobile
200 Academy Dr. Suite 200
Austin TX 78704

Prize Award Ceremony Times:

Saturday March 12, 2011 at 12:00 PM

March 11, 2011 Daily Prize Awarded

Sunday March 13, 2011 at 12:00 PM

March 12, 2011 Daily Prize Awarded

Monday March 14, 2011 at 12:00 PM

March 13, 2011 Daily Prize Awarded

Tuesday March 15 at 12:15 PM

March 14&15, 2011 Daily Prizes Awarded
Event Grand Prize Awarded
Why Charge
To make sure that those who want to particpate get to. Because this event is limited to 2000 people we want to get badges in the hands of the people who really want them.
For less than a cold beer we are providing you with an opportunity to explore Austin, meet new people and - if you earn the most points - win some pretty cool prizes (we'll release more details on that shortly).
We get $1.96 and Eventbrite gets $1.04 it's just the way it works.
Special Thanks
We want to thank everyone that is working so hard to make this event possible.
Mobile Development and Event Headquarters
BestFit Mobile
Daily Prizes
3M
QR Codes and Mobile Analytics
44 Doors
Collectible Player Event Badges
Rio Ad Specialties
Press and PR
Stivers Creative 
Food
The Evil Wiener
Tshirts
Ink Lead and Thread
When & Where

BestFit Media
200 Academy Dr. Suite 200
Austin, TX 78704


Friday, March 11, 2011 at 12:00 PM

-

Tuesday, March 15, 2011 at 12:00 PM (CST)
Add to my calendar
Organizer
SkullShovel
produces engaging mixed-reality events for product launches, conferences, movie premieres and the music industry.
Learn more at 
skullshovel.com
Follow us on twitter
@skullshovel 
InfeKTD: The Mixed Reality Event at SXSW