Description
Online registration has closed - but you can still attend, and donate at the door! Can't attend? Sign up to be a Virtual Partier!
On Sunday, May 28, IndyHumane will be hosting its first-ever Indy 500 Porch Party, and you (and your pet!) are invited to join in! We'll have food and drinks, games and contests, and The Greatest Spectacle in Racing on the radio.
All registered Mutt Strut 2017 participants are invited to join at no cost, and we'll have a free drink ticket for you, too.
If you didn't get to register for Mutt Strut but want to attend the Porch Party, we're asking for a $5 minimum donation. If you'd like to upgrade your experience with some sweet VIP (Very Important Partier) shades and a free drink, tickets are just $20.
Can't make it, but still want to show your support? A Virtual Party ticket is available with a suggested donation of $5.
Prices are per adult 16+. Kids ages 1-15 are welcome to attend free of charge.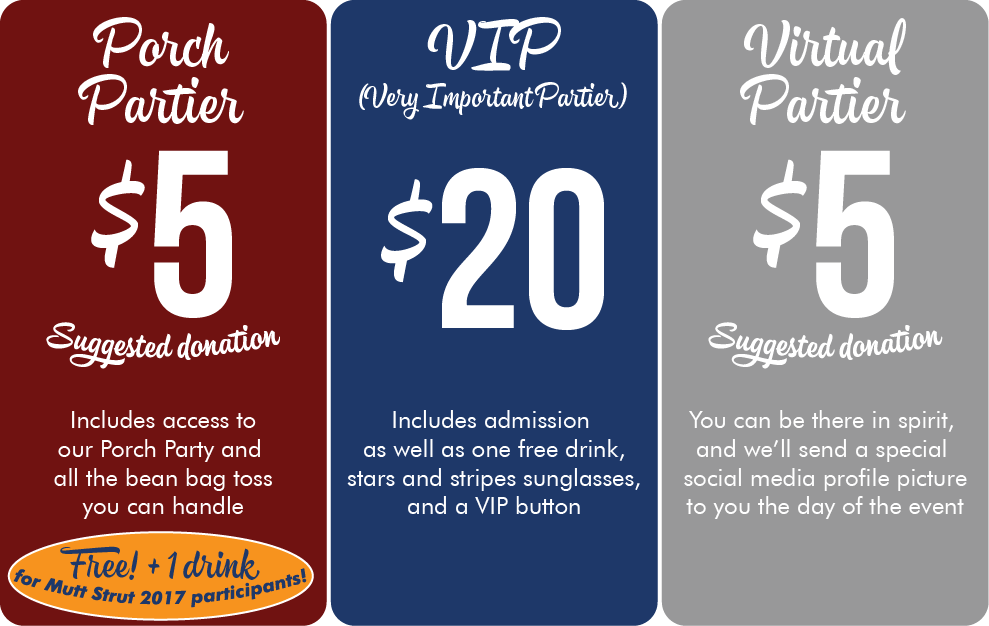 We are fortunate and grateful to have raised approximately $230,000 in pre-event registration and fundraising for Mutt Strut 2017, but that still leaves us about $70,000 short of Mutt Strut's $300,000 fundraising goal. Your support -- and our party for the pups -- is needed now more than ever!
---
What's a Porch Party?
Porch Parties have become a summer staple in Indianapolis thanks to the hard working staff at the Harrison Center for the Arts. The team has encouraged residents to host porch parties since 2007 and formally since 2014. About 130 people in 10 neighborhoods registered their parties in 2014. In its second year, over 36 Central Indiana neighborhoods participated with even more happening organically across the state.
Last year, the 100th Running Host Committee encouraged Indiana residents to throw porch parties in celebration of the Indy 500's monumental milestone. During May of 2016 alone, 519 porch parties registered with over 26,000 Hoosiers taking part.
---
So What About Weather?
While Mutt Strut is rain or shine (minus severe weather), this one is best enjoyed on a dry day. If the weather looks iffy for a majority of 500 Porch Party, we'll make the call by 7:00pm on Saturday, May 27, and contact all registered participants by email.
If you have questions, please contact us at events@indyhumane.org!