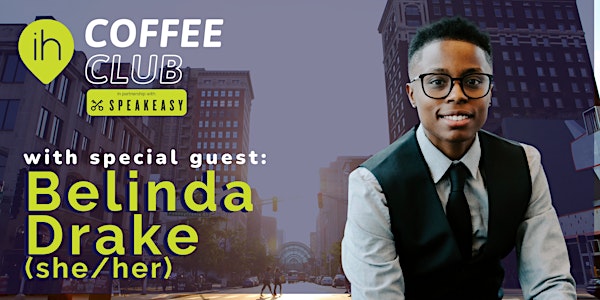 IndyHub Coffee Club
We're sharing the stories of our boldest community leaders through a networking experience for Indy's newest arrivals and long time fans.
When and where
Location
The Speak Easy 5255 Winthrop Avenue #110 Indianapolis, IN 46220
About this event
In Indy, our people are our biggest asset. We're home to the dreamers, the doers, and folks who care a whole heck of a lot about our city. It's the people here who make the city thrive and create the character, vibrancy, diversity and opportunities that set us apart from other communities.
IndyHub Coffee Club is in the business of sharing the stories of Indy's risk takers and barrier breakers. So we're sitting down with the people behind the city for candid conversations on how they've broken the barriers in mentorship, professional development, civic engagement, leadership and more.
Indiana native and community leader Belinda Drake (she/her) wears many hats. She is an advocate, a connector, a basketball player, stepmother, and wife to name a few. In all of her roles, she works every day to make Indy a more welcoming and inclusive city. Through her volunteer and leadership roles, Belinda shares her talents to improve access and opportunities for marginalized women. You won't want to miss this month's Coffee Club to meet Belinda and hear her vision to shape our city.
Whether you're new to the city or you're a lifelong Indy fan, join us to get connected and find your place in shaping our city.
-------
ABOUT BELINDA DRAKE:
Belinda Drake is a Gary native and resides on the far Eastside of Indianapolis in Warren Township. She received her Bachelor of Arts from Indiana University- Indianapolis in 2009 in Political Science and Minor in Legal Studies. She is Six Sigma Green Belt Certified. Belinda is Class 4 Graduate of Hoosier Women Forward. She recently received her certificate of Executive Leadership from Advisa Leadership Academy in 2022. Belinda is a former candidate for Indiana State Senate in 2020.
Belinda serves on the Board of Business and Neighborhood Services for the City of Indianapolis. She also serves as a Board Trustee for the Indianapolis Christian Theological Seminary. Belinda volunteers on the Equity Inclusion and Cultural Competence Committee with the Commission on Improving the Status of Children in Indiana. She also serves on the Indiana Black and African American Women's Council, where she strategically fights to improve access and opportunities for marginalized women.
Belinda most recently served as the Director of Youth Services with Indiana Youth Group (IYG) with a mission to help LGBTQ+ youth and young adults connect to life saving programs, basic needs, housing, and mental health services.
Belinda also enjoys spending time with her amazing wife and family, playing basketball, and mentoring and coaching local youth.