Description
This event is SOLD OUT. Please add yourself to the waitlist.
Event Information:
--
Imagine entering into an operating room at IU Health to find that your surgery is about to be live-tweeted to the world. That's exactly what happened on June 13 to kidney donor Colin Netwon and recipient Caleb Johnson. IU Health staff provided a play-by-play of commentary from the surgical team and family members while also sharing photos. Attend this month's social media breakfast to hear from Kristofer Karol and Gene Ford as they explain how they prepared for such an exciting event!

What's on the agenda?
We'll keep the event to 90 minutes, focusing on providing attendees with opportunities to meet each other, as well as hear valuable insight from our guest speaker.
Please note that doors open no earlier than 7:30am.
7:30 AM Arrival, breakfast courtesy of Panera, and networking
8:00 AM Announcements & introductions
8:10 AM Presentation by Kristofer Karol and Gene Ford
9:00 AM We're done! On with your day...
Who's Presenting?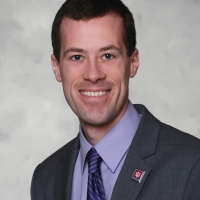 Kristofer Karol has several years' experience working in and with media. A former newspaper reporter in the Detroit area, he is currently a public relations coordinator for Indiana University Health, primarily working on community outreach and cardiovascular initiatives. In addition, he monitors the health system's Twitter feed (@IU_Health) and helped spearhead the state's first live "Twittercast" of a surgery in June 2012. A native of Detroit, he earned his bachelor's degree in journalism from Michigan State University and master's degree in public relations from IUPUI. He is married to Caitlyn and resides in Fountain Square.

Gene Ford has more than 11 years of unforgettable experiences in the field of healthcare public relations. He currently serves as a public relations coordinator for Indiana University Health, the state's largest health system. In his role, Gene handles media relations and crisis communications for IU Health's three flagship hospitals in downtown Indianapolis, and is primarily responsible for identifying opportunities to promote the health system's neuroscience and transplant services. A native of Indianapolis, he earned his bachelor's degree in mass communications and broadcast journalism from Tennessee State University in Nashville and serves on the board of directors for the Felege Hiywot Garden Center and the Martindale-Brightwood Community Development Corporation.
Creating content during the breakfast?
Event Hashtag:#indysm
Host Tweets:@IndySM
Facebook Page:facebook.com/IndySM
Parking
Parking is available in the Indiana Blood Center parking lot.
Sponsors:
--
Our in-kind sponsors help keep event tickets free and low cost, ensure we have food, and a location to hold the event! Please visit their website and read below.

Independent. Non-profit. Community-based. That's Indiana Blood Center. Every day hundreds of our donors raise their sleeves to give blood and save lives. Indiana Blood Center supplies over 60 hospitals statewide, representing donors from 80 out of 92 counties. It operates nine donor centers throughout Indiana and a fleet of approximately 60 blood collection vehicles. Indiana Blood Center provides nearly 170,000 blood components for transfusions per year. It also provide donor screening services for ten blood centers in the United States.
Panera has kindly agreed to provide delicious breakfast treats and coffee. With their recent opening of the Panera in Claypool Courts, the company now employs nearly 1,600 in the state of Indiana. Panera Bread is committed to offering great tasting, quality food and serves antibiotic-free chicken, whole grain bread, select organic and all-natural ingredients and a menu with zero grams added trans fat. At the close of each day, Panera Bread donates bread and baked goods to community organizations in need.
12 Stars Media Productions is a locally operated video production firm based in Fishers, Indiana — specializing in online promotional video, specifically for use in conjunction with social media marketing. Check out their Candidio service.