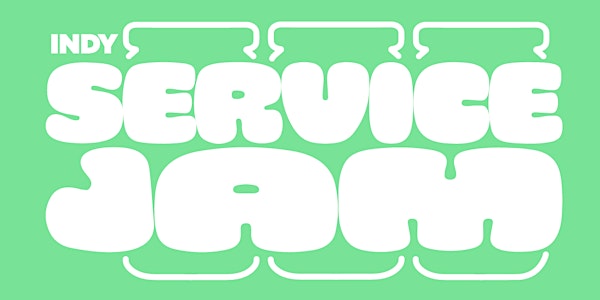 Indy Service Jam 2020
A collaborative design workshop to develop service design prototypes, gain new skills, and grow your network. Everyone is welcome!
When and where
Location
Launch Indy at Union 525 525 South Meridian Street Indianapolis, IN 46225
Refund Policy
Contact the organizer to request a refund.
Eventbrite's fee is nonrefundable.
About this event
****Early Bird tickets are available but going fast. Sign up today!****
//Pre-Jam Happy Hour - meet new friends and future jammers//
https://www.eventbrite.com/e/pre-jam-happy-hour-for-indy-service-jam-2020-tickets-97661479113
Around the world each year, Design Thinking and Service Design enthusiasts unite for the Global Service Jam. Designers, business people, community members, students and many more gather with one goal in mind: to research, create, and build a prototype in less than 48 hours. Join us in Indianapolis!
Who this is for: Everyone!
If you're inexperienced with design, or have a non-design background, this event is perfect for you to get your feet wet with design. We will have a safe space to try out new methods, do research, and build prototypes.
If you are an intermediate designer or design advocate, this is your chance to build upon your experience to develop your skills. Maybe you can lead an exercise for your team, create the research plan, or use your skills to build prototypes for user feedback.
If you're a student, join our event and grow your network, build collaboration skills, and flex those design muscles.
**Deep Jam Option**
If you are an experienced designer, sign up for our new Deep Jam. The Deep Jam is for advanced jammers to go farther and further than they thought possible in a weekend. You will be placed on a team together and pushed to tackle advanced problems using your industry expertise. Grow your network and skillset by learning from your peers!
All participants will walk away with new tools for your design toolkit, share experiences and meals with new connections, and build collaborative prototypes with teams of fellow designers and jammers.
Here's how it works:
After revealing the mysterious secret theme on Friday night, we'll break into teams and start working to identify a real-world problem. On Saturday, guided by our coaches, you will work in teams of 5 to do real world design research to uncover latent needs, generate ideas, and build prototypes. On Sunday, your team will turn that prototype into an interactive presentation to share on Sunday afternoon. See detailed agenda below.
Keynotes:
Design Thinking/Service Design: Terri Wada, President of Collabo Creative
As president and co-founder of the service design firm, Collabo Creative, Terri partners with service-conscious companies who desire to create exemplary customer experiences and grow loyalty from the outside in. Doubling as practitioner and educator, Terri helps companies to understand their customers' journeys, identify key areas of opportunity, and build capabilities to bring customer-centric innovation practices in house.
Design Research/Sensemaking: Jasdeep Chugh, Director of User Research at Salesforce
Ideation/Prototyping/Testing: Scott Kiekbusch, Product Design Manager at Allegion
Scott Kiekbusch is a digital product strategist and designer with nearly 20 years of industry experience. Scott has built & led digital product design teams, participated in the design and delivery of websites & applications enjoyed by millions of users, helped improve the product design practices of several organizations, and he's not a big fan of the term "UX." He's co-author of the book, The Designer's Guide to Product Vision (with Laura Fish; Pearson Peachpit, New Riders Imprint; available spring 2020). In his free time he enjoys playing & listening to music, traveling, photography, and periodically posting hot takes on Twitter @adjustafresh. He currently resides with his family in Zionsville, IN.
Parking
After 5pm on Friday, all day Saturday and all day Sunday, parking is free at the lot next to Union 525 at 699-601 Union St, Indianapolis, IN 46225. Please use this lot and look for a sign to enter the nearest side doors to the lot.
Ticket Info:
If you have a professional development budget through your employer and the ticket is being reimbursed, we ask you to use the Late Bird ticket.
All participants get a free t-shirt!
Code of Conduct
By signing up participants agree to abide by this code of conduct: https://hackcodeofconduct.org
For more information, check out indyservicejam.com
Also, check out globaljams.org for more info on the worldwide event.
Note about financial hardship: Our ticket prices are intended to recoup the cost of the event, but we do not want it to be a barrier for anyone interested in participating. Please reach out to the organizer and we will work with you to so you can participate.
Agenda:
Friday
5:00pm: Registration and networking
6:00pm: Kickoff and Agenda
6:30pm: Keynote: Design Thinking/Service Design Overview - Terri Wada
7:15pm: Icebreaker
7:30 pm: Dinner (provided)
8:00 pm: Secret Theme Revealed (see 2017's theme in the linked video)
8:15pm: Identify problems
9:00pm: Form teams of 5 people
9:15pm: Team Icebreaker
10:00pm: End of Day 1
Saturday
9:00am: Facility opens
9:30am: Day 2 Welcome and Announcements
9:45am: Align coaches to teams
10:00am: Keynote: Research and Sensemaking - (to be announced soon)
11:00am: Field Research
12:00pm: Eat lunch with your team (not provided)
3:30pm: Sensemaking
5:00pm: Keynote: Ideation, prototyping, testing - Scott Kiekbusch
5:45pm: Ideation
6:30pm: Dinner/Mixer (provided)
7:30pm: Design sketching/prototyping demo - (to be announced)
8:00pm: Prototyping
10:00pm: End of Day 2
Sunday
9:00am: Facility opens
10:00am: Prototyping and Presentation Building
12:00pm: Lunch (provided)
1:00pm: Final Presentation Practice
1:30pm: Upload prototypes to global site
2:00pm: Sponsor presentations (Launch Indy, Collabo Creative, more to be announced)
2:30pm: "Show and don't tell" presentations
3:30pm: Gallery walk/networking
4:00pm: Awards Reception
5:00pm: End of Jam - You did it, you're a Jammer!
****Regarding COVID-19, we are monitoring it right now. If we see a significant risk or if public officials make recommendations, we will take action including possibly postponing until a time when it is safe to have the event. We may make that decision up until the day of the jam, but will do so as soon as we can. Anyone who doesn't want to participate due to any perceived risk we will refund. STATUS: THE JAM IS GOING ON AS SCHEDULED.****