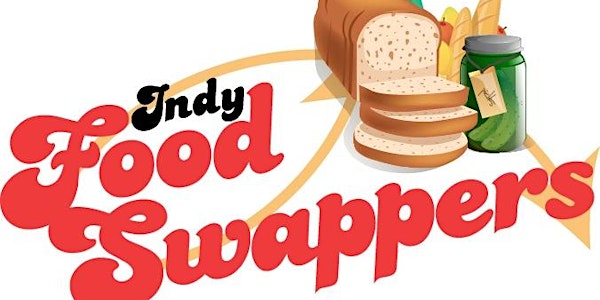 Indy Food Swap: March 2018
Date and time
Saturday, March 10, 2018 · 2:30 - 4pm EST
Location
Indianapolis City Market 222 E Market St Indianapolis, IN 46204
Description
Join us for our next food swap on Saturday, March 10, 2018 at Indianapolis City Market. As always,we'll be swapping on the mezzanine level at the north end of the building. You must be a registered attendee of the food swap (or one of their guests) to access that part of the mezzanine during the swap.
Indy Food Swappers is an Indianapolis-based, free food swap, striving to inspire creativity, build community, and spread good cheer. We trade homemade items and enjoy the company of new and old friends.
For everything you need to know about how our food swap works, please visit our website at http://www.indyfoodswappers.com/
WHAT TO BRING
One or more homemade, homegrown, or foraged food items, plus samples to try. Need ideas? Home-canned fruits and veggies, pickles, jams, jellies, chutneys, infused oils or vinegars, homemade cheeses, breads, crackers, cakes, pies, honey, granola, homegrown herbs and vegetables, foraged foods, soups, spreads, starters, salad dressings, etc.
Bring as few or as many items as you like, within reason. Do what makes sense for you.
Please package or wrap your food in a way that protects it, and makes the amount you are swapping clear.
If possible, please bring a list of ingredients for your items, or be able to share any special dietary notes (i.e. gluten-free, vegan, dairy-free, nut-free, etc.). This will be a big help to swappers who may have allergies or specific food intolerances.
We will provide bid sheets, name tags, and other necessary materials for the event.
HOW THE SWAP WORKS
Swaps will be auction style. Each swapper will be given a sheet of paper when they arrive with a space to write the name of the item(s) they brought, with several blank lines below it. The blank lines are there for other swappers to indicate their interest in your item. (These sheets of paper are called BID SHEETS, and they'll be provided at the swap)
The first 20 minutes minutes will be devoted to sign-in, set-up, and greetings.
The next 20 minutes will be the time for swappers to walk around and view and sample items from other swappers.
Then, we'll take 20 minutes to do the 'bidding,' which just means this is when you go around and write your name on the bid sheets of the items that interest you. Example: Jane brought some pickles I love. I brought pear jam to swap. I write on Jane's sheet that I would like to trade one jar of my pear jam for one jar of her pickles.
The final 30 minutes are when the actual swapping occurs. Everyone will go back to find their bid sheets and look at the offers. They will decide which swap offers they would like to accept for each item, and then find that person to make the swap.(Everyone will be wearing name tags.)
PLEASE NOTE: This is just a guideline of how the swapping part will work. Things get kind of crazy and fun when the actual swapping begins. Although the bid sheets serve as general guidelines, once people start chatting and trading with each other, the swapping becomes more spontaneous.
***You must be present at the swap from beginning to end to participate.***
Please be a courteous swapper--- if you order a ticket and cannot attend, send a cancellation email to suzannekrowiak@me.com so we can offer your space to someone else.Thank you!!
Connect with us!
Blog: http://indyfoodswappers.com
Twitter: @IndyFoodSwap
Facebook: Indy Food Swappers
Email: suzannekrowiak@me.com
Please be aware that all goods are made in home kitchens by private individuals, not professionals. We expect all swappers to maintain the highest standards of cleanliness and food safety in the preparation of their items. Nevertheless, by participating in the swap you acknowledge that the items available are not made in licensed kitchens or inspected by any government agency. Indy Food Swappers does not provide any guarantees or assurances about the safety of the swap items and individuals assume all risk themselves.
About the organizer
We are an Indianapolis-based, free community food swap, striving to inspire creativity, build community, and spread good cheer. We trade homemade items and enjoy the company of new and old friends.