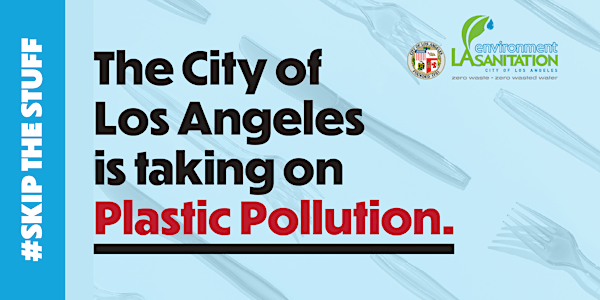 Industry Meetings: Foodware Accessories on Request Ordinance
Do you work in food service? Learn more about the City of Los Angeles' Foodware Accessories On Request Ordinance
About this event
LA Sanitation & Environment invites you to a meeting regarding the City of Los Angeles' newly adopted "Foodware Accessories-on-Request" Ordinance.
This Ordinance (No. 187030) requires that food and beverage facilities located in the City, and all third party food delivery services operating in the City to only provide disposable food ware accessories* upon customer request. The ordinance becomes effective on November 15th 2021. You can read the ordinance online here.
*Disposable foodware accessories include, but are not limited to: utensils, napkins, condiment packages, drink lids, straws etc.
LA Sanitation & Environment will host two virtual meeting sessions on Zoom:
Session 1 - Monday, September 27, 2021 from 9 am-11 am
Session 2 - Wednesday, October 6, 2021 from 9 am-11 am
Agenda
x Why a Foodware Accessories-on-Request Ordinance
x Ordinance Details - this ordinance pertains to disposable foodware accessories (utensils, napkins, condiments, condiment packs etc.)
x Applicability of the ordinance to dine-in, take-out, delivery, and drive-thru service
x Advisory Notice Mailer - will be delivered to approximately 35,000 food and beverage facilities by November 1, 2021. The mailer will contain a customer advisory notice that will be suitable for displaying in your facility.
x Alternatives to Disposable Foodware Accessories
To reserve a virtual seat to this meeting please click the green register button, and select the meeting session you wish to attend. For any questions, you may email srcrd@lacity.org or call (213) 485-2260.
In the meantime, we welcome you to join the conversation in social media using #skipthestuff. Our handle is @lacitysan on Facebook, Instagram, and Twitter - feel free to tag us in your recycling and sustainability efforts!