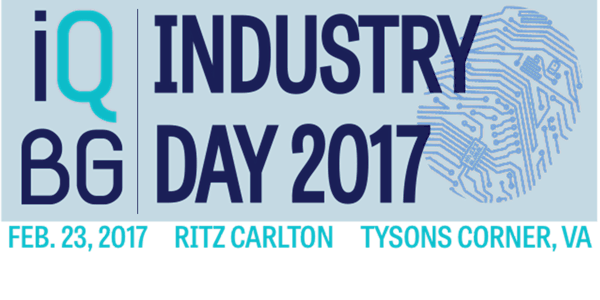 Industry Day 2017 | IoTs impact on the management of information.
When and where
Location
The Ritz-Carlton, Tysons Corner 1700 Tysons Boulevard McLean, VA 22102
Description
The Internet of Things is the focus of the second annual Industry Day. This free, one-day event brings together the top minds in the industry to network and collaborate. Keynotes and panels will discuss IoT and how it impacts the collection and management of information, specifically within the public sector.
Program Schedule
8:30-9:30am Registration & breakfast
9:30-9:45am Introduction
9:45-10:45am Morning Keynote: Hugh Ritchie, Senior Directory Industry and Value marketing at OpenText

11:00-12:00pm Breakout Sessions 1 & 2 (Information Ownership: Who has the rights & Business Process Management)
12:15-1:30pm "Communities of Interest" Lunch and Discussion sponsored by Stateside Associates
1:45-2:45pm Breakout Sessions 3 & 4 (Leveraging IOT and the Cloud for National Security & Auto-Classification)

3:00-4:00pm Closing Keynote: Retired General Raymond Fox
4:00-6:00pm Happy Hour sponsored by NEC and Bart & Associates
Industry Day 2017 Breakout Sessions
Information Ownership: Who has the rights?
The data from IoT is valuable – potentially providing a wealth of information about end-user preference and behavior that companies are eager to exploit. This session will explore questions related to who "owns" the data and gets to decide what gets done with it. The session will consider such issues as: What controls are possible for consumers who want to limit certain uses? Is a contact/consent model adequate? Where is the law today and where is it heading?
Presenters:
Marcus Peterson, Shareholder, Vedder Price
Carol Brock, Global Public Sector Strategist, OpenText
Todd Varel, Director and General Manager, IQBG
Leveraging IoT and the Cloud for National Security
In basic terms, cloud computing is a fundamentally new approach that allows Internet users (including companies and individuals) to almost instantly tap all the data, software, storage and computing power the user needs. This session will discuss a number of security issues associated with cloud computing: data security – in terms of the physical location of the infrastructure where the data is housed, as well as who owns it; compliance – meaning who is responsible for adhering to specified standards; multi-tenancy – the ramifications of competitors working side by side in the cloud; and governance – who sets the standards and establishes consistency.
Presenters:
Mike Mitsch, Managing Director, Cloud Services, NEC
Jonathan Evans, President, Bart and Associates
Isaac Negusse, Director, Federal Data Centers, Iron Mountain
Auto Classification
Auto Classification is the next-generation solution that combines industry-leading records management with cutting-edge semantic capabilities for classifying content.
For records managers and others responsible for building and enforcing classification policies, retention schedules and other aspects of a programmatic records management plan, the problem with traditional, manual classification methods can be summed up by what is called The Classification Paradox. Instilling a sound approach to records management as part of the organization's information governance strategy is rife with challenges.
This session will discuss how to apply auto classification to large volumes of information in a proper records management program.
Presenters:
Yuri Owens, Director and General Manager, IQBG
Ewan Macaulay, CTO, IQBG
Marie-Eve Racicot, Director of Research and Development, OpenText
Business Process Management
Fundamentally speaking, BPM focuses on improving performance by managing, updating and tracking mass amounts of information within an organization. IoT can be key to furthering an organization's automated routine tasks and optimized execution while maintaining the transparency that comes with a solid BPM system. Complex enterprise goals become even more self-fulfilling through the organized interaction of connected systems, employees, customers and partners with the use of IoT. This session will focus on creative and proven ways to use IoT to "soup up" BPM.
Presenters:
Troy Bare, Vice President, Think Smart
Steve Markman, Vice President, Counterpoint
Greg Lloyd, Vice President of Clients Services, IQBG
At lunch, attendees will have the opportunity to participate in "Communities of Interest" around the topics of social media and mobile. The event closes the day with an opportunity for attendees and sponsors to network during a free happy hour.
Thank you to our sponsors.
Platinum Sponsor:

OpenText

Gold Sponsors:

NEC, Iron Mountain and Vedder Price

Silver Sponsors:

SAP, Bart & Associates, Think Smart, Counter Point, Image API, iDox

Lunch sponsor:

Stateside Associates

Event sponsor:

AIIM