Industry 4.0 - Startups Summit 2020 (online)
About this Event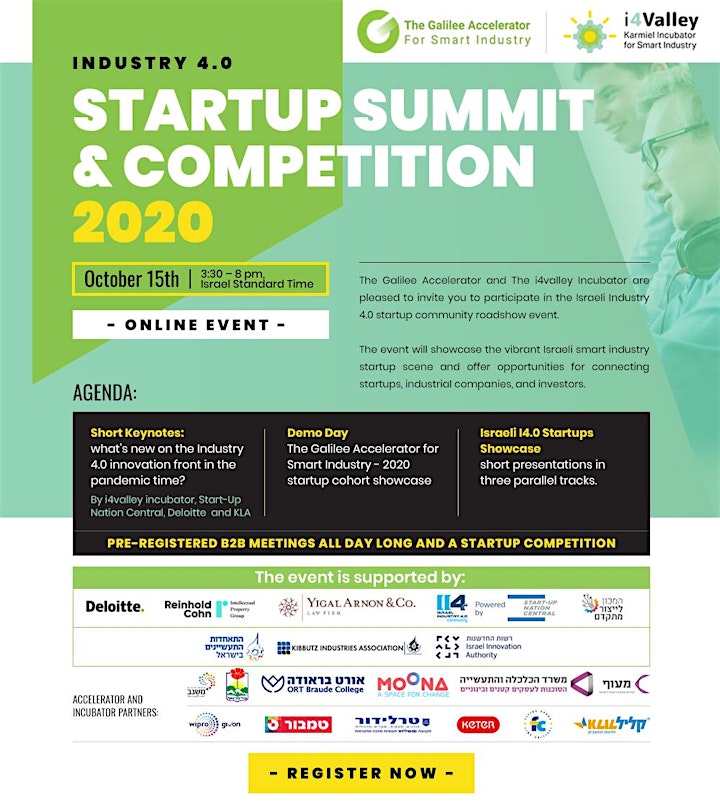 Israeli startup addressing industrial companies' challenges? Looking for customers or funding?
Join us and get:
A unique opportunity to showcase your startup in front of industrial companies' executives (including Multi-National Companies) and investors.
A chance to win a USD10K in our early-stage startup competition, by I4 Valley - the Israeli smart industry incubator. Winners will also get a chance for a 2M NIS investment LOI by the incubator and in-kind services by our sponsors: Delloite Catalyst, Yigal Arnon &Co. Law Office, and Reinhold Cohn Intellectual Property Group.
Industrial company? Looking for the best technological innovations to address your needs?
Join us to explore startups with products that might bring you critical value in these pandemic days - savings, productivity, and competitive edge.
Investor? Scouter? Looking for startups?
Join us to find interesting investment opportunities in the hot Smart Industry domain.
AGENDA:
3:30 pm IST (14:30 CEST, 8:30 am EDT) -
Welcome notes - Aharon Aharon, CEO of the Israel Innovation Authority
Short Keynotes:
Industry 4.0 Opportunities - where can startups address some major market gaps? - By Sivan Yechieli, I4Valley Incubator CEO
Industry 4.0: Overview of the Israeli Industry 4.0 innovation eco-system - By Yuval Engelsteinm, Startup Nation Central - Research Analyst and Sector Lead
Enabling Digital Transformation with Ecosystems - By Don Meier, Industry 4.0 Hub Manager – Catalyst, Deloitte Consulting
The Corporate-Start up Collaboration Model - By Shlomi Benbaruch, New Product Launch Director, KLA Operations
4:45 pm IST (15:45 CEST, 9:45 am EDT) - Demo Day: short presentations by 2020 startups' cohort of The Galilee Accelerator for Smart Industry.
5:45 pm IST (16:45 CEST, 10:45 am EDT) - Israeli Industry 4.0 Startups Showcase: short presentations.
8 pm IST (19:00 CEST, 1 pm EDT) - Startup Competition Winners announcement
Pre-Registered private B2B online meetings all day long (from 11 am Israel time, secure some time on your calendar) and a startup competition.
Details explaining how to register to the B2B meetings will be made available a few days before the event starts.
Zoom links will be provided to the event attendees by e-mail.
I4 Valley is the first and only Israeli incubator for revolutionists who live and breathe i4.0. Apply now to get funded, connections, support, and more.
The Galilee Accelerator for Smart Industry is the only Israeli early-stage startup accelerator focusing only on Smart Industry. Apply now for our next cohort.