About this Event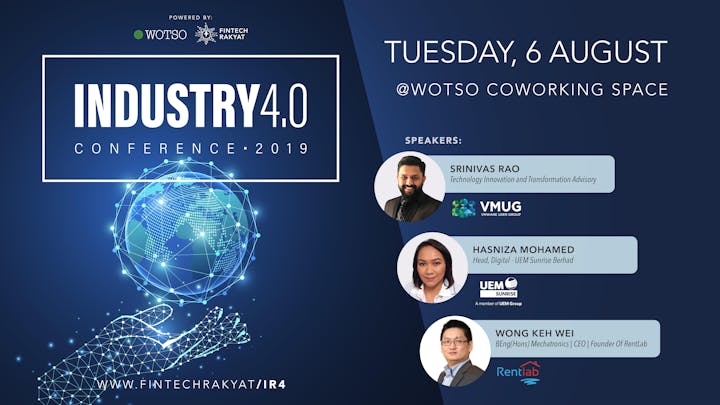 In the beginning, humanity discovered fire. Then came the invention of the wheel. Soon, we heralded the advent of steam. Now, the Digital Age brings new challenges and obstacles. How do business adapt to this change and emerge as movers and shakers of tomorrow?
Join us at the Industry 4.0 Conference, where we gather leading industry leaders & players to unravel their knowledge and discuss the paradigm shift and trends of Digitization and it affect on future business models.
Come and network with various industry players and gain insights on the latest technology and solutions that will change the way we work for years to come. Discover a whole new world of Business Automation, Big Data, and game changing Cloud Computing technology.
Reimagine offices, reimagine finances, People in their organizations, and grow them to become the next leaders. Discover how Cloud Technology meets Business needs in a way like never before. Learn with our ecosystem of partners and understand how they all come together to bring best customer experience in the age of disruption with AI, Machine Learning and IOT. Witness the revolutionary tech showcases by the MyMakers Community Powered By MCMC, and Tech showcases by the WOTSO Community, with Hands on Demos!
The Revolution is Live! Join us at INDUSTRY 4.0 Conference this August in Kuala Lumpur.
09:00 am - Attendee Arrival
9am - 10am -Registration - WOTSO Conference Space
10am - 10:05am - Opening remarks : Fintech Rakyat (Founders)
10:05am - 1015am - Keynote speech: Quest to empower professionals to run thier business on cloud
1015am - 1045am - How Private Cloud Is Transforming Hybrid Cloud
1045am -1130am - INDUSTRY 4.0 Series: Is Your Business Ready for the Internet of Things?
1130am - 1215pm - INDUSTRY 4.0 Series‬ Work where you want - WOTSO
1215pm -1.15pm - ‭‭INDUSTRY 4.0 Series‬ Redefining your office : Making the Digital Switch!
1.15pm- 2pm - Lunch
2pm-2.45pm -How Cloud is Disrupting Businesses
245pm- 330pm -Seriously digital - How business models are evolving digitally
330pm - 345pm - INDUSTRY 4.0 SERIES: DEMYSTIFYING PROPTECH - HOW TECHNOLOGY IS TRANSFORMING THE PROPERTY SECTOR
345pm- 4:15PM - INDUSTRY 4.0 SERIES: DEMYSTIFYING PROPTECH : Digitalising And Automating Property Rental Processes By RentLab
Q&a & Closing remarks
Tea & Tech Showcase : tech exhibition at common area, WOTSO Co-Working Space Tour, Evening drinks reception & industry networking