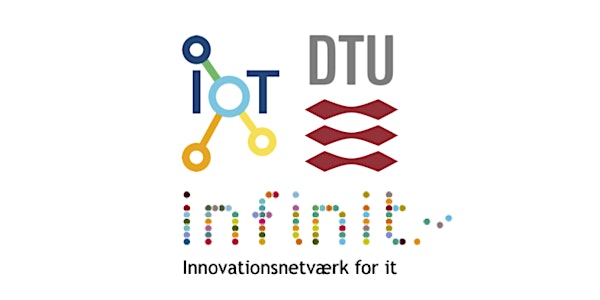 Industry 4.0 Brokerage Event at DTU
Event Information
Location
Glassalen, Building 101, DTU in Lyngby
101, Anker Engelunds Vej 1
2800 Kongens Lyngby
Denmark
Description
DTU's IoT Center and InfinIT invites companies in the broad areas of Industry 4.0 and Industrial IoT (I4.0/IIoT) to a brokerage (matchmaking) event between industry and researchers.
The event will do a matchmaking between your company's challenges and researchers at DTU and other Danish research organizations. The goal is to define proposals in the I4.0/IIoT areas, to be submitted for public funding, for example to Innovationsfonden's June 13th open call.
Please register
Visit this page to register: https://brokerage-iot-center.eventbrite.com
All participants have to register.
Participation is free of charge.
You are welcome to participate even if you do not submit a challenge or a partner presentation.
Send us your inputs

You are welcome to submit an input even if you do not participate in the event.
Companies:
Dou you have a problem/challenge which requires research, in I4.0/IIoT? Please upload here your problem/challenge using this template. The participants will not sign NDAs, so please do not include confidential information on your slides.
We will select 10 such challenges to be presented at the event. You will have 10 min. including questions.
Research organizations and companies:
Do you have a technology and/or competencies that can be used to solve challenges in I4.0/IIoT? Please upload here your presentation using this template.
Here are some generic examples of potential challenges. We're looking for your specific challenges.
Challenge: How to ensure security and privacy with the convergence of Information Technology (IT) and Operations Technology (OT) that have different views of security and safety. What is the interplay of security and safety: how can safety-critical systems be secured, since upgrades and patching are often difficult to do due to certification? Research: DTU Compute has security researchers that can help with such challenges. All universities and research institutions are welcome to participate: We mention here DTU's research as an example.
Challenge: What are the right hardware, communication and software architectures to replace the current OT? OT has high dependability in a harsh environment, and is able to guarantee the timing needed for industrial applications (e.g., <10 nanoseconds response times and <10 microseconds jitter). The industrial PCs and Cloud-computing solutions cannot provide these guarantees. Research: DTU Photonics Engineering and DTU Electrical Engineering have competences in communication technologies and hardware to address these challenges; new trends towards "Real-Time Edge Computing" address the IT/OT convergence.
Challenge: Does the digitalization of your enterprise actually help your bottom line? Study how digitalization would impact a certain organization (do it small see the impacts mitigate risks and adopt it globally). Research: DTU Management Engineering has the right competences to tackle such a challenge.
Challenge: Although machines are moving towards interoperability standards such as OPC UA, it is currently difficult and costly to gather data from machines. How to gather the data cost-effectively? How to filter relevant data from non-relevant? What are the right models? What is the role of Machine Learning and Big Data, and can this help your organization? Research: DTU Compute has research on Big Data and machine learning.
Challenges: Current systems are not interconnected and production is not optimized. There are gaps between ERPs, Manufacturing Execution systems and Production Modeling. The challenge is to dynamically schedule production jobs based on what is happening along the production flow. Research: DTU Management Engineering has competences in enterprise information systems and operations research.
Concrete example: The company Octavic (octavic.dk) has a real-time production monitoring solution for machines and operators. They are interested to use the data collected to optimize the production processes. Their challenges are the modeling of production and the design of the optimizations algorithms. Research: Collaboration with existing projects: their use case can be used in a PhD project at DTU Management Engineering to quantify the gains obtained by implementing a production monitoring solution. New research proposals: defining a project on modeling and optimization together with DTU Compute and DTU Management Engineering.
Preliminary program:
12:00 Lunch
13:00 Introduction: innovation projects and event format
13:15 5 presentations from companies: use case/challenges/problems
14:15 Break and expressing interest in the problems presented
14:30 5 presentations from companies: use case/challenges/problems
15:30 Break and expressing interest in the problems presented
15:45 Group work--forming research proposals (instructions will be available at the event)
16:30 Plenary report from group work
17:00 Concluding remarks
Follow-up event:
The coordinators of the formed consortia will be offered training on how to prepare the proposals.
Other possible outcomes are of the event are: direct collaboration between companies and researchers (using your use case in ongoing research projects, applying for industrial PhDs or postdocs), master's thesis topics, increased visibility among researchers.
See these relevant strategies:
Date and time
Location
Glassalen, Building 101, DTU in Lyngby
101, Anker Engelunds Vej 1
2800 Kongens Lyngby
Denmark