Industrial Stormwater & How It Can Affect You: The Permit Process
Learn more about the Industrial Stormwater General Permit and the Permit Comment writing process.
About this Event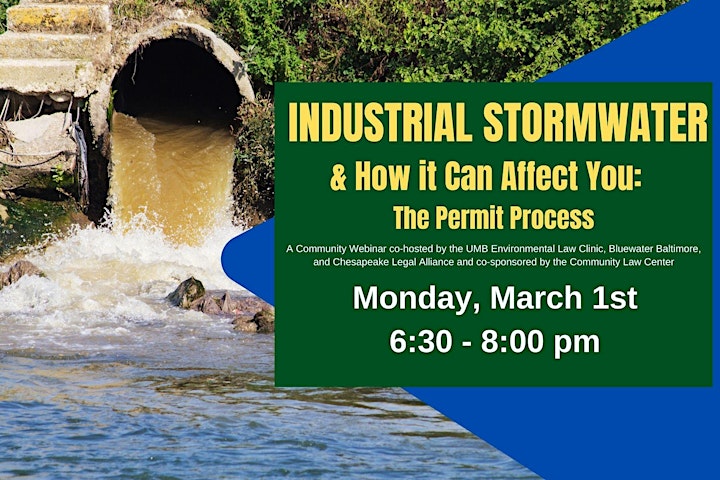 Do you ever wonder what happens to chemicals and toxic materials that are left uncovered on the ground at industrial facilities when it rains? Under the Clean Water Act, the chemicals and toxic substances at an industrial facility that are washed away with rainwater are covered and monitored under an Industrial Stormwater Permit. The State of Maryland has recently released a new Industrial Stormwater Permit that is open for comment through April 19, 2021. This webinar will provide tools, tips, and ideas for how to prepare and submit a permit comment to have your voice and concerns heard.
We'll cover:
What is industrial stormwater
Background on the Clean Water Act
Background on Industrial Stormwater Permits
The new draft Maryland Industrial Stormwater Permit
How the permit affects you
The importance of taking part in the permit process
The draft Maryland Industrial Stormwater Permit can be found at: https://mde.maryland.gov/programs/permits/watermanagementpermits/pages/stormwater.aspx
Location:
This is an online webinar presented in real-time, so you have the chance to ask questions at the end of the presentation. Information to access the Zoom workshop will be sent upon registration.
Registration is free
Questions? Contact Abigail Doane at adoane@clinic.law.umaryland.edu