Description
1.13

Saturday

(Jazz / Pop)
Nectar & The PBJ Present:
INDUSTRIAL REVELATION
with
SISTERS
The New Triumph
$12adv / $16dos
21+
Nectar Lounge
412 N 36th St
BOOTH RESERVATIONS NOW AVAILABLE!
We are a majority standing-area venue with seating on our heated and covered patio as well as our newly remodeled mezzanine. All seating is first come first serve however, we do have eight booths available for reservations on our mezzanine. Booths 1-6 seat two to four people, booth 7 seats five and booth 8 seats six to eight.
All table reservations are now made at checkout.
Booth reservations are sold on a first come first serve basis.

Reserve multiple booths for larger parties and we will seat you together.

See "Additional Items" on the bottom of checkout page for available booths. If you do not see "Additional Items" unfortunately all booths are SOLD OUT.

We try our best to guarantee your reservation all night, though we ask you to arrive within 2 hours after doors open.

We no longer reserve high top tables behind booths but we encourage people to arrive early to claim available space.

We offer food service once doors officially open. See listing above for specific door time.
INDUSTRIAL REVELATION
One night while watching D'Vonne Lewis playing with a trio at the Vito's lounge, it occurred to me that he just might be the most talented musician in Seattle.
Raised by a family with deep roots in Seattle's black American musical tradition, Lewis, a jazz drummer and the founder of the quartet Industrial Revelation, is not only a highly refined drummer, a drummer who has a complete command of his instrument, but also a drummer who has somehow managed to preserve at the core of his technical brilliance something that is like the initial, primal pleasure of the act of beating. If one listens to the great jazz drummers of the canon (Elvin Jones, for example), this raw instinct is pretty much gone. Theirs is a drumming that aspires to begin and end with mastery. Lewis, on the other hand, never lets his technical prowess completely erase the path that leads all the way back to that first joyful moment when one hits and hears the tautness of a drumhead. This is my impression of his musicianship in general and also the reason why I think he stands above all other players in this rocking city.

Lewis founded Industrial Revelation in 2005. It was, he once told me, the R & D (research and development) wing of his jazz career. And as a company or a country must subsidize its risky, failure-prone R & D programs, Lewis subsidized the time he spent on IR with income generated from his professional gigs. He had no idea where IR would go, what kind of music they would finally make, or whether it would work out. He just wanted the band to be as open as possible to different styles and ideas, and he placed it at the center of all of his other more traditional obligations. Nothing, he said to me again and again, was more important to him than IR. And as it was at the center of his career, he is at the center of the band's sound. This, I think, is one of the important elements of IR's greatness. It has its foundation in a drummer. And with black music, it is always drumming that separates one genre from another. We know house from the "four-to-the-floor" beat, classic hiphop from the "boom bap" beat, go-go from the go-go beat. The drum style names the music.

Nine years after forming this R & D program, Industrial Revelation won a Stranger Genius Award. The achievement is all the more impressive because the other nominees, Erik Blood and the founders of Hollow Earth Radio (Amber Kai Morgan and Garrett Kelly), were very strong contenders for the prize. Certainly one reason Industrial Revelation prevailed is that Lewis's R & D project is not just about him but is instead a creative collaboration with three other extraordinarily talented local musicians. IR might begin with Lewis, but it does not end with him.

The band's bass player, Evan Flory-Barnes, is a giant in his own right. One will spend a lifetime trying to find a jazz musician in this town who has something bad to say about Flory-Barnes. And with good reason. This bassist has achieved a level of mastery where the boundary between the musician and the instrument is practically absent. Indeed, one cannot even imagine Flory-Barnes doing anything else but playing the upright bass, and can't imagine the upright bass doing anything but Flory-Barnes. This is not empty praise. Anyone who has watched him perform knows what I'm talking about. Like Lewis, Flory-Barnes has a reputation that's firmly established outside of IR.

The same is true for Josh Rawlings, the band's keyboardist. If you have not heard him play with this or that local jazz or soul act, then you have certainly heard him perform with the biggest name in hiphop today, Macklemore. But if you really want to hear the deep roots Rawlings has in America's classical music (jazz), I really recommend downloading the Josh Rawlings Trio's Climbing Stairs, which was released in 2008 and, judging from Rawling's liner notes, was a kind of musical dissertation of his education at Cornish College of the Arts.

Then there is Ahamefule J. Oluo, the band's trumpet player. What this musician and composer brings to the house that has its foundations in Lewis's drumming is a sound that's at once passionate but expresses a great amount of sensitivity. I might be wrong about this, but I think there are primarily two types of jazz trumpeters: those who blow outward and those who blow inward (Freddie Hubbard represents the former, and Miles Davis the latter). Oluo's playing does not blend the two but instead moves between them from moment to moment, from track to track. Oluo is also a talented composer, a fact that was made clear at his 2012 Town Hall performance of his musical Now I'm Fine.

It's safe to say that without the contributions of these three musicians, the man who I believe just might be the best musician in (let's expand the area) the Pacific Northwest would not have won the Genius Award in Music.
SISTERS
"A revolution without dancing is not a revolution worth having" is a quote famously attributed to Author Emma Goldman. These words could be the motto of Emily Westman and Andrew Vait; better known as pop duo SISTERS.
Wait Don't Wait is the band's second full-length album to be slated for release in this dark and disorienting year of 2017 – and their first release via Tender Loving Empire. Their debut LP, Drink Champagne (self-released Valentine's Day 2017) was met with a confluence of, "How were you able to release such a happy record right now?" and, "Thank you so much for releasing such a happy record right now!"; sentiments that are only amplified, strengthened and refined on Wait Don't Wait. Joy as an act of revolutionary defiance in the face of oppression is the name of their game, and it sounds too damn good to ignore.
March of 2017 in a cabin nestled outside of Clinton, Washington; Whidbey Island: Equipped with an iPhone for recording, a drum kit and a few synthesizers and guitars, Westman and Vait hole up for a week. Each day, they improvise from dawn until dusk as the cornerstones of songs emerge. Each thread is built upon – developed with care, knowledge, and - most obviously - the joy of discovery. Lyrics are free-styled and penned over a core skeletal structure until the spirit of a song emerges and is recorded to the iPhone. As their time on the island draws to a close, the duo sits atop a quorum of tunes - enough to fill a record.
April of 2017 at Different Fur Studios; San Francisco, California: Westman and Vait reach out to producer and studio owner, Patrick Brown, (Toro y Moi, K. Flay, The Morning Benders) to discover that a last-minute opening at the legendary studio happens to coincide harmoniously with the only open days in the busy musicians' schedules. The duo take residence at the studio for 10 days in April; eating, sleeping, tracking and mixing at the recording house that has hosted projects by Herbie Hancock, David Byrne and Brian Eno, Stevie Wonder, Jonathan Richman, Too $hort, Earth Wind & Fire, and far too many others to mention.
Utilizing the studio's vast repository of vintage electronic and acoustic instruments (the album has the legendary Yamaha DX7 all over it), a borrowed baritone saxophone, and a few instruments brought from home, Westman and Vait lay down the 12 tracks. Westman hops on the drum kit in the live room while Vait and engineer Bobby Renz look on from the control room. Tape rolls; Bobby proffers, "ROLLING," and Westman pounds out the rhythm while Vait slices away on one of the dozen or so synths within arm's reach. Brown pops his head in, listens, nods; someone makes a joke, everyone laughs an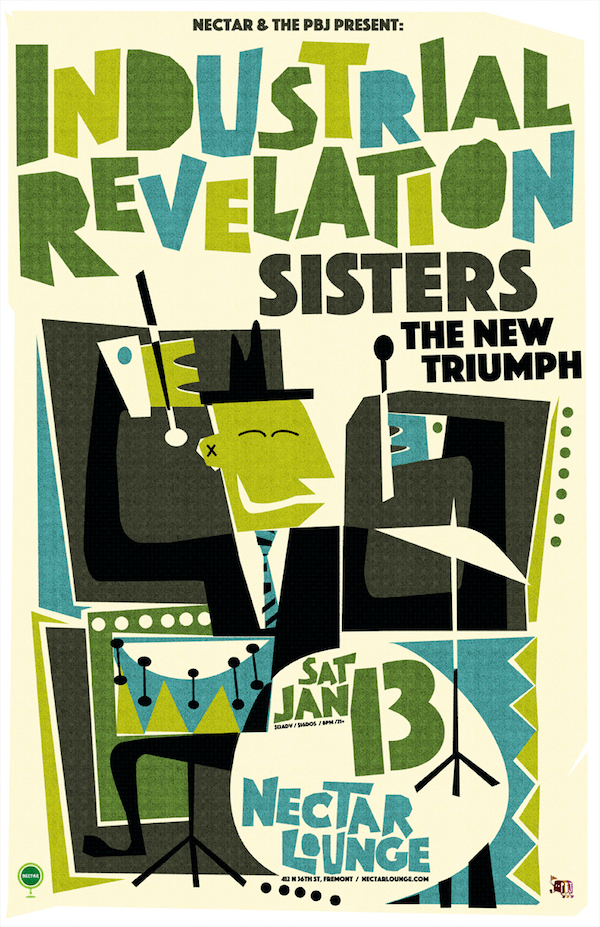 d on to the next. Before any memories can be cemented, the twelve tracks are complete. Brown uses his wizardly mixing chops to cull the depth and breadth of the performances to the forefront, pumps up the bounce and sweetens the sheen. The - albeit short - wait is over, and Wait Don't Wait is the resultant document; replete with catchy, quirky corkers overflowing with joy.
On the New Wave by way of Progressive Jazz banger, "Sleepy Eyes", an imposing kick and warping synth take off like a supersonic jet. In an 'I mean Serious Business' manner, Westman declares, "When the time is right I will take you home oh oh oh / When the feeling's right I will let you know," and it is clear that this is her call to make. The bounce continues, and - out of nowhere - the dancefloor falls into space and soothing jazz chords float over the classic puttering of a Roland CompuRhythm CR-78. Just as suddenly, the four-on-the-floor beat returns, and soon saxophone, flute, guitar, and synth stabs pop in and out. Not since Beasties Boys' Pauls Boutique have such abrupt changes within one song felt so damn right.

"Let Me Go", another knockout, begins with a grimy bassline and a classic hip hop clap with Westman and Vait trading verses, asking those universal questions of love and love lost. On a dime, the song transforms to near power ballad – soaring upward and lifting the listener out of the muck of the day with the refrain "Home is where I'd be if my heart could just decide", and in the same way all pop masterpieces do, it seems to end too soon – a serious 'back button' burner.

With the release of Wait Don't Wait, SISTERS are not only presenting another pop record full of bangers that demands repeat listens – their second this year – they are also methodically working toward creating a world that is safe for everyone. The thing called hatred; the thing called violence; the things that threaten life and love cannot survive in the face of true joy. SISTERS deliver unrestrained joy, and it is desperately needed right now. The world has been waiting, but it needs wait no more.