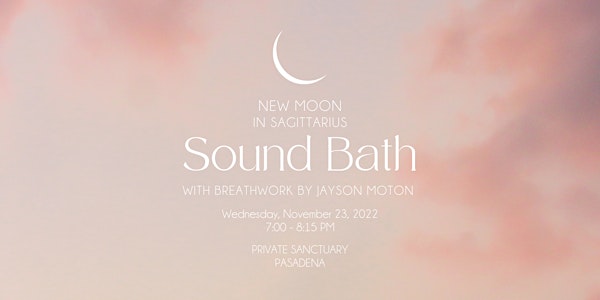 INDOOR New Moon Sound Bath opening with breath work
Indoor New Moon Sound Bath opening with breath work
Refund Policy
Contact the organizer to request a refund.
About this event
You are invited to join us for a very special indoor sound bath meditation opening with breathwork by Jay Moton . These extraordinary times call for some extraordinary healing. This event will be held at a magical indoor sanctuary in Pasadena. We will begin our event with breath work leading into a relaxing sound bath. During these evolutionary/revolutionary times this work is more important than ever. Connecting our energy through group meditation is a powerful way to help raise and shift not only our own frequency but that of the collective consciousness. I look forward to sharing energy with all of you. I love you all and I'm grateful for your continued support of Sacred Light.
GENERAL INFORMATION
- Date : Wednesday November 23rd, 2022
Time: Arrival window is between 6:30- 7:00pm
You are welcome to arrive early to shop a special selection of crystals.
Location: Private Pasadena sanctuary. The address will be emailed upon purchase of ticket. The sound bath will be held outdoors.
– Sound Bath will begin promptly at 7:00pm.The entrance will be closed at 7:05 so give yourself enough time to arrive and get settled in a space.
-There is street parking available.
 - If you plan on bringing someone under the age of 18. Please make sure they can lay quietly through meditation without talking. The body goes into a very peaceful state and we want to respect the energy of everyone who attends.
– The session will run for approximately one hour and 15 minutes, All you have to do is lay there and receive❤️
- All tickets purchased must be redeemed on that date.
WHAT TO BRING
– Pillow for your head (if needed for comfort)
– Bottle of water
– Bring your crystals to be harmonized and recharged by the crystal sonic vibrations
What is Breath work?
Breath work is a therapeutic breathing practice that is intended to help with emotional healing and personal growth. As we expand the quality and quantity of breath in our body, healing energy is intensified. Breath work opens you up to a state of consciousness that helps move us towards wholeness. This breath sequence will allow you to surrender into yourself by using your breath, removing blockages, and clearing stagnant energy.
What is a Sound Bath?
For those of you who are wondering what a sound bath is and what it does: Therapeutic instruments, such as crystal singing bowls, stimulate the alpha and theta brainwave frequencies associated with meditative, clear and peaceful states of mind. Alpha brainwaves are present during light meditation, daydreaming and deep relaxation. Theta brainwaves are present during REM dreaming sleep, deep meditation and hypnosis. These states are considered the gateway to the subconscious mind and it's here where we experience heightened creativity, depth of imagination and access to the subconscious realms where deep-seated healing can take place.
What to expect
Relax and fall deep into your own sonic universe. The crystal singing bowl sound meditation will balance your chakra energy centers, clear your mind, and gentlle release stuck emotions and blocked energy that no longer serves you. By connecting with your inner harmony, you will find yourself in a place where you are able to powerfully resonate with all things you would like to call into your life❤️The biggest side effect to attending a sacred light sound bath is a night of extremely blissful sleep.
Excited to see all of you!
with love and gratitude,
arlene