Indonesian Wayang Puppet Tsunami Fundraiser
Description
---
ONLINE SALES HAVE ENDED, PLEASE BUY YOUR TICKETS AT THE DOOR.
THE SAME PRICE $ 25.00.
See you tonight.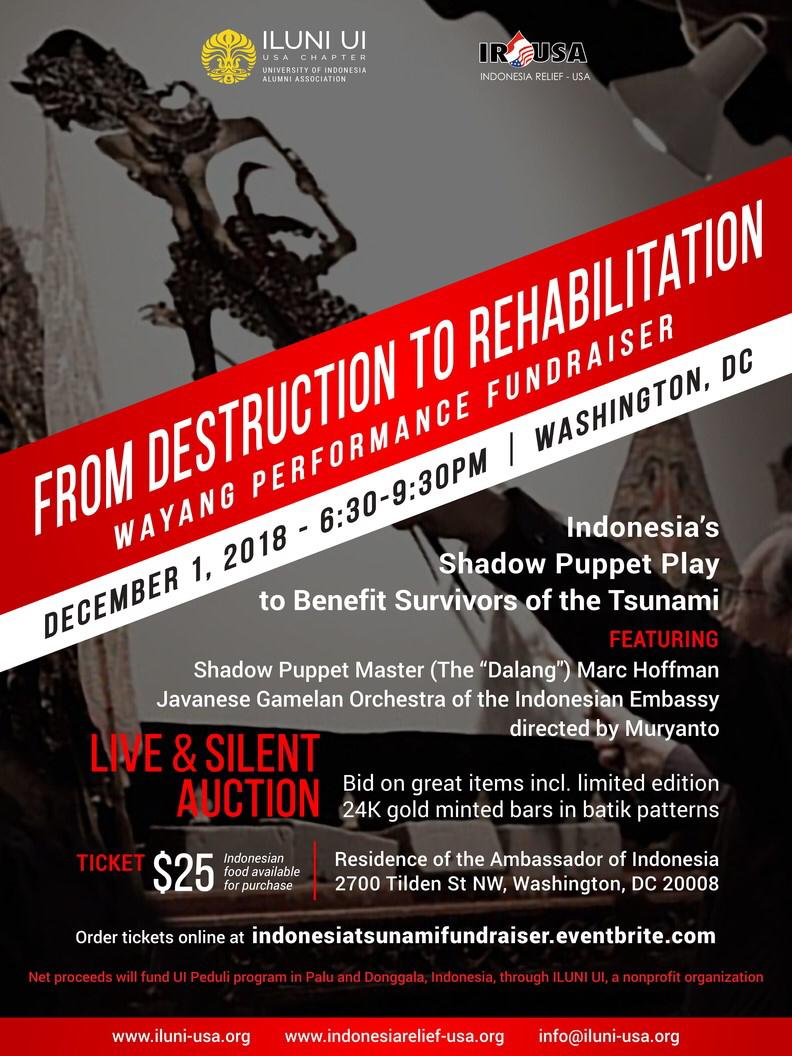 IMPORTANT: All donations will go towards the tsunami rebuilding project. Thank you for your support!
On September 28, a magnitude 7.5 earthquake struck in Sulawesi (Indonesia), followed by a tsunami, with waves up to 20 feet high. The disaster killed more than 2,000 people, displaced 80,000, and destroyed nearly 70,000 houses, schools, and hospitals. Entire villages have been decimated (UNHCR).
In Washington DC, two non-profits — ILUNI-USA Chapter and Indonesia Relief USA — are working together to help with this massive recovery effort, with the support of the Embassy of Indonesia.
Tonight, the audience will experience the wayang performance, a traditional Indonesian shadow puppet theater, performed in English.

FUNDRAISING OBJECTIVE
Proceeds of this event will provide transitional homes for families displaced by the tsunami in Sulawesi. A collaborative effort (University of Indonesia (UI) architecture and engineering faculty and alumni) has pioneered a modular unit, using earthquake-resistant materials and design, that were successfully used in Lombok, following the earthquake in August. Construction takes one or two days, led by a contractor and assisted by local residents. Such fast results help survivors build confidence in their resilience.
Rebuilding will be implemented by UI Peduli (UI Cares), a partnership network of over 400,000 UI alumni and faculty, created to respond to natural disasters effectively and efficiently.
Temporary housing specifications:
Each unit is approximately 8' by 10'; floors are at least half a foot above the ground

Materials: Hollow steel, plywood, light gauge steel frame, zinc-aluminum roof panel, plus locally

sourced materials and salvaged materials from debris

Large doors, easily opened; cross ventilation

Five-year (or more) lifespan

Adaptable in combination to form meeting places, clinic, etc.