About this Event
INDONESIA DIGITAL TECHNOLOGY EXPO (INDITEX 2019)
Digital Technology, Electronics & Home Appliances Exhibition
An event that expected to bring together business players, developers, brands, marketers, technology providers, designers, innovators and evangelists looking to set the pace in our advanced world of technology.
Show Profile
Showcasing the next generation of digital technology & innovation; Electronics & Home Appliances, Internet, Mobile, digital payment, integrated digital marketing, digital solutions, digital agency, startups companies, e-commerce, AdTech, MarTech & SaaS Technology and a lot more. Exhibitors have the opportunity to show off their companies to consumers, the highest caliber investors, hordes of press, the most sought after talent, and the greatest pool of tech enthusiasts looking to celebrate emerging products. Be prepared to be inspired, amazed and educated on how these evolving technologies will impact your business for greater growth.
•ACCESSORIES •AUDIO •CAMERA •GAMING •LAPTOP & PC •SMART HOME •TV •SMARTPHONE •TELCO •WEARABLE DEVICE
and a lot more
Incorporating with:
SMART CITIES INDONESIA EXPO (SCIEX 2019)
CIKARANG INDUSTRIAL EXPO (CIE 2019)
INDO SAFETY SECURITY FIRE PROTECTION EXPO (ISSF EXPO 2019)
INDO CLEAN TECHNOLOGY EXPO (ICE 2019)
Open to Public
Meet professionals who will help you seeking for the most relevant and innovative solutions regarding the Digital Lifestyle Technology sector.
Attendance is limited, Register today!
ONLINE REGISTRATION:
Visitor Registration(FREE ADMISSION)
to become a participant, you can click To Exhibit
We await your participation in the INDITEX 2019
Please contact the organizer for Participant, Partner, Sponsorship & Speaker Enquires.
So Call Now!!
PHONE: +6221 8792 8184 - MOBILE: +62 896 3584 2212 / +62 822-9852-2120 - EMAIL: scr.tpmi@gmail.com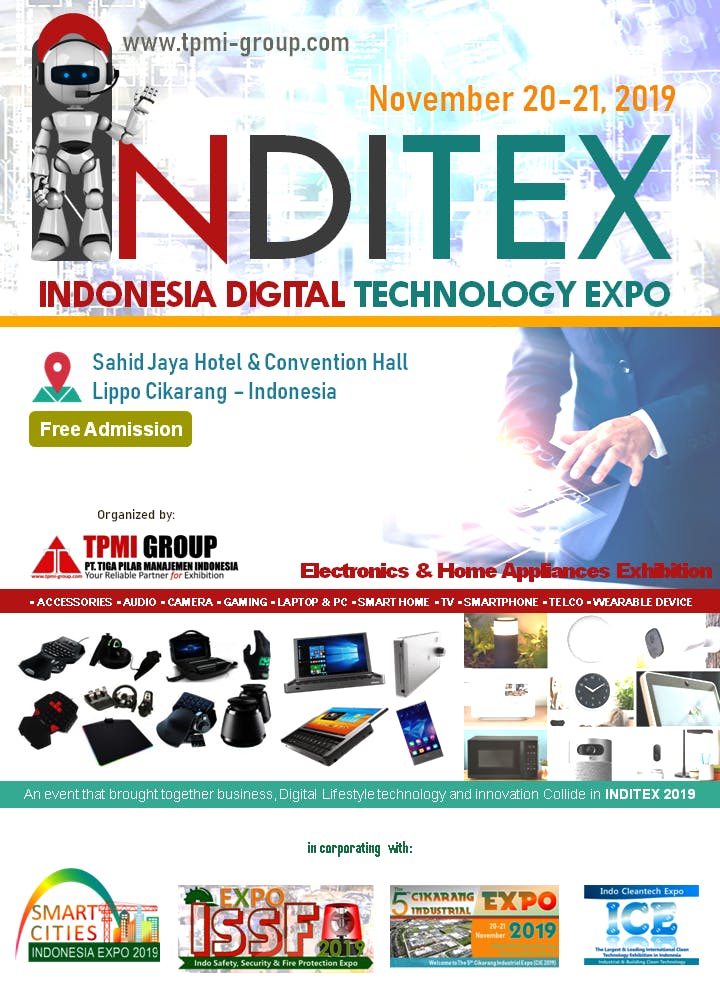 🚨Kunjungi Pameran Digital Teknologi INDITEX 2019
🤝Pameran yang menyatukan bisnis, teknologi Gaya Hidup Digital dan inovasi di INDITEX 2019
🔊INDITEX 2019 adalah pameran Electronics & Home Appliances teknologi selama 2 hari
20-21 November 2019 di Hotel Sahid Jaya Convention Hall,
Lippo Cikarang, Bekasi - Indonesia.
📣INDITEX mempertemukan para pengembang, merek dagang, pemasar, penyedia teknologi, desainer, inovator, dan strategi pemasaran yang ingin mengatur langkah dalam dunia teknologi digital.
🆓GRATIS bagi Pengunjung!!!
Get Lucky Draw🎉🗳
Smartphones📱, LED TV🖥, Tools🔫, Etc
🌐Untuk info lebih lanjut: