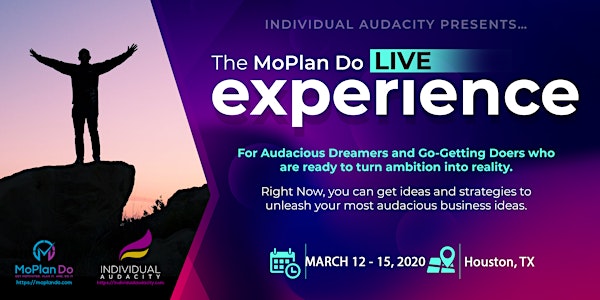 Individual Audacity Presents… The MoPlan Do Live Experience Houston, TX
This Fast-Track Startup Workshop will offer you ideas and strategies for you to use and implement right away and accelerate your success!!!
When and where
Location
Houston, TX TBD Houston, TX 77041
About this event
The Individual Audacity MoPlan Do Tour is a 2-4 day live experience dedicated to helping coaches, solopreneurs, social entrepreneurs, full-throttle entrepreneurs, business owners, and ambitious, decisive go-getters startup and setup their business and level up their life.
It's time to be among the audacious dreamers - the go-getting doers who turn ambition into reality, know their purpose, reimagine their communities, and rise to their highest potential, while lifting others along the way.
It's not just an app. It's not just an event. It's a MOVEMENT.
This high-energy workshop experience will focus on teaching you the skills you need to:
Get Motivated to enhance your mindset and raise your energy with proven techniques that will put you back in control of your life and your earning potential – Our Crush Em' Ceremony will have you jumping out of your seat!
Literally start or scale your business within 2-3 days using a custom-tailored action-plan and on-site resources so that you can turn your ideas into income-generating ventures – the MoPlan Do app does all of the work for you!
Learn from innovative business coaches and speakers who will help you get your service or product to market with planning and accountability that makes it easy to turn your bucket lists into been there, done that, what's next?
Network with 100 workshop attendees and potential clients and/or customers to establish mutually beneficial relationships with the precise tribe you need to make moves on a larger scale. Yes, we teach you how to properly network too!
Check Out Footage From The Live Atlanta Event!
Be inspired and empowered to take same-day action with your plan, projects, and dreams!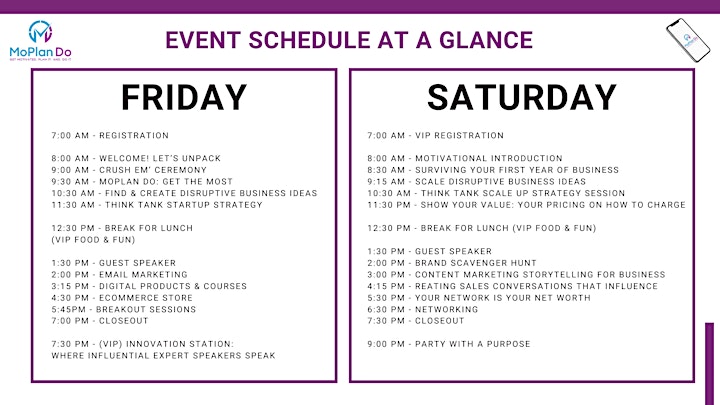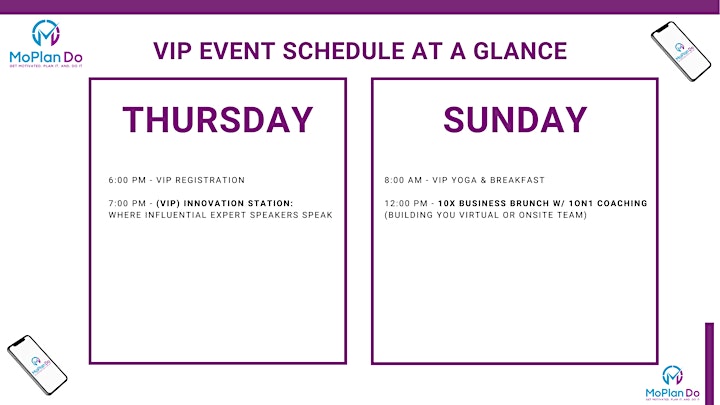 Check out Instagram Footage from the Atlanta Event!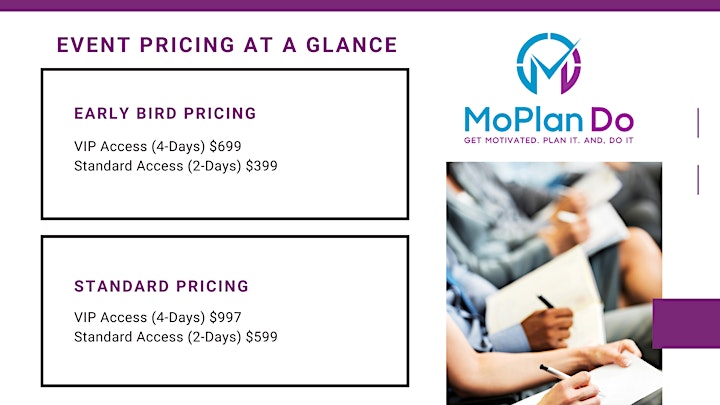 YOUR MEALS
Meals are included with the VIP Tickets.
Standard Tickets (Meals are on your own).