About this Event
The Individual Audacity MoPlan Do Tour is a 2-3 day live experience dedicated to helping career-driven professionals, full-throttle entrepreneurs & business owners, and ambitious, decisive go-getters level up in their career, business, and life.
It's time to be among the audacious dreamers - the go-getting doers who turn ambition into reality, know their purpose, reimagine their communities, and rise to their highest potential, while lifting others along the way.
This high-energy workshop experience will focus on teaching you the skills you need to:
Accelerate your career with proven techniques that will put you back in control of your career path and earning potential (use this letter template to convince your company to reimburse you).
Start or scale your business with lean principles that teach you to eliminate time, energy, and resource waste.
Filled with planning strategies and accountability tools that will make it easy to turn your bucket lists into been there, done that, what's next?
Network with 100+ workshop attendees that are precisely the tribe you need to make moves on a larger scale.
Be inspired and empowered to take same-day action with your plan, projects, and dreams!
EVENT AT A GLANCE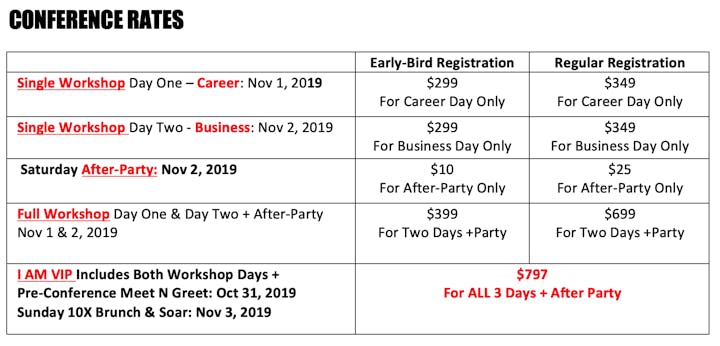 BOOK LODGING
The Loudermilk Center is on the East side of Downtown Atlanta located right between Auburn and Edgewood, the two streets making up the East West path of the Atlanta Street Car. Downtown Atlanta has a wide variety of hotels, at various price points which are conveniently located a walk away, or a streetcar ride from getting to your meeting at the Loudermilk Center.
If you are staying Downtown while attending a conference or meeting, be sure to venture out to the neighborhoods to the East to experience the hip Atlanta vibe as the natives do.
HOTELS AROUND LOUDERMILK
Residence Inn Atlanta Downtown
Holiday Inn Express & Suites Atlanta Downtown
The Westin Peachtree Plaza, Atlanta
PARKING
Parking is $8 per day discounted for attendees.