Description
Indirect Veneers
05 November 2017, 09:00 - 18:30
3M Innovation center DIC, Dubai, UAE
Target Audience:

Dentists




7 CE Credits
Dr. Munir Silwadi, UAE
A B.D.S Graduate in 1975, Dr. Silwadi maintained a general dentistry private practice in Abu Dhabi, UAE as well as in Toronto, Canada.Since 2000, as an M.Sc. specialist prosthodontist, he is running a multi speciality dental center and is limitinghis practice to the fields of prosthodontics, Implantology, and CAD/CAM esthetic dentistry.Opinion leader in the Prosthodontic field for the last eight years.His academic achievements as member of the Royal College of Dental Surgeons of Ontario Canada, Certificate of the Dental Examining Board of Canada, ISCD Certified International Trainer keep his name as a well-known consultant in CAD/CAM.
Course Outline
Ceramic Veneers present one of the most conservative aesthetic treatment modalities. They are widely and successfully used to correct a wide scope of problems that may arise in the highly aesthetic zone of anterior teeth. These problems include mal alignments, discolorations both intrinsic and extrinsic, diastemas, traumatized teeth, as well as mal shaped teeth. This treatment modality demands that the restorative dentist acquire proper knowledge and skills as well as following certain protocols to be able to achieve the desired results. This presentation will discuss factors that aspect preparation, shade selection, temporization, as well as bonding of veneers.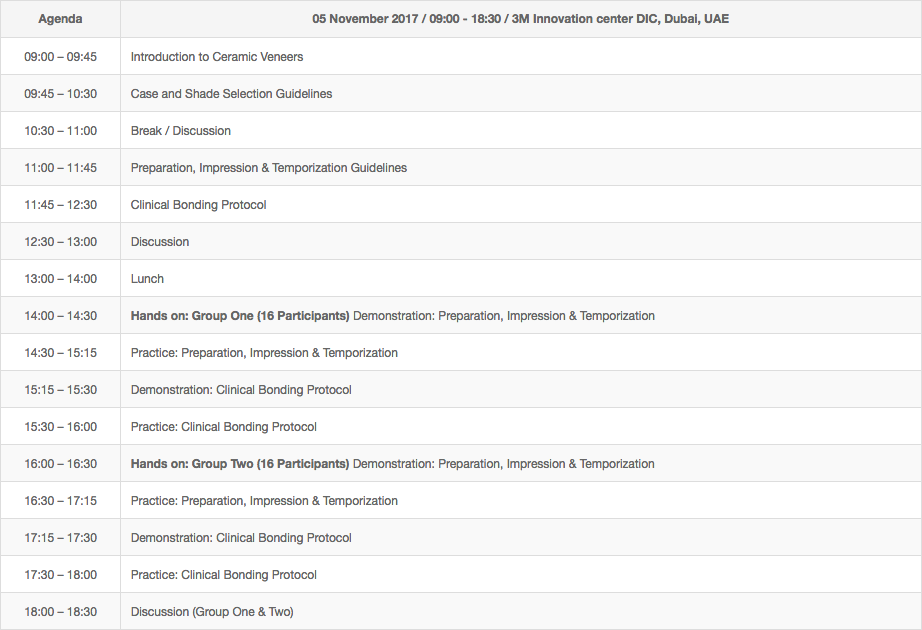 ---


About the Conference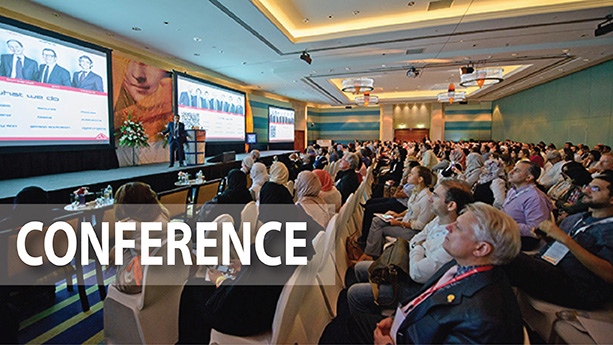 The 9th edition of the Dental Facial Cosmetic Conference/Exhibition (#DFCIC) organized by CAPP covers all the current trends in aesthetic dentistry and also gives dental professionals more insights into the latest technologies.

The dental conference programme is designed by dentists for dentists, sharing the dental knowledge and insights that dental professionals need. The result of research with dentists and input from across the dental profession, the conference programme provides the latest thinking in dentistry, delivered by some of the best speakers in the business.

The main purpose of this dental event is to examine the concept of dental dentistry, its advantages and limitation, and make statements and observations on specific areas of aesthetic dentistry based on research, direct personal experience, and communication with dental manufacturers and clinicians worldwide. It is intended to provide a practical view of aesthetic dentistry, a stimulus for greater adoption of the areas that are proven, and faster integration of new technologies from which dental profession can benefit.

Additionally, this conference is a path breaking opportunity for professionals to exhibit their paramount research work through Poster Presentations and discuss the same with the exalted scientists.

The event is taking place on 03-04 November 2017 at the Intercontinental Hotel Festival City in Dubai. During the event CAPP Dental Education Academy features pre and post hands-on courses which will take place ranging from 31 October – 06 November 2017 in various multidisciplinary topics.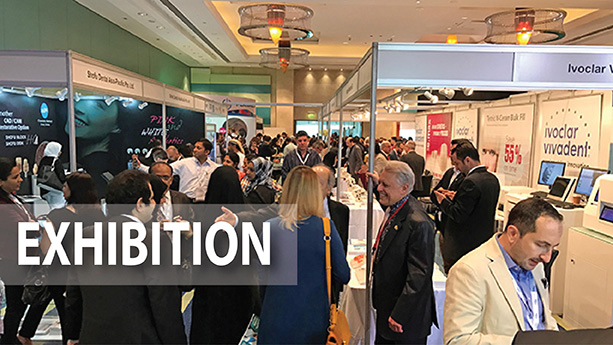 9th Dental Facial Cosmetic Conference/Exhibition Features:

Educational sessions with industry experts
6th AAID Global Conference
Dental Hygienist Seminar (DHS)
Poster Presentations
Pre and post hands-on courses with industry experts
Face-to-face appointments with suppliers of your choice
Networking opportunities with industry peers and supplier representatives
Who Should Attend and Why
Dentists
Dental Hygienists
Dental Team
Trade Visitors
The two day event will offer dental professionals the chance to gain verifiable CPD recommended subjects, network with peers and learn about the latest innovations and technologies at the exhibition.

It is an unmissable event in the UAE dentistry calendar, attracting over 2000 dental professionals across the two days.
AAID - 6th Global Conference meets 9th Dental Facial

AAID will hold its 6th Global Conference with the 9th Dental Facial Cosmetic International Conference at InterContinental Hotel Festival City Dubai on 03-04 November 2017.

World Class Faculty and experts will present the new concepts to explore the controversies surrounding dental implant therapy. Which is the best method to grow bone vertically? Evidence Based Implant Dentistry, The Full arch Implant Supported Strategy, Cerec & Dental Implants - 21st Century Dentistry and several other issues will be presented at this conference. I am delighted to work with Dr. Ninette Banday who is the Secretary for the Congress and has made some significant strides in educating AAID MaxiCourse participants in the UAE over the last decade.

The AAID will be bringing renowned International speakers from AAID. In addition to the main congress there will be numerous hands-on courses and the dental industry will proudly be displaying their latest technologies as well. A hallmark of this congress will be the pre-conference hands-on advanced bone-grafting Workshop.

I am pleased to invite you to this conference to make the Perfect Dental Connection and be immersed with the fusion of Aesthetics and implant dentistry. I am sure you will bring back some valuable tips and information that will enhance your existing implant and aesthetic practice. If you are a novice, you will get excited to incorporate implant dentistry to expand the scope of your practice. Founded in 1951, the AAID is the first professional organization in the world dedicated to implant dentistry. Its membership includes general dentists, oral and maxillofacial surgeons, periodontists, prosthodontists, Endodontists, Restorative Dentists and others interested in the field of implant dentistry.

The American Academy of Implant Dentistry (AAID) stands for excellence in education, scientific development and patient care. Members who demonstrate the highest standards in implantology find the AAID to be the organization which supports their clinical and research interests, as well as recognition for their achievements. The Academy's mission is simple: to advance the science and practice of implant dentistry through education, research support and to serve as the credentialing standard for implant dentistry for the benefit of mankind. The Academy provides bona fide credentialing in implant dentistry through the Associate Fellow and Fellow membership examinations. The Associate Fellow and Fellow credentials are recognized by numerous state boards.

I hope to personally greet you at the conference and welcome you to be part of our International Community. You will find an atmosphere of camaraderie, warmth and friendliness that will entice you to be there.

Shankar Iyer, DDS, MDS
President Elect AAID
Director Smile USA
Clinical Asst Prof. Rutgers University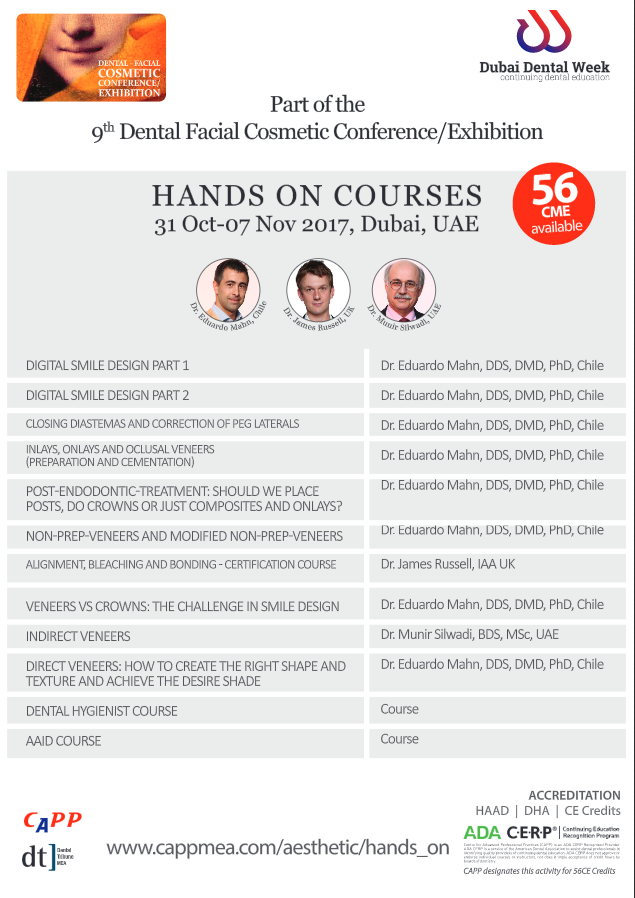 Venue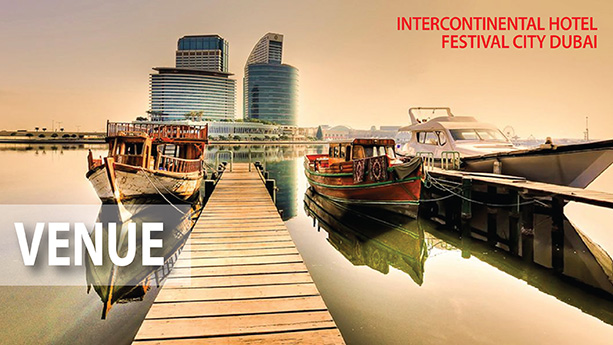 Intercontinental Hotel
Dubai, United Arab Emirates

Inspired by the abras that sail down Dubai Creek, this sophisticated 5 star hotel offers direct access to Festival City mall. In the soaring, marble lobby, staff welcome you with dates and Turkish coffee. Feast on mouthwatering buffets with breads fresh from stone ovens, and on Michelin-starred French cuisine at one of the best restaurants in Dubai, Reflets par Pierre Gagnaire. Swim in a 25 metre infinity pool, indulge in the spa and ask our concierges to book a tee time at Al Badia Golf Club.


Please contact the event manager Marilyn below for the following:
- Discounts for registering 5 or more participants.
- If you company requires a price quotation.
Event Manager Contact: marilyn.b.turner(at)nyeventslist.com
You can also contact us if you require a visa invitation letter, after ticket purchase.
We can also provide a certificate of completion for this event if required.

NO REFUNDS OR TRANSFER ALLOWED ON REGISTRATIONS
-----------------------------------------------------------------
This Event Listing is Promoted by
New York Media Technologies LLC in association
with Centre for Advanced Professional Practices.
http://www.NyEventsList.com
http://www.BostonEventsList.com
http://www.SFBayEventsList.com
-----------------------------------------------------------------
SHU170321CEV